5 Fun Staycation Ideas!
If you follow me here at Mom Spark, you know how much I LOVE to travel. I'm very lucky that my job allows me to see the world, experience new foods, and learn about new cultures. Travel is truly a gift!
Saying that, it's not always possible to travel as much as we'd like, especially for busy families or when the budget simply doesn't allow it. Fortunately, the same experiences we gain from travel can be enjoyed in our own cities, too.
So, I've put together some ideas for a fun staycation that anyone, including families, can enjoy at home or near home!
Museums
Sometimes when I'm driving around town, I'll pass by a museum that I've noticed before. It's then that I remember that there are so many interesting museums in my town or surrounding areas that I've never once set foot in!
Many museums are unassuming and not easy to spot, so it's smart to do an internet search or quick flip through the phone book to find all of the cool museums in town!
Hotels
A few years ago, my husband wanted to attend a local film festival, so I decided that we would all stay in a hotel nearby for the weekend! This may sound silly, but spending time in a local hotel can be so much fun.
Think about it – no cleaning or cooking (if you order room service), and a swimming pool to jump into whenever you want! What could be better than that?
Sporting Events
Our family is a huge fan of our city's NBA team, but we rarely attend live games. We do watch the games on television quite religiously, but it is never quite the same as seeing our team play in person, especially as a family.
However, once a year we like to treat ourselves with good seats, a huge bucket of popcorn, gigantic sodas, and fun t-shirts to cheer on our team in the arena. It's a night to remember and a perfect staycation idea.
National Parks
I can't remember the last time that I visited a national park in my area, but it was probably when I was a kid. A map of nearby parks to visit would make a fun game for my kids!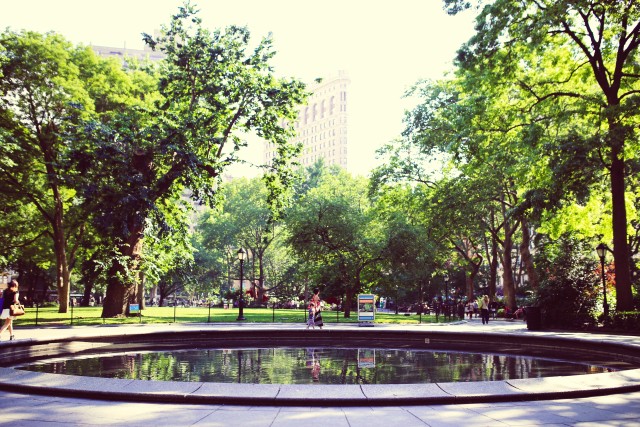 There is so much to learn and teach in nature, as well as healthy exercise to gain from walking through the trails. It's a chance to laugh, play and learn a thing or two with the fam.
Movie and Pizza Night
Let's face it – some staycations can just be spent right in our own homes! Taking time to unplug from our smartphones and computers can do wonders for the soul and bring the family together. Popping in a great movie and delicious pizza makes the perfect family movie night.
Dr. Oetker Ristorante Pizzas have a thin and crispy crust, and I love that there are so many different varieties to choose from, including Pepperoni Pesto, Funghi and Quattro Formaggi. The prep is so simple—all you do is heat up your oven to 425 °F and bake the pizza for 10 – 12 minutes.
Ristorante consistently provides a gourmet, restaurant-quality pizza with at-home convenience. To find these tasty pies, check out your local supermarket, and if they don't currently sell Ristorante, you can put in a request with the store manager.
To find out more and receive updates on all things Ristorante, check out Dr. Oetker USA's Facebook, Twitter, and Pinterest!
This is a sponsored post on behalf of Dr. Oetker USA LLC. I received compensation for this post; however, all opinions stated are my own.