A Hilarious Peek at Season Two of ABC's GALAVANT
During my visit to Los Angeles a few weeks ago, I spent some time at ABC to conduct some fun show interviews!
Today I'm sharing my experience screening the season two premiere of GALAVANT, as well as interviews with Timothy Omundson (King Richard) and Executive Producers Dan Fogelman and Kat Likkel.
A bit about GALAVANT, season two…
Having discovered the dark side of Madalena, our dashing hero's adventures continue as he embarks on an unlikely bromance with King Richard and fights to rekindle the romance with his true love, Isabella.
I certainly don't want to give too much away, but I will say that the season premiere had me laughing throughout and included a few familiar faces! Okay that's all you get. 😃 On with the interviews!
So what's the process like when you're putting together the musical numbers of the script?
KL: Yeah, we break out the direction that we're gonna do for all ten episodes. It's Dan, me, John and then two other guys who are second in command, Kenny and Rick, and we all sit together and break out all 10 episodes. Once we have that, we gather the entire staff and Alan Mencken, who has been in the loop already, and then Glenn Slater, the lyricist. It's like any time that you feel like you're gonna have a big emotional scene between people, Alan and Glen know the perfect place for a song. And so you do it that way. So Glen and Alan hear what the Season is, they make their contributions and then they start hearing the songs and sometimes we all have an idea and then sometimes they go you're crazy. It's a fun interplay and it's really such a collaborative process.
TO: We have Weird Al coming back. Hugh Bonneville and Stamos are back, too. They're not all names you know but people that have starred in every West End Production in London. It's kind of like the creme de la creme of our people that are getting nominated for all the Oscars and stuff this time of year. You'll recognize a lot of faces and people.
How did you get Vinnie Jones to come on?
KL: He wanted to do it. He's singing a love song to nobody like a Disney-like opening of Beauty and the Beast. His accent is so thick when he's singing it. We thought it was funny, so we actually did subtitles with a blooper. He's got a real love story this year.
TO: Vinnie is the ace in the hole. His work is unlike anything I've ever seen him do. I've worked with him for a year and he's one of the nicest human beings I've ever come.
KL: Vinnie is such a surprise. He's got such a scary reputation and he always plays these horrible thugs, thought he is actually the sweetest most gentle man and a joy to work with. I think he's gonna surprise everyone this year with what he can do, what his acting chops are.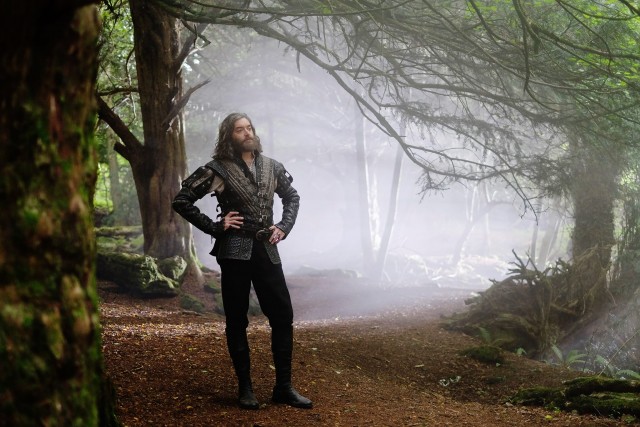 KL: One of the coolest things about this show has been Tim because when we first started GALAVANT last year, that King Richard role was a role that very much felt like if you were ever gonna put a big famous star in this show of otherwise unknown people, it was gonna be probably in that role. Tim just came in and we met and we felt this is the guy.
TO: It just depends on what we're doing and I find this writing tremendously funny. It's everything I love.
KL: Something that's great about Season Two is that Tim gets to carry a lot on his very slight shoulders.
Last year, you know, he was this goofy but kind of erratic giant child and this year his character really gets a chance to grow and stretch and go different places.
TO: I've been so incredibly lucky to play some really varied stuff on some amazing shows. This is the capper.
TO: The character development is so much fuller this year. Everyone really gets some beautiful opportunities to do some amazing work, and everybody steps up. It's so nice to see these people you work with, your Colleagues, really do tremendous work. It's been incredibly satisfying to me.
Which do you prefer – playing in PSYCH or GALAVANT?
TO: I prefer this. I showed up this season looking like I walked on the mountains. I came home to see my wife and kids and I walked in the door she's said what? She doesn't like it when I look like Charles Manson.
The season premiere of GALAVANT season two airs TONIGHT at 8/7c.
Disclosure: Disney sponsored my travel, accommodations and activities during my stay in Los Angeles.