A Quick Trip to San Francisco and Napa Valley
As I mentioned previously, Bertolli was gracious enough to send me on a trip to Napa Valley, which just happened a couple of weeks ago!
This was my very first trip to Napa Valley and also my first opportunity to explore the city of San Francisco, which made the weekend all the more exciting. Here is a recap of what I did in San Fran and Napa!
San Francisco
After a long day of delayed flights and travel, I made it to San Francisco safe and sound, ready to explore. Our group had the evening of the arrival day and the morning following to spend time in San Fran, so we tried to pack in as much as possible.
We ate at a neat little Italian restaurant (fitting for Bertolli, of course) called Perry's the first evening and settled in early shortly after.
The next morning, we took some time to visit a few San Fran local sights before we left for Napa. We headed straight for a cable car stop first, because, why not? Actually, we weren't sure if we were at an electric train, trolley, or cable car stop! It turns out that it was a legitimate cable car. 🙂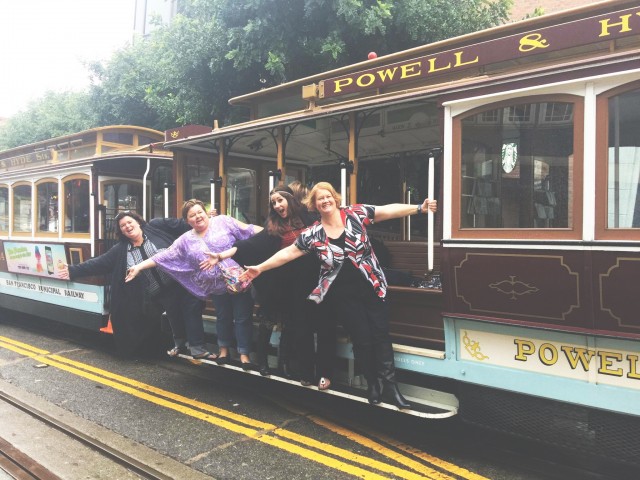 The cable car was so much fun. We zipped through neighborhoods as we headed towards to Fisherman's Wharf. It was dark and rainy, but still beautiful once we arrived.
A quick stop at Starbucks and it was time to find an Uber to try to spot the Full House house (which we never found, actually), mosey around the city and then back to the hotel for the trip to Napa.
Napa Valley
The bus to Napa was a long one and took us through the most beautiful sceneries. We crossed the Golden Gate bridge over the bay, and drove past beautiful fields and wineries.
Our first stop was the Harvest Inn to drop off our luggage (a beautiful place), then back on the bus to the Kenwood Winery for a lovely wine tasting.
At Kenwood, we tried (what seemed like) ALL THE WINE. We even had some tastings directly from the barrel, which was a lovely treat. In fact, I purchased a bottle of the cab I tasted from the barrel and brought it home to Oklahoma!
After Kenwood, the group headed to another wine tasting (we were in Napa after all) and an Italian feast. It was the perfect way to wrap up the trip! More food, more wine. I can't complain.
A big thank you to Bertolli for treating me to such a lovely weekend!
Check out the snaps from my trip below (and follow me on Snapchat at "momsparkblog").