A Spring Cleaning Checklist // #MinimizeMonday Recap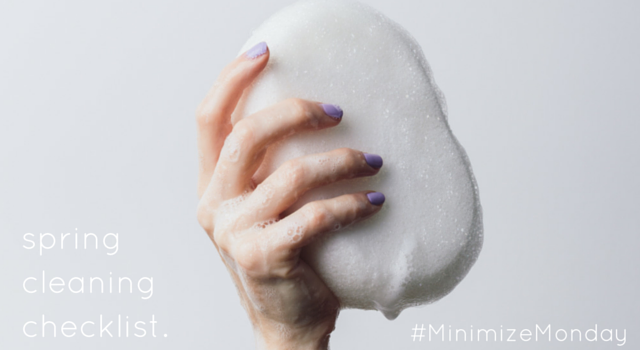 3/21 @2PM ET – A SPRING CLEANING CHECKLIST.
In this episode, I read through a portion of my ULTIMATE GUIDE TO SPRING CLEANING that includes products that are helpful in the deep cleaning process, as well tips for each room in the house. I also did something very different for this show – I streamed live on Facebook at the same time! Watch that stream here. This will be our new process moving forward, too!
Watch the episode, as well as get notes, resources, winner information and more about #MinimizeMonday below! Join us every Monday at 2pm ET on "momspark" on Periscope!
NOTE: I created a dedicated post for this checklist, which you can read and print here!
WINNER!
@AmiyrahMartin ($25 Amazon Gift Card)
ABOUT #MINIMIZEMONDAY.
#MinimizeMonday was inspired by my 2016 resolution, which was to "minimize." My idea was to minimize my possessions, finances, clutter (both physical and emotional) and time. So, what was the best way to be accountable and share my progress? Online. So, #MinimizeMonday was born.
So, every Monday at 2:00pm Eastern (unless otherwise noted), I will be hosting a new #MinimizeMonday segment live on Periscope at @MomSpark! Each show will be around 30-45 minutes.
During the segments, I'll be sharing tips on organization, decluttering, social media streamlining, eliminating debt, being intentional with your time and and….there is so much to discuss and do! I'll also include my personal progress, including what has worked (or didn't work) and what I have learned along the way.
I want this series to inspire you and lighten your burdens. Learn more at minimizemonday.com.