Air Dry Clay Knick Knack Holders
I don't have tons and tons of experience with clay. In fact, I'm a bit intimidated by the stuff. It probably seems silly considering all of the things I craft with, including things that are hazardous to my health! Clay has always been my crafty Kryptonite I think though!
But I wanted to hop on the whole clay bowl train but decided to start small. I wanted something different so I grabbed a package of Crayola's Model Magic for 2 reasons… 1- it was air dry and 108° outside and I was in NO MOOD to turn on an oven and 2- if it is a product geared toward children surely, I mean, surely I could make things work. Right?
Again, since this clay is air dry you don't have to use an oven to cure it. Just leave it out for a day or so and it hardens in the shape you've made for it. So easy!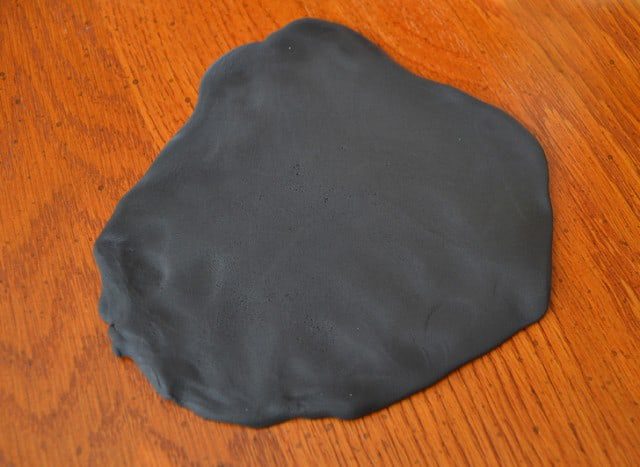 I was having a bad day when I was making these… my rolling pin was GONE. I couldn't find my little crafty plastic one I used to use on fondant back in the day either. It was then I realized… moving sucks. Instead of giving in I used my hands to roll the clay into a bowl and then flatten as much as possible. A few stretches after removed from the work top smoothed the clay out pretty well.
There was a learning curve and my second and third attempts were way awesome.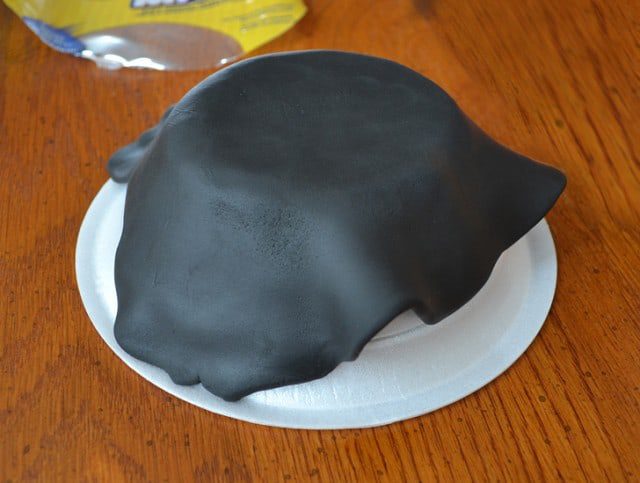 To get my bowl/dish shape I tossed my clay over a Styrofoam bowl and pushed the clay down snug. I then went around and smoothed any bubbles or finger prints just by gently rubbing, rubbing, rubbing them away.
Now I used Styrofoam though I hate the stuff (so bad for the environment!) because it was just right there and I was worried about my clay drying and permanently attaching to a good bowl. In the end, that worry was completely unnecessary. This stuff easily peels away once dry so feel free to use on your glass or ceramic bowls or dishes as molds instead.
With school coming up my bowls got tossed to the side and forgotten about for a full week BUT they still came away cleanly.
Pop those suckers right off and you have your little dish! The edges at the top are different looking though not terribly awkward… this is where I used my finger to smooth the edges and fold weird shapes into the underside of the bowl while the clay was still fresh.
And here are things that I learned from this whole project… Areas where the clay is thin WILL crack when drying. You want at least a quarter of an inch of thickness all around for the clay to properly cure. I loved this shaped bowl the best but it just didn't stick together. The cracks were small enough that I might get after it with some glue at some point so it isn't a total loss…
For the sake of experiment I also tried a bowl where I mixed in some silver leaf flecks and it turned out very poorly… There were far too many cracks to make this work at all. I suppose I ruined the integrity of the clay. If you want flecks or glitter you'll have to add that on after the clay had dried.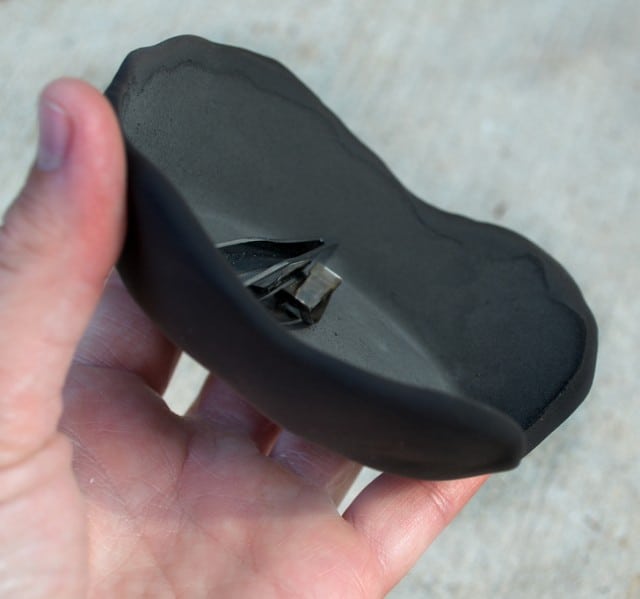 I was a bit surprised to find my dried clay was kind of spongy. Like a sturdy foam rather than a ceramic or even the weird plasticky feel of polymer clays (that you have to set with the heat of an oven). It's not bad just different than expected. These are great for around the house but don't expect to make any gifts for friends who only dig high end things. I personally have no friends like that, because we're all hillbillies, but I know some people do.
My little bowl holds two of the most important things on my nightstand. My tweezers that I use to compulsively pluck with and a hair clip because I always want my hair out of my face. In time there will be jewelry and probably change in this and it's plenty sturdy for even more.
Though it may look simple, it also looks really cool on a simple white table. It holds things, it looks handmade but still awesome and it was simple. Grab yourself a few colors and you can even make rainbow bowls. Just remember the texture is different from most clays and that you can't add anything in or the bowls will crack beyond use. Get out there and grab that kiddy clay and have fun with it!