An Interview with ANT-MAN's Judy Greer
This week, I have shared my exclusive set visit of ANT-MAN with an interview with Paul Rudd (Ant-Man) and Director Peyton Reed, and now I am back with a fabulous interview with the one and only Judy Greer! Judy plays Maggie, who is Scott Lang's (aka Ant-Man) ex-wife and mother to Scott's child. She is also the amazing mother of the new movie JURASSIC WORLD, sooooo, she's pretty awesome.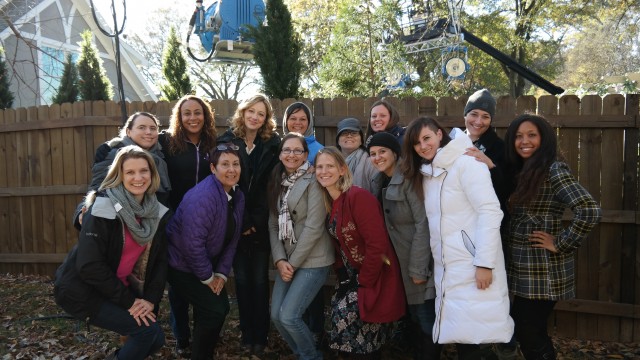 Below is a portion of our interview with Judy Greer.
How did you get involved with the project?
Old-fashioned. I just auditioned, but I did get the part within less than 24 hours, which for a movie audition is very rare. Usually TV happens really fast. But for films, and especially a film like this scale, there's so many producers and studio executives that it usually has a lot of people it has to go through. But, I found out the next morning.
Why did you want to audition for the part?
I was really excited to work with Peyton because he's I think really funny. I think what some of these super hero movies lack is like a genuine sense of comedy in them. It's the comedy that's gonna keep us interested in them when we're watching them over and over with our kids. You know, like Guardians of the Galaxy was so funny and I would watch that a bunch if it was on television. And you know how kids just watch the same thing over and over and over! With Paul being Ant-Man I knew it was gonna be funny.
Can you tell them a bit about your role and the character you play?
I play Scott Lang's (Paul Rudd) ex-wife. And we've sort of established we married when we were really young. Scott Lang's character is extremely intelligent and able to do cyber law breaking.
When I got pregnant I asked him to stop. And he didn't. And he ended up getting arrested and going to jail. So we got a divorce. And I had our baby and we got a divorce. I then met Jim Paxton, Bobby Cannavale's character and we're engaged.
Do you see a lot of similarities in yourself when you put yourself into the character?
Yeah, I always do. It's just easier if I just play a version of myself. Even like the scene yesterday that we shot, which was a really cool scene where I confront Scott about having to shape up in order to see his daughter Cassie. I feel like I wanted her to be cool and strong and compassionate.
This guy's not the devil. He just messed up. So, I felt like that was definitely coming from me because the text maybe was supporting someone who was more emotional. I wanted her to be a strong person and in her own way a positive influence on her ex-husband. I also find that to be more layered and interesting.
So being your first Marvel feature what is this like for you?
It's really fun to be here. It's just been such an easy job because everyone's nice and cool. I feel like they're giving us a lot of space and a lot of time and I really like that. But it's also really fun because the combination of Peyton and Paul Rudd and Bobby Cannavale is awesome. They're really funny.
About ANT-MAN:
The next evolution of the Marvel Cinematic Universe brings a founding member of The Avengers to the big screen for the first time with Marvel Studios' "Ant–Man" when master thief Scott Lang must embrace his inner hero and help his mentor, Dr. Hank Pym, protect the secret behind his spectacular Ant–Man suit from a new generation of towering threats.
ANT–MAN opens in theaters everywhere on July 17th!
Disclosure: Disney sponsored travel and accommodations. Thoughts are my own.