An Interview with ANT-MAN'S Paul Rudd
It has been several months since I shared with you the secret visit I had to the to the ANT-MAN set in Atlanta last November. Good news – I can FINALLY share even more details about my time on set, the interviews with some of the cast and crew and some really fun photos!
One thing that I will always remember about my time in Atlanta is HOW COLD IT WAS. In fact, the city was experiencing record-breaking temperatures, hence, the gigantic white coat and fuzzy boots that I am wearing in the photo with below, ha!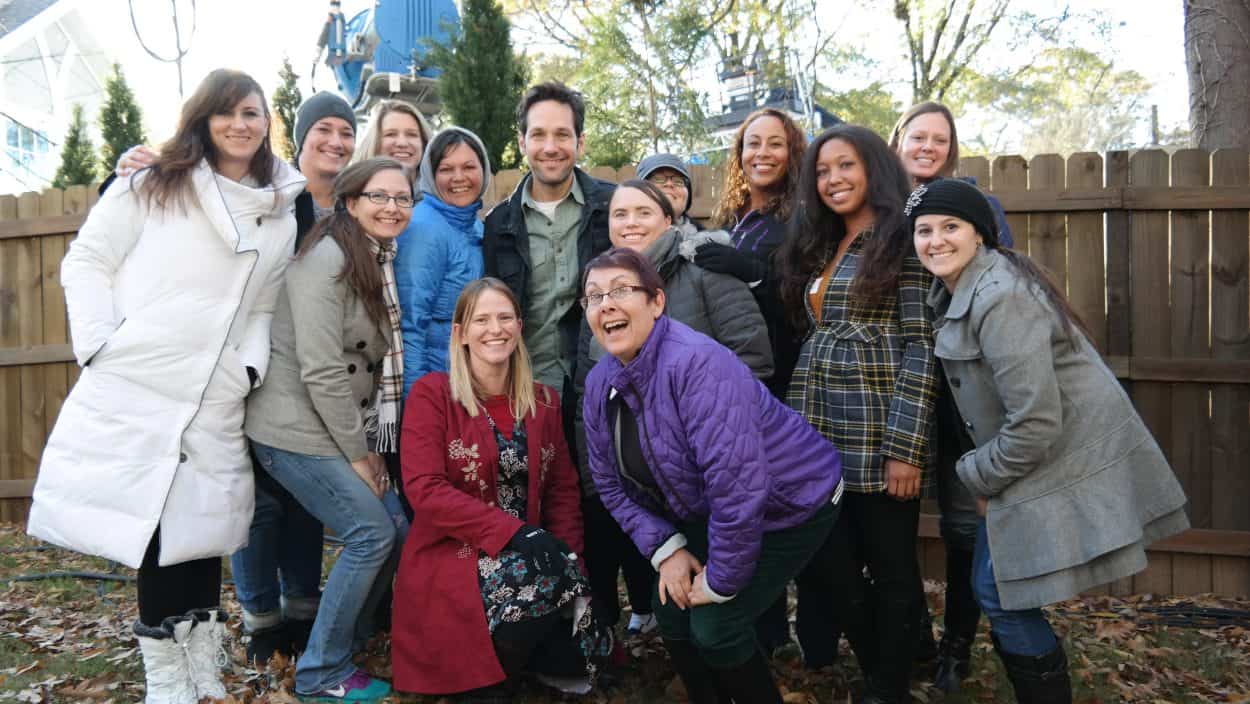 Yup, that's ANT-MAN's Paul Rudd in the pic. Today I am writing about my interview with THE one and only Mr. Rudd (is he not one of your fav actors, honestly?) who plays Scott Lang, aka "Ant-Man".
Paul was great to interview, in fact, he was much more reserved and soft-spoken than I expected him to be, but he had just filmed a lengthy scene prior. I was able to watch the scene in real time as well! It was a birthday scene with Abby Ryder Fortson (who plays Cassie Lang).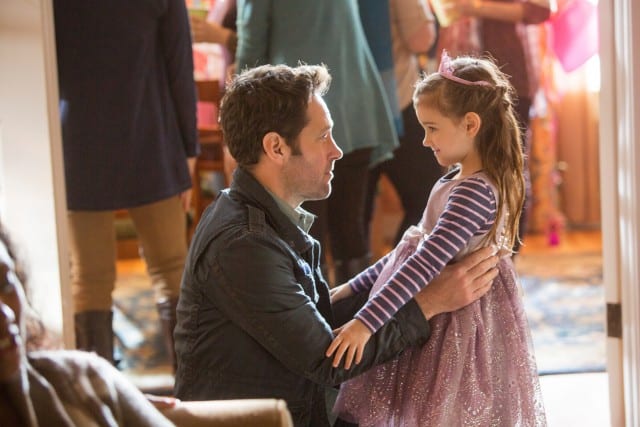 Though this wasn't the first time I had been on a live set before, it was certainly the most unique. Instead of a studio soundstage in Los Angeles, the set of ANT-MAN that we observed with Paul Rudd was in an actual house in Atlanta (with a style that looked straight from San Francisco) – we even met the home owners!
I'll be sharing more stories and interviews this week as well, including my time in the costume department (hint: ANT-MAN helmet and suit)!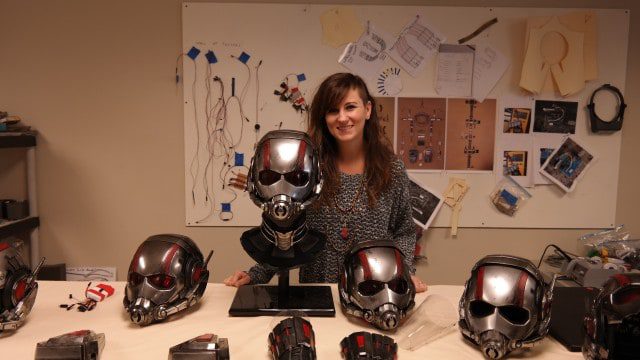 Below is a snippet of our interview with Paul!

How does it feel to be a part of Marvel and being a superhero?
It's fun! It's a totally different kind of experience for me. I've just given into it and and gone on this wild ride, and it has been one so far.
How does it feel to wear the ANT-MAN suit?
It feels really cool 'cause it looks bad ass.  It's a little tough to move around in!
How long were you in those costumes when you were in 'em?
It varied. Sometimes it would be a shot or two.  Other times it was most of the day. We shot inside a lot, and they were able to keep the sound stages a little cooler, which was good, because the suit didn't breathe well. It felt great to take it off at the end of the day. It takes a few people to get in and out of it, a small pit crew.
Any research or training for your role?
Uh, yeah. I'd say more training than research.  I did some basic research and things on ants and then some Marvel stuff. There's been a lot of training. I did a lot of gymnastics and mild hard core. I tried to get familiar with that and I'd never done that before. Also, weight training and all that kind of stuff that is required for these kinds of parts.
What were your family and friends reaction when you told them you were going to be playing Ant-Man?
I've got a 10 year old son, and I was really excited to tell him that I was gonna be a superhero. I was excited at the idea that he'd get to see a movie that I did, because he's never seen one, really. He came to the set and it was pretty cool. He got to see the he tried on the helmet.
What was it like to play basically a deadbeat dad?
I think one of the things that we really have tried to focus on in this movie is relationships. Relationships we have with our own parents.
About ANT-MAN:
The next evolution of the Marvel Cinematic Universe brings a founding member of The Avengers to the big screen for the first time with Marvel Studios' "Ant–Man" when master thief Scott Lang must embrace his inner hero and help his mentor, Dr. Hank Pym, protect the secret behind his spectacular Ant–Man suit from a new generation of towering threats.
ANT–MAN opens in theaters everywhere on July 17th!
Disclosure: Disney sponsored travel and accommodations. Thoughts are my own.