An Interview with Kristen Bell on Disney's FROZEN
Disclosure: Disney sponsored my travel, accommodations and activities during my stay in Los Angeles. Thoughts are my own. 
photo credit: Louise Bishop of MomStart.com
A few days ago, I shared my experience walking the "white carpet" for Disney's FROZEN. Before we walked the white carpet, we had the opportunity to interview Kristen Bell who voices Anna from the film!
photo credit: Louise Bishop of MomStart.com
How did you get involved in the project?
Well, I've always wanted to be in a Disney animated feature like since I was four years old or five years old. It was the first goal I had ever set for myself. I auditioned for Tangled and after my audition the casting director pulled me aside and said, "That was great and if we go another way, I want you to meet Chris Buck because he's directing a project that's a few years down the line called "The Snow Queen," and I think you'd be right for it.
Did the musical aspect of the movie scare you?
No, that is was what incited me to want to do it, because I studied music in college and I trained operatically when I was a little girl, and I love musical theater. I'd done a couple Broadway musicals and I try to keep music as relevant as possible. I was so eager to get my hands on being a part of a musical again.

What did you do to prepare?
I didn't at all. The inception of the script was much different than this script we have now. It went through quite a few rewrites and finding everything, 'cause originally they were mother and daughter. I knew exactly what I wanted to do going in. I didn't want her to have good posture. I didn't want her to be one or the other of the archetypes that I was used to seeing. I just wanted her to be who I wanted to see on screen when I was little, which is someone who talks too much and too fast.
You're on Gossip Girl and now you're animated, how is that different?
I can pull myself out of it when I watch this animation. When I watched Gossip Girl, it was a tiny bit like playing your own answering machine over and over and over again – that automated voice on your answering machine that everybody has. That's kind of what it felt like to me because I don't love the sound of my own voice. So, it's much nicer to be able to pay attention to a story line as well and not go like, "Wow, I sound so screechy." Not pick myself apart, you know.
Were you intimidated about singing with Idina?
Yes. She's the best singer on the planet. She was lovely. I think there's a part of her that knows what she brings to the table, even though it would never come across. She did her best to make me feel like safe and confident 'cause I was kind of like a little jittery. We'd have rehearsals at her house at her piano in her living room and it was intense. She's a dreamboat.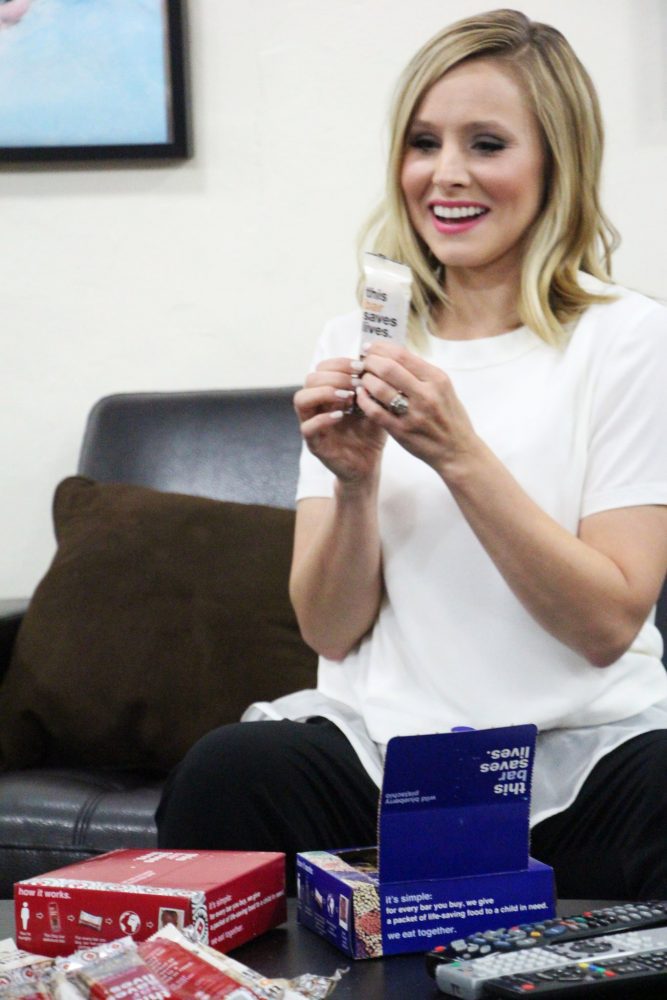 photo credit: Louise Bishop of MomStart.com
This Bar Saves Lives
Ryan Devlin started this company called This Spark Saves Lives, which is essentially the Tom's Shoes but for food. Every bar that's purchased donates a life saving nutritional packet to a child in need. We partnered with this company called Plumpy Nut, which is what Save the Children uses.
About FROZEN
Walt Disney Animation Studios, the studio behind TANGLED and WRECK-IT RALPH, presents FROZEN, a stunning big-screen comedy adventure. Fearless optimist Anna (voice of Kristen Bell) sets off on an epic journey—teaming up with rugged mountain man Kristoff (voice of Jonathan Groff) and his loyal reindeer Sven—to find her sister Elsa (voice of Idina Menzel), whose icy powers have trapped the kingdom of Arendelle in eternal winter. Encountering Everest-like conditions, mystical trolls and a hilarious snowman named Olaf, Anna and Kristoff battle the elements in a race to save the kingdom. FROZEN opens in theatres everywhere on November 27th!
Disclosure: Disney sponsored my travel, accommodations and activities during my stay in Los Angeles. Thoughts are my own.