An Interview with MALEFICENT'S Director, Robert Stromberg
Disclosure: Disney is sponsoring travel, accommodations and activities during my stay in Los Angeles. Thoughts are my own. 
So, since I have already shared my interviews with Angelia Jolie (Maleficent), Elle Fanning (Princess Aurora) and Sharlto Copley (Stefan), I think it is time that I talked about the director of the film, Robert Stromberg!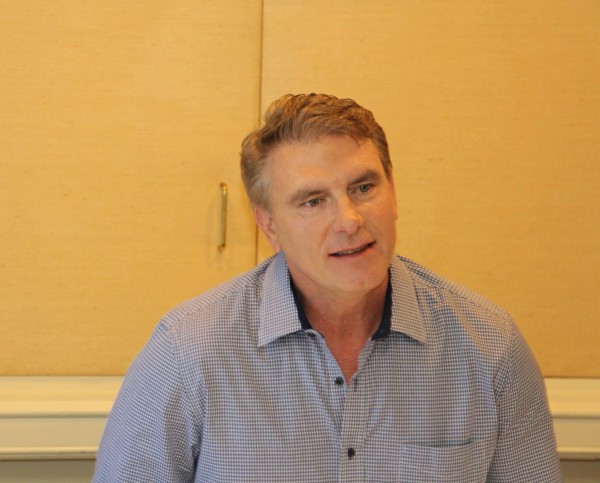 Below is a portion of our interview the Director Robert Stromberg. Enjoy!
Q: Was Angelina your first choice for the role of Maleficent or did you write this with her in mind?
"She was actually already attached when Disney hired me. They were looking for a director, but she was already engaged with the character for a long time. It was perfectly made."
Q: So this being your first directorial debut, what was different from being on set compared to being in the art department?
"I've always thought that because I've always wanted to be a director. I used to make movies when I was a little kid and I was a huge Disney fan. I had an art teacher who was an ex-Disney artist. I used to draw crazy images, including Maleficent when I was five, six years old.  So, I had always wanted to tell stories and be a director. I got sidetracked by art direction stuff, but it was part of the journey.  I'm glad that I did all that stuff because it prepared me not only being around these big movies but also meeting a lot of great directors. I met Peter Weir and we became close friends on a movie called MASTER AND COMMANDER. He taught me a lot about how to talk to actors and get at an emotional level with them.
I spent four years with Jim Cameron and that was useful in how to be strong when you need to be. I worked with Tim Burton, an artist that can direct. You have to spend your life studying human behavior and really paying attention to why people react a certain way when they're told something.  I think it's all those little bits of information plus all of the knowledge I got from just my experience with other directors.  And then the confidence to be at the same level with somebody in finding the emotion of that character.  That's what made me feel comfortable in being a director."
Q: What was the creative process that you used creating the Moors and all the characters of in the Moors?
"I have a file full of sketches and strange creatures and stuff that I wanted to use one day.  I always approach a movie with the world itself as a psychological steering device. The interesting thing I've learned over the projects that I've done is how you can steer the audience and make the audience feel something, even if they're not aware that's how things are done.  So, that was where I started. I'm a big fan of Eyvind Earle, but the look of the original design was a bit too stylized for this sort of emotional, organic, grounded-in-reality story that we're trying to tell."
Q: What was the most difficult thing to bring to the big screen for this film?
"You know, it's just getting through the film and still carrying a big, beating heart under your arm as you make it through this jungle is something. I can't pick one thing that was challenging because just making a movie at this scale, you're just constantly juggling chainsaws and trying to draw pretty pictures at the same time. So I think it the challenge is to make it, bring all these huge elements together and at the end of all that, have something with a heart and soul and emotion and something that means something."
Q: Had you worked with Angelina Jolie before and if not, what was it like to work with her and direct her?
I hadn't. I went to her house the first day I met her and what was really great is that we didn't talk about the movie for the first hour. I'll never forget we just sat on some back steps in her backyard and watched her kids play out in the backyard. We talked about life and being a parent and just normal stuff.
I think that's why we connected because we had to find out that we were both human beings first before we tackled human being problems. That was a special moment for me because I wasn't necessarily intimidated by her, but I had never seen the human, motherly quality in there before."
Q:You mentioned possibly hearing the original Maleficent's laugh.  Are there any kind of Easter eggs for us to look for in the movie that are…
Stay tuned for my review of MALEFICENT and more cast interviews in the coming days. MALEFICENT is rated PG and releases in theaters everywhere on May 30th!
Disclosure: Disney is sponsoring travel, accommodations and activities during my stay in Los Angeles. Thoughts are my own.