Kid Craft and Snack: Apple Cinnamon Sugar Shakers
This is a fun and easy activity you can do with children of all ages. Alex, who is one of my childcare kiddos, helps me to tell you all about it.
1) Cut the apples into appropriate sized pieces. Smaller or larger depending on your child. Then have them place the pieces in a baggie.
2) Add a few tbs of sugar. I used half of an artificial sweetener packet since much to my surprise the sugar bowl was empty.
3) Next add a sprinkle of cinnamon.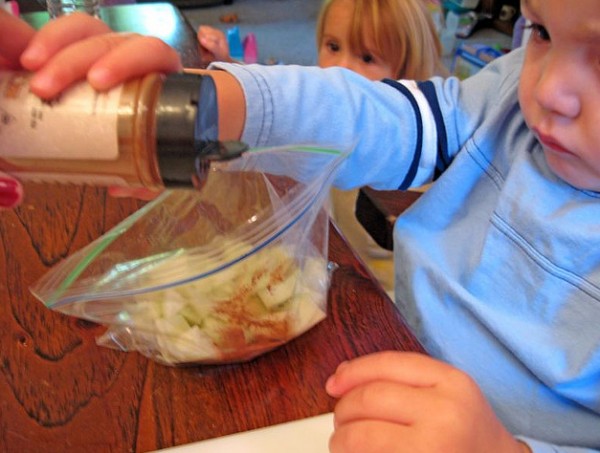 4) Then
shake, shake, and shake
some more. I helped Alex a little since the cinnamon was clumped in one area. I didn't think that would taste too well. Alex and Lani both LOVED these treats and munched the whole bag for afternoon snack time. In this photo I caught Alex telling me how yummy he thought the apples were:)
*Posted by Wendy whom you can find blogging about her crazy family over at Wesnlanzi.