Cheaply Chic: Mom on the Go Fashion
Welcome to our new "Cheaply Chic" series on Mom Spark!
CHEAPLY CHIC = Fashion, Style, Art, and Decor on a Dime.
Today's "Cheaply Chic" is from our very own Amy Bellgardt.  This look is perfect for moms on the go.  Comfy, cute, and chic! Why not run errands in style?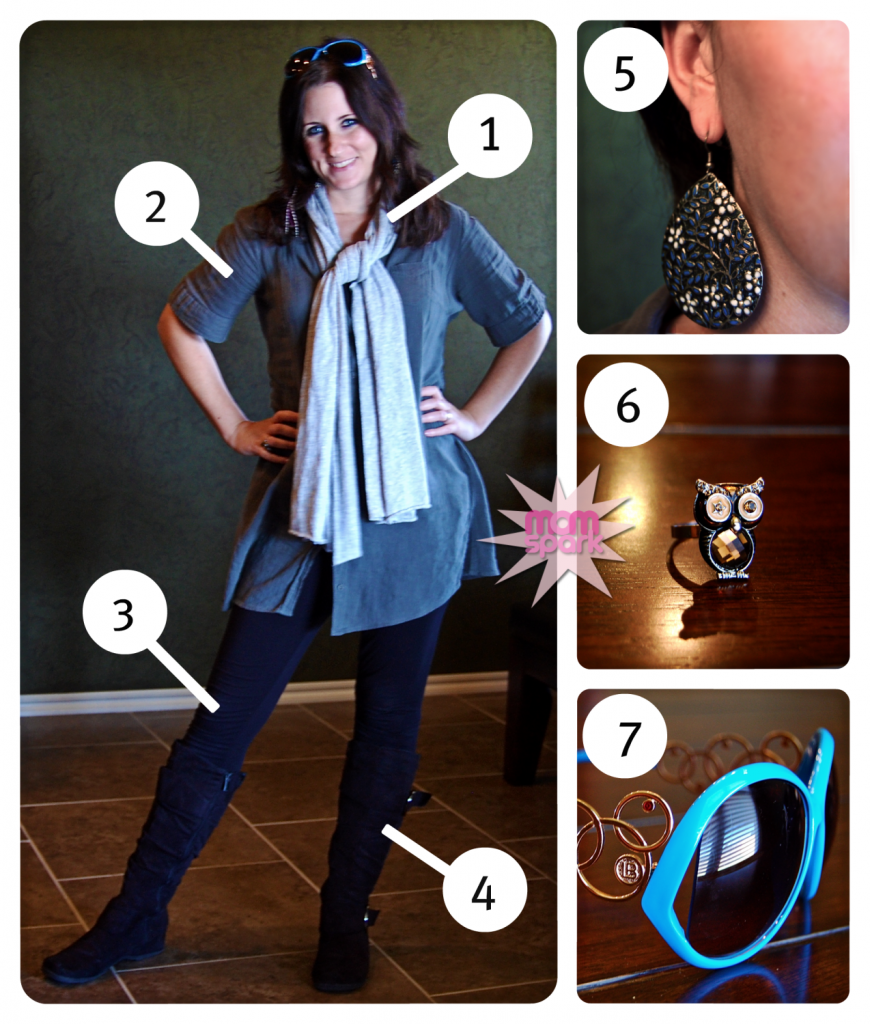 1. Lands' End Gray Knit Scarf – FREE – I received this scarf in a private party swag bag at BlogHer '10 and wear it ALL THE TIME during the cool months. (regular price – $24.50)
2. Target Green Tunic – $19.99 – I paid full price for this piece, but I've used it with several outfits for over 3 years now so it was a great investment.
3. Express Black Leggings – $15 – I LOVE the quality of Express clothing, but I never pay full price.  I wait for sales or coupons before purchasing pieces. They often have "save $25 when you spend $75" sale. (regular price – $29.50)
4. Forever Black Slouch Boots – $17 – I bought these on eBay a couple years ago and they are still going strong.  I also bought a pair in brown since the prize was so great! (regular price is unknown)
5. Forever 21 Flower Earrings – $4.80 – THE best place to buy costume jewelry is Forever 21! This was regular price, if you can believe it. (NOTE: You cannot return Forever 21 jewelry)
6. Forever 21 Owl Ring – $4.80 – Again, a super cute jewelry piece from Forever 21.  This is regular price.  (NOTE: You cannot return Forever 21 – jewelry)
7. Sharp Shades Blue Sunglasses – $5.00 – I purchased a great deal for Sharp Shades from Plum District, so my final price was $5.00! (regular price – $10)