DIY Cheerful Easter Egg Tree Tutorial
Bright and cheerful is the stuff that makes a spring that I enjoy. I love yellow flowers, birds with pretty pink chests and  gorgeous skies of blue. Because the thing I dislike most about winter, besides the ridiculous and seemingly unnecessary cold, is how gray everything is.
I've said this as much to others and it appears that not everybody notices this. They do after you bring it up but a lot of people don't see the world as I do in those winter months. Gray, dead, bleak and sometimes even a bit blue (in color although the cold can make my mood a little lower, too).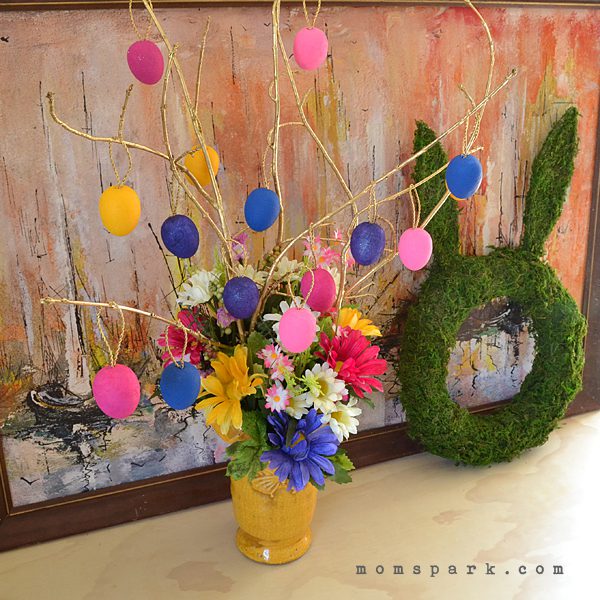 So when spring starts to get into action I notice the littlest things first. The tiny green buds starting to pop up on my seemingly dead trees… The areas where the dirt is starting to give way for my bulbs. The first butterfly flitting across my grass full of weeds I can't stand to kill because they have the prettiest, daintiest purple flowers on them.
So here is my version of an Easter tree for you to dress your nest all spring-like and it's quite cheerful, if I do say so myself!
For this project you will need:
Vase
Floral foam filler
Floral stems
Real branches, dried for several days
Spray paint
Easter decorations
Matching acrylic paint
Ribbon
First you'll want to trim your branches several days ahead of this project. Set them someplace to dry out. When fully dry spray paint your color of choice. I went gold because it's the best.
Grab your vase and find a foam filler that fits well.
If necessary, trim to properly fit.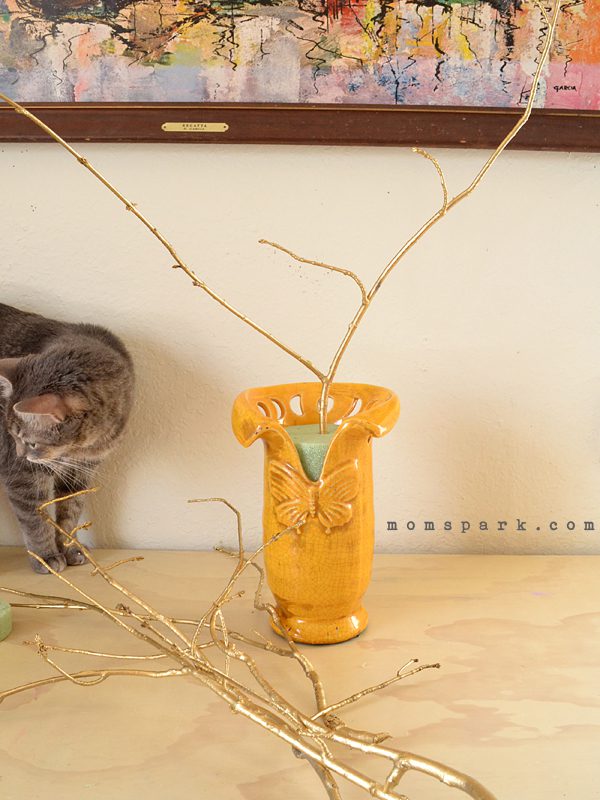 Start by shoving your branches into the foam so that it appears to be a tree coming from the vase. This may take some trial and error.
Trim your florals so that they are about 6-8 inches long. Oh, and if you buy them by "the bush" you'll get better bang for your buck and be assured that everything will match well.
Place around the branches to hide the foam filler.
Until you are happy with the appearance. Be sure to keep an eye on where you place colors. For example, you don't want all of one flower clumped together and the rest sporadically placed because it might look funny. But then again, it might look awesome. Just be aware of where you are placing your florals and take your time. This part should be super relaxing and fun!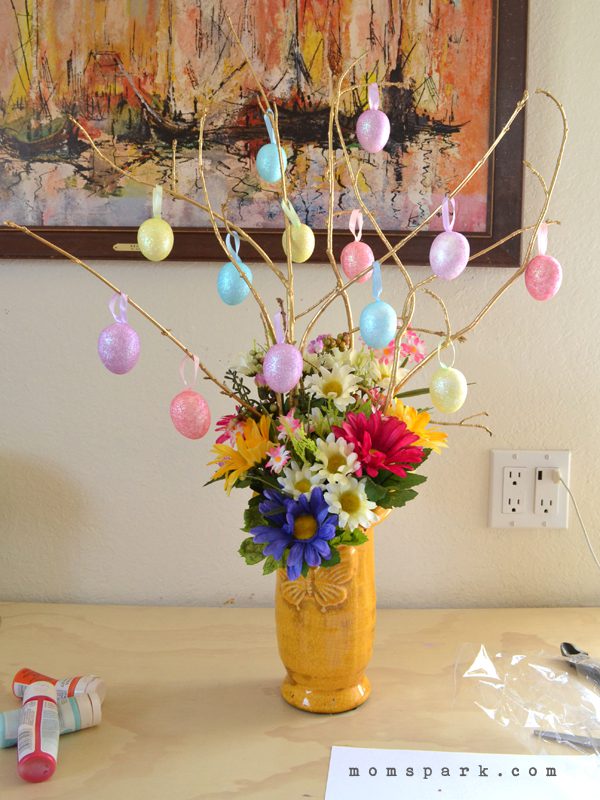 Now I found these styrofoam eggs from Dollar General and I hoped that they would work out. But when I placed them on the tree, it was evident that this just wasn't happening.
If necessary, paint your decorations to match.
The original ribbons became covered in paint, so I decided to replace them with some gold cord from the ribbon by the roll section at the craft store.
Isn't it lovely? And so cheerful! I hope you make your own!