Cinderella Consumer Products Sneak Peek
During my visit to Los Angeles for the #DisneyInHomeBloggers event, I received a sneak peek of several Cinderella-inspired consumer products, in honor of the upcoming release of the Cinderella Diamond Edition Blu-ray Combo Pack. (in stores October 2nd) Below are a few of the beautiful fashion styles from the Cinderella collection I viewed, including products for adults!
Cinderella Fashion Adult Tops
Available at the Disney Store and DisneyStore.com, these beautiful tops feature lovely moments from Disney's classic film with exquisite rhinestone detail and two-tone coloring. Each of the lovely tops features a unique style to fit every princess personality.
These tops are beautiful on their own or paired with a cute blazer. (see pic below!) I love that the pieces can be dressed up or down.
SRP: $34.50 – $44.50
Stride Rite for Disney Princess, Cinderella Collection
Available at retailers nationwide in October 2012, Stride Rite for Disney Princess presents the Cinderella Collection featuring three versatile styles, including the MJ with magic lights, Flat, and Cozy Boot. Each Style displays the signature glimmering silver and gleaming blue of the lovely Cinderella to make any young girl feel like a real princess. In sizes 8.5 – 12 M, W.
I am in love with these Stride Rite shoes and my nieces would look adorable in this collection.
MSRP: $40.00 – $49.00
Cinderella Magical Lights Dress
Available at Target and Toys ' R Us, the Cinderella Magical Lights Dress lights up when it senses movement! A fabulous option for Halloween this year, don't you think?
MSRP: $34.99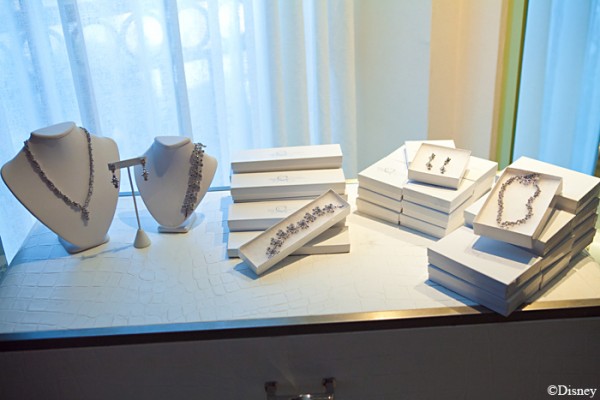 Fairy Tale Weddings Jewelry by Kate Aspen
My favorite Cinderella-inspired collection, by far! I was given the opportunity to choose one piece from the beautiful necklace, bracelet and earrings, and it was NOT easy deciding. I went with the bracelet, which was full of sparkle and Disney charm. The jewels were shaped like Cinderella's carriage and made me feel like a true princess.
Cinderella: Diamond Edition is available on Blu-ray + DVD Combo Pack on October 2nd.
After viewing all of the Cinderella products, I am very excited to see Cinderella and I cannot wait for the release of the Diamond Edition! Will you be picking up the Diamond Edition and/or purchasing the new Cinderella-inspired products?
Disclosure: Disney sponsored travel, accommodations and activities during my stay in Los Angeles. Thoughts are my own. All images are property of Disney.