Clever Ways To Store Toilet Paper
We're going to get a little personal on the blog today, guys. We're going to talk about bathroom stuff. Are you ready?
Ok. Let's do this. 😉
We've all been in this situation before: You're in the bathroom, you've finished doing what you went in there to do… and suddenly you realize that you're, well, lacking the necessary paperwork to finish the job.
What do you do? As an adult I think our first reaction is to search within arm's reach for a new roll of toilet paper, or if we're desperate, we might call someone else in the house to fetch us one… although I'd like to avoid this if possible! Usually we can find the new roll without much issue — especially if we've been good to ourselves and stored them under the sink or in a bathroom cupboard. You know, somewhere handy.
But what if it's a child who runs out of TP? Do they search for a new roll? Do they make do with that last pitiful square? Or do they ignore it completely and carry on? Don't shudder just yet — we've all seen the aftermath of a less-than-clean bathroom adventure when doing laundry or getting ready for a bath. Even kids who are old enough to do a good job, sometimes just don't — because they are kids! Or perhaps they just don't have the proper tools. There's something to be said for a lovely, cushy, plush roll of toilet paper when compared to those bargain brands. They just don't perform quite as well, if you know what I mean!
My family has been testing out the new Charmin Ultra Strong over the last few weeks and it's got to be the most efficient TP we've ever tried. This stuff has an incredible texture — almost like a washcloth — and it's super soft, which is exactly what you'd expect from Charmin! They're all about a better clean for you and your family which means you can use up to 4x LESS per go, versus the leading bargain brand. When you have young kids who are just starting to master the art of cleaning up after bathroom time, you want a toilet paper that's totally on your side, am I right? 🙂
You've also got to think about their technique. Oh yes, we're talking about how they go about taking that TP off the roll and how they might go about arranging it once it's in their hands! What did you teach your kids to do? Are they folders? Wadders? In a fun video, Charmin chats with lots of folks about their technique — and there are quite a few different ways of making it happen! Take a peek!
Now, what to do about running out of TP in the middle of a trip to the toilet? First, let's keep rolls nice and handy — not just for mom and dad, but for the shorted residents in our homes as well. No sense in keeping your rolls of Charmin up in the cupboard where they can't be reached by little hands!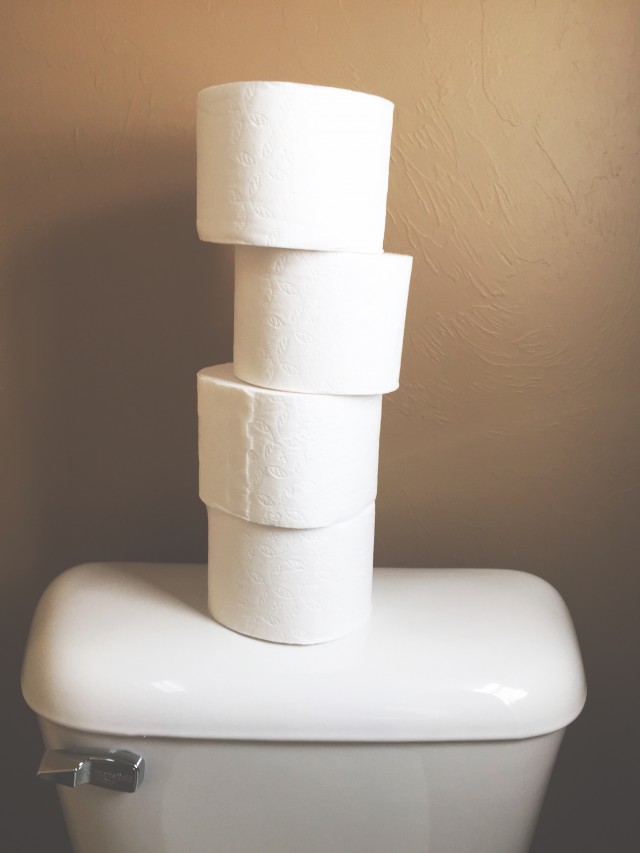 Here are a few ways you can store TP in your bathroom so that it's convenient for kids, without completely ruining the serene vibe of your bathroom:
Use a wide magazine holder to hold extra rolls beside the toilet. You can stack them up neatly so they won't roll away!

Get a wire basket and toss in a pile of rolls. They actually look kinda nice like this and you can move the basket around to wherever it's most handy!

Hang a second roll beside the first. Sounds crazy, but if you have a big household, you might just save some time and frustration!
Your life is busy and you've got too much on the go without having to worry about everyone leaving the bathroom as clean as when they went in! That's why Charmin Ultra Strong is designed to get you a BETTER clean — so you can use less!
This post is sponsored by Charmin.