Conversations with Coca-Cola Event
photo credit: Coca-Cola
A few days ago, I returned from a fantastic visit to Atlanta, Georgia with Coca-Cola. The "Conversations with Coca-Cola" conference not only opened my eyes to a whole new side of Coca-Cola, but left me feeling inspired and uplifted. Here is a recap of the event.
DAY ONE.
We started Day One with a fabulous breakfast at Coca-Cola headquarters, with plenty of Coca-Cola beverage options, of course! (did you know that Simply Orange is a Coca-Cola product?)
After breakfast, the conference began with Megan Calhoun from Social Moms (formally Twitter Moms) who spoke on "The Hundred Year You: The Power of Brand Pillars". Megan stressed the importance of "pillars" for a blog, business or brand, with pillars being the core foundation values. I thought about mine in depth and kept coming back to COMMUNITY, RELATIONSHIPS, and AUTHENTICITY.
Next up was a session on "Personal Sustainability" and a fun vision board exercise. I had never crafted a vision board before and wasn't sure what kind of results to expect. I have to say, creating the board was very therapeutic and calming. It also taught me a few things about myself, and more specifically, which path I want to take in the next year.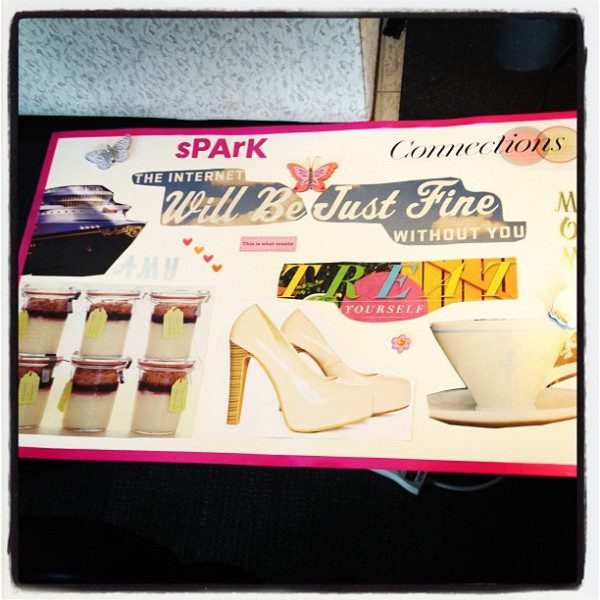 I plan on writing a blog post just on the meaning on this vision board, so stay tuned for that, but in a nutshell it displays the need to live in the moment, treat myself more and continue to make meaningful connections. With fun shoes and coffee, of course. 🙂
After the vision board session and a delicious Subway lunch, we listened to Subway trainer Monica Vazquez speak on how to "Eat Fresh, Train Hard". Monica stressed the importance of combining strength training with cardio exercise and how a healthy lifestyle is all about balance. Want to eat a piece of cake? Go ahead, but balance the rest of your day's diet with lower calorie options to keep that balance. We also had a chance to go outside and practice some exercises, like planking, that can easily be done from home.
Next up was a session on "Women in the Workplace", which consisted of a panel of Coca-Cola female executives. Their stories were inspiring and empowering as they shared their current job duties and how Coca-Cola encourages women to take those executive positions.
After our day of sessions, we boarded a shuttle bus and headed to the World of Coca-Cola! Touring the World of Coca-Cola was nostalgic, informative and a ton of fun.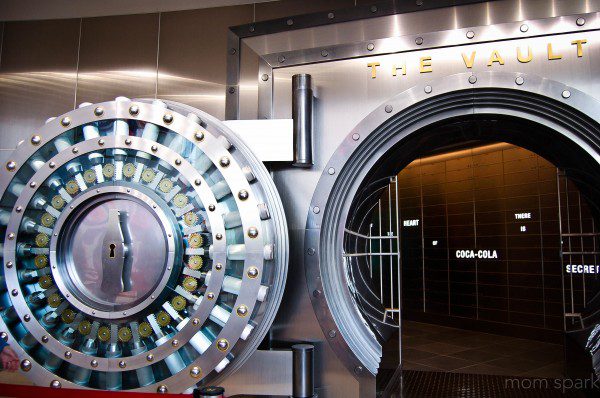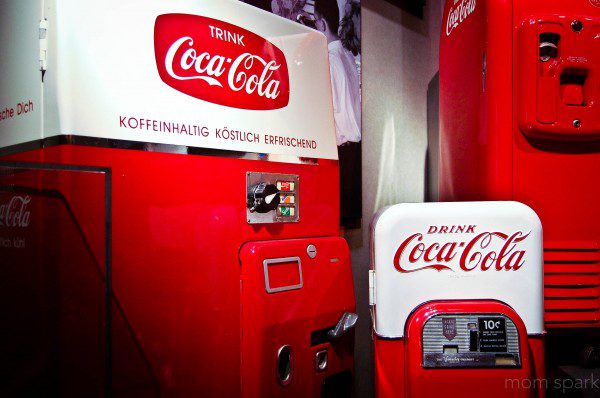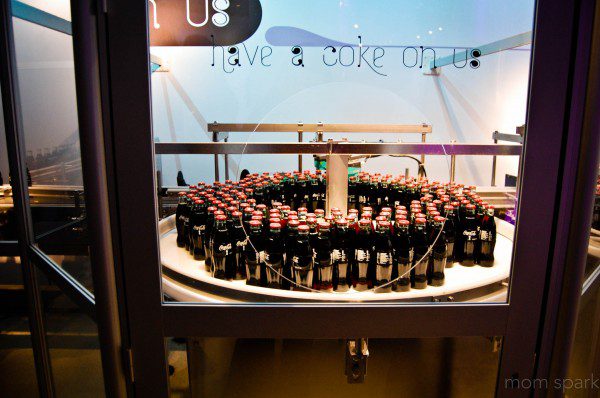 The tour ended with a free Coke bottle to take with us and a $25 shopping spree in the Coca-Cola gift shop. I purchased a couple of Coca-Cola cups with my kiddos, a coffee mug and a bag for my good friend Tamara.
That evening, we dined at the BLT Steak, located within the W Hotel with the bloggers and Coca-Cola team. It was a great way to chat with the bloggers and team alike over an amazing dinner.
DAY TWO.
Over breakfast, we started day two learning about Coca-Cola's history and commitment. One thing that really stood out to me was Coca-Cola's "Live Positively" message, which is so important that it carries over to all Coke employees and execs alike. The company believes in family coming first always, and encourages time off to make sure each employee doesn't miss a "Live Positively" moment in their lives. Love that.
Next, we covered Seagram's, another Coca-Cola brand, history and its focus audience. We even taste-tested a few flavors and created our own "signature drink" by mixing several Coca-Cola beverages together. Another fun, interactive session.
To end the day, we played a Jeopardy-style game, covering all of the Coca-Cola history and information we covered over the last couple of days. Winners took away fun Coca-Cola prizing! After Jeopardy, closing remarks were made and we were on our way to the airport.
The two days at Coca-Cola headquarters were a whirlwind of information, fun and inspiration. I loved the Coca-Cola brand before, but feel an even deeper connection to the company after visiting. After hearing from the female professionals at Coke, building the vision board and hearing the "Live Positively" mantra, I was inspired to carry on the same messaging in my life as well. More to come on where that road will lead me.
A big THANK YOU to Coca-Cola for having me and in many ways, changing my life. Now on to the big question…
Diet Coke or Coke Zero? Discuss in our comments below. 🙂
DISCLOSURE: My trip to Coca-Cola, including travel and accommodations was provided by Coca-Cola. Thoughts are my own.