Stylish Home Office Organization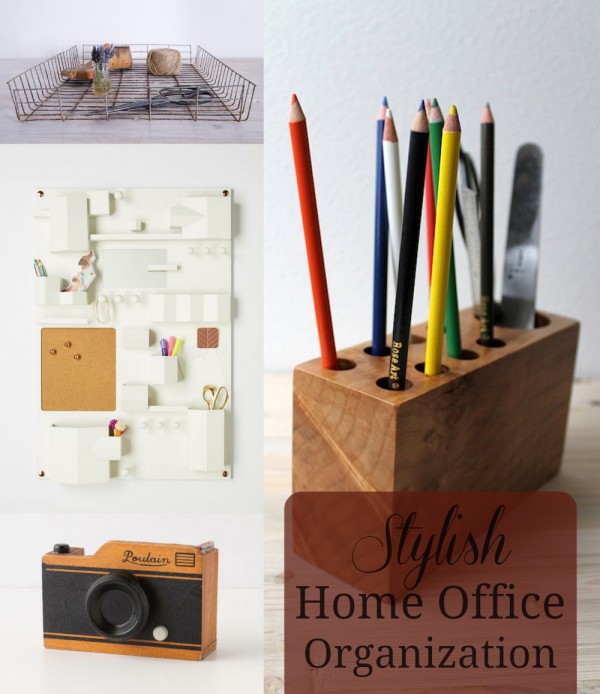 I have a theory that organization comes much more easily to those with a pretty place to keep everything — what do you think? Perhaps it's just me, lusting after a home office that's not a dining room table, but hey, a girl can dream! If you're looking to get organized for the New Year, check out these cute ideas below!
I am floored by this gorgeous wall organizer from Anthropologie. Mimicking an ariel view of a suburban neighbourhood, this piece has so many little spots to cover all your organizational needs — plus, its a work of art in itself! Love!
Add a little industrial style to your home office with these lovely copper pencils holders via Latitude 59.
A simple spot for all your writing utensils to live — I can never find a pen when I need one! This lovely piece comes from The Design Pallet.
Hello, shabby chic! I'm a sucker for all things vintage and this tray has so many uses. Corral your bits and bobs, use it to sort papers, or hang it on a wall to add a little vertical storage space. Visit Epoch Co. for more pieces just like this one.
If your home office has a modern feel to it, try this simple (and super affordable!) paper tray from Office Depot. A little shine and a lot of space for those papers that end up lost or mucked up by errant coffee mugs. Whoops!
I adore this camera-themed tape dispenser! You can find this vintage-style beauty at Anthropologie.
This neat boat organizer has plenty of little spot for all those nicknacks that end up strew across your desk. Plus, if you keep candy in one of them, I certainly won't judge you. Check this one out via ModCloth.
With a few of these super cute pieces in your home office organization-arsenal, you'll be tidied up and ready to rock in no time. Say HELLO to productivity and goodbye to clutter in all the wrong places. Enjoy!
For more organizational inspiration, follow Mom Spark via Pinterest!