Crock-Pot® Party Snack Mix Recipe
I have a secret addiction, party snack mix. I don't know if I'm giving away my age here, but when I was a kid the cereal based snack mix was still something new. Around the holidays, there were ads on TV with a mom making the snack mix and serving it to guests. For some reason, it just seemed exotic and sophisticated to me. I begged my mom to make it, and she did.
Today, I know that snack mix isn't quite the sophisticated treat I imagined as a kid, but I still love it! DIY snack mix is a great way to use up ingredients in your cabinet, too.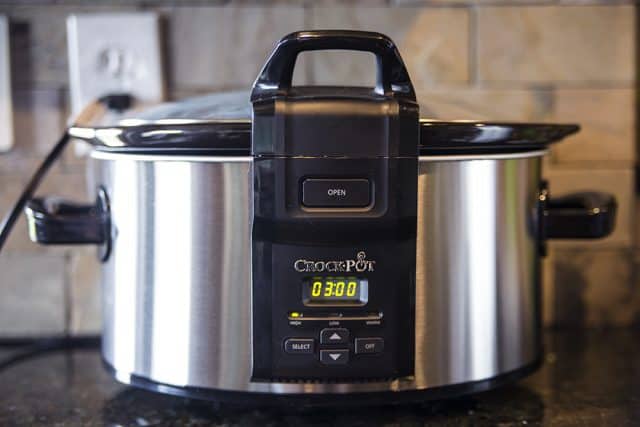 I've mentioned before how much I love my Crock-Pot® slow cooker and this recipe is just one more reason. By making it in the slow cooker, the flavors really blend, too. The recipe is super flexible and can be altered if you want to make yours sweeter or more savory.
Crock-Pot Party Snack Mix Recipe
Ingredients:
9 cups of rice cereal
2 cups pretzels (twists and sticks)
1 cup peanuts
1 cup multi-grain cereal (like Cheerios)
6 tbsp butter
1 tbsp seasoned salt
1tsp garlic powder
1/4 cup Worcestershire sauce
Directions:
Put all cereal, peanuts and pretzels in a Crock-Pot® slow cooker.
In a medium bowl, whisk melted butter and spices until well blended, then add Worcestershire sauce.
Add sauce mixture evenly over ingredients in Crock-Pot® slow cooker, then mix with a spoon until mixture is combined.
Cover slow cooker and cook on low for 3 hours, stirring each hour. Enjoy!
I've already mentioned my other favorite snack to make in the Crock-Pot® slow cooker, white queso dip. But snack mix is definitely more portable. I'm not embarrassed to admit that we take our snack mix everywhere, even the movies. I find having a little bag available for snacking really cuts down on my desire to buy more expensive, less healthy snacks.
What's your favorite thing to make in your Crock-Pot® slow cooker?
Share your thoughts in the comments.
Sponsored post by Crock-Pot® Brand. All opinions are my own.