CVS/pharmacy Event in Rhode Island
A few weeks ago, I had the pleasure of visiting Rhode Island for an exciting event hosted by CVS/pharmacy. As you may already know, I recently filmed a promotional video for CVS, so I was very excited to meet the team behind the brand.
TUESDAY
I arrived early on a Tuesday and was greeted with a beautiful room at the Providence Biltmore Hotel, along with a basket full of treats and something rather unique.
Yes, in my basket were M&M's with my face and name printed on them! It was such a nice, unexpected surprise that I let me smiling and chuckling to myself.
Later that evening, we had a lovely dinner at The Dorrance, which gave us bloggers a great opportunity to meet and greet over a delicious meal.
WEDNESDAY
Early Wednesday morning, we headed to CVS/pharmacy headquarters in Woonsocket for breakfast and sessions. Our first session covered CVS/pharmacy's company mission, ExtraCare updates and a "behind the scenes" of store design. CVS/pharmacy actually has a mock store inside of their headquarters, so we had the chance to look around!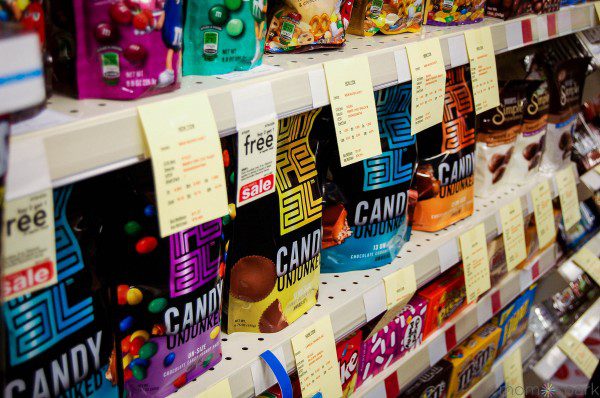 After our store tour, we finished with sessions on how CVS/pharmacy and bloggers work together, the future of digital (with a sneak peek of the new website), and beauty updates.
Takeaways:
pharmacy is 70% of CVS' business
first to launch a retail clinic in stores
first to have a pharmacist reach out to those with cronic conditions
largest loyalty program in the world

275 million unique cards issued
90+ million active households
82% of front store sales
67% of front store transactions

ExtraCare fuels everything – inventory, store assortment, personalized digital, promotion, targeted advertising, in-store merchandising
Coupon Centers a.k.a. the magic coupon machine

available in nearly all locations
personalized coupons and special instant savings offer
useful for printing ExtraBucks Rewards before you shop (quarterly and beauty club)

ExtraCare Email – savings, exclusive updates

offers and news you can't get anywhere else
customized = not everyone gets the same email
expanding flash sales program
send to card directly from your email

Send to card enhancements

launched initially to email subscribers
50% receipients have embraced this new digital functionality
launched for quarterly extrabucks rewards this past Jan
send to card right from your smartphone

Future of Extracare

personalized digital enhancements
applying what we've learned at the pharmacy and throughout the store to give bigger, better rewards for your loyalty
aligns with our corporate mission, to put people on a path to better health

ExtraCare Everywhere – mobile and digital enchancements

endless aisle
unmatched personalization + seamless access across devices
flash sales

New Extracare barcode feature
Coming Soon

"get free gas" promotion returns
more send to card enhancements
more flash sales coming – by email and social
deep discounts and huge offers for the holiday season
Dinner that evening was unlike anything else I have ever experienced! We participated in a "tasting menu" of 11 courses by Chef Adam Melonas that were, how should I say, unique? To give you an idea, our first course was an Octopop. As in, an Octopus lollipop.
Despite the unique food, we had a wonderful time laughing and chatting during the dinner. For dessert, we tasted Chef Adam's snack creation for CVS/pharmacy called "Unreal". The Unreal line includes candy bars, candy-covered chocolate and more, offering less fat, fewer calories and more protein and fiber than leading brands. I have to say, I was pleasantly surprised by the flavor of the Unreal candy and could definitely see myself eating it on a regular basis.
THURSDAY 
Thursday began with another great breakfast over sessions led by CVS/pharmacy executives. We had the chance to test fragrances and snacks, while recording our thoughts on each. It was a ton of fun!
After product testing, we learned about CVS/pharmacy's community service initiative and even participated in putting together personal hygiene packs for those in need. I loved being involved in that initiative, as I know how important toothpaste, deodorant, and other personal items are when a family has lost everything due to fires, floods, tornadoes and more.
I loved my time with CVS/pharmacy and feel even more attached to the brand than I did before. The day I returned from the trip, I had a prescription filled at my local CVS and I paid extra attention to the care my pharmacist provided. Her first remark was, "Wow, it has been a long time since you filled a prescription for yourself!" I said, "That's a good thing, right?" When she gave me the prescription, she told me to eat before taking and drink plenty of water. (it was for an antibiotic) What she said after that meant the most – "I hope you feel better very soon." Loved that.
Disclosure: CVS/ pharmacy sponsored travel, accommodations and activities during my stay in Rhode Island. Thoughts are my own.