Disney Animation Short, FEAST.
Disclosure: Disney sponsored travel, accommodations and activities during my stay in Los Angeles. Thoughts are my own. 
OKAY, by now you have read about my BIG HERO 6 red carpet premiere experience, movie review, Disney Movies Anywhere news, interviews with the filmmakers, drawing demo (if not, click to read each one!), interviews with Jamie Chung (voice of Go Go Tomago) and Genesis Rodriguez (voice of Honey Lemon), voicing Baymax, my experience with watching a live taping of "Dancing with the Stars" and today I'm chatting about the animated short that plays right before BIG HERO 6, called FEAST!
I LOVE that Disney is making pre-movie shorts a tradition now, as they are an experience in themselves, with just as much thought, time and care as a full-feature. FEAST is roughly about a Boston Terrier, his male owner and their life together as several years pass by. I don't want to reveal too much, but trust me in saying that you will have emotions running wild when you watch it. With tears, many, many tears.
Here are some highlights from our interview with Director Patrick Osborne & Producer Kristina Reed!
How long did it take to go from beginning to end?
PO: This short was green lit a year and a month ago and our shot production was sixteen weeks, with a month of sound in the end. So, I think we were green lit January thirteenth this year and then we finished at the end of May. It's daunting when you start the project when you realize it's going to be a movie that's seen by a lot of people and it's a lot of pressure to deal with.
What's your favorite part of the animation project?
PO: I'm an animator, so that's my favorite part! I've been doing it for twelve years – it's like there are certain parts to it that are a little more free and creative.  Like the story is wide open and all these things can happen, but your work is never on screen, you never finish it. Animation is very creative and it's on screen, so finishing things out that way so all steps, every step is, is fun in its own way.
How many people did it take to create FEAST?
PO: You start out very small and then you work in between the big features, which are sort of the like ocean liner of everybody is working on them, so you get people here and there when you can. It ends up being a lot of people that get to touch it, but for not very long.  So, there's a few story artists that helped out in the beginning and then a core crew, about five people, like the head of animation, production designer, a visual effects supervisor who's in charge of like making things really happen on screen and you work with them for a while and then animators will come on, I got I think we had fifteen animators for about three weeks, three four weeks something like that.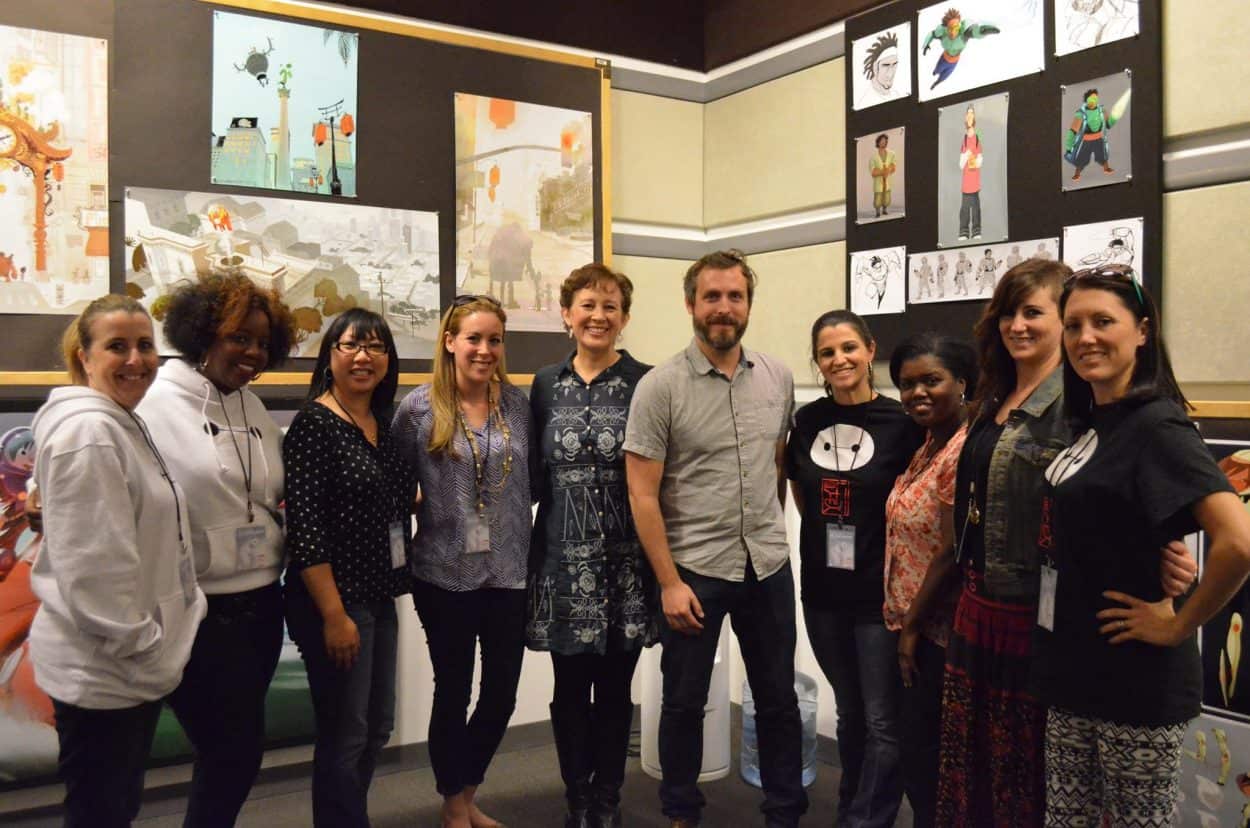 BIG HERO 6 is now open in theaters, so please make sure you check it out! In the meantime, please enjoy the BIG HERO 6 trailer below and stay tuned for more interviews and information from my press trip in the coming days.
Disclosure: Disney sponsored travel, accommodations and activities during my stay in Los Angeles. Thoughts are my own.