Disney/Pixar's BRAVE: Movie Review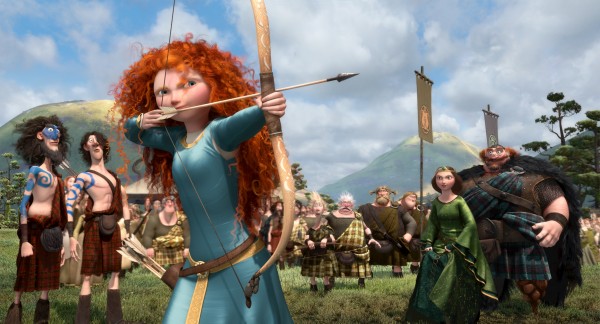 Earlier this week, I had the honor of attending the red carpet premiere of Disney/Pixar's BRAVE in Hollywood. I have been excited about BRAVE for quite some time now, as I was intrigued by the mystical, Scottish theme and a strong woman as the lead character.
A brief snyopsis of BRAVE:
Merida is a skilled archer and impetuous daughter of King Fergus (voice of Billy Connolly) and Queen Elinor (voice of Emma Thompson). Determined to carve her own path in life, Merida defies an age-old custom sacred to the uproarious lords of the land: massive Lord MacGuffin (voice of Kevin McKidd), surly Lord Macintosh (voice of Craig Ferguson) and cantankerous Lord Dingwall (voice of Robbie Coltrane). Merida's actions inadvertently unleash chaos and fury in the kingdom, and when she turns to an eccentric old Witch (voice of Julie Walters) for help, she is granted an ill-fated wish. The ensuing peril forces Merida to discover the meaning of true bravery in order to undo a beastly curse before it's too late.
As all Disney/Pixar movies, this Celtic-inspired story was full of heart, humor and pain. My emotions where up and down throughout the movie as Merida went on her journey for independence and figuring out how to understand her mother. BRAVE was a movie about growing up, knowing the importance of family, and being responsible for choices, even when those choices are bad ones.
"If you have the chance to change your fate, would you?" – Merida
Merida is Disney/Pixar's first heroine, which made BRAVE all the more special for me. I appreciated the strength and non-stereotypical personality of Merida as a princess, so much that at times I forgot she was a princess. Merida isn't one to follow the rules, which was quite refreshing.
I loved BRAVE and will be happily purchasing the Blu-ray once it hits shelves. See my interviews HERE with the cast and crew and my time on the "green" carpet HERE.
"Some say our destiny is tied to the land, as much a part of us as we are of it. Others say fate is woven together like a cloth, so that one's destiny intertwines with many others. It's the one thing we search for, or fight to change. Some never find it. But there are some who are led." – Merida
Have you watched BRAVE yet? What are your thoughts?
Disclosure: Disney/Pixar sponsored travel, accommodations and activities during my stay in Los Angeles. Thoughts are my own.