Disney's FROZEN Press Day at Walt Disney Animation Studios
Disclosure: Disney sponsored my travel, accommodations and activities during my stay in Los Angeles. Thoughts are my own.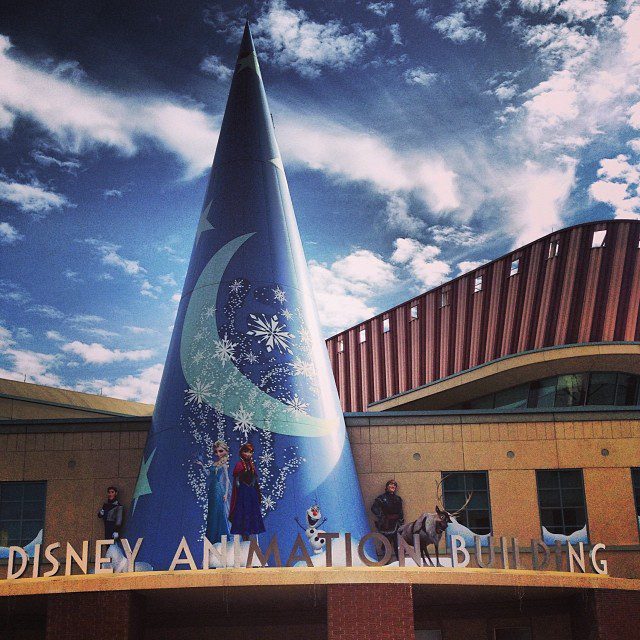 During my #DisneyFrozenEvent experience in Los Angeles a few days ago, I had the wonderful opportunity to visit the Walt Disney Animation Studios for a FROZEN press day full of in-depth interviews and activities. Here is a recap of our day!
Interview with FROZEN Filmmakers – Directors Chris Buck & Jennifer Lee and Producer Peter Del Vecho
How many years have you been working on FROZEN?
I (Chris Buck) pitched it five years ago, but when it came down to production probably about two and a half years. Jen joined us a little bit later, she was finishing up on Wreck It Ralph when we snatched her.
Was it difficult to animate ice and snow?
The ice was hard because with a computer, the computer does everything perfectly. And so the first kind of ice that we saw looked more like glass or plastic. And so we realized the ice has imperfections in it, it has flaws, and so we had to put those imperfections in. We went to an ice hotel in Quebec City and we saw how the sunlight would come through the ice and how beautiful the different rooms were. We were there at different times of day, and they even put lights in the place.
We had a crew go to Cheyenne, Wyoming and we got all our animators to wear big skirts with corsets, both the men and the women, to walk through deep snow and understand what that means. We didn't want the characters just walking on top of snow. We wanted the integration. and doing integration with snow, we had to completely build programs to do that.
Kristen Bell talked about improvisation?
Well, I think we always had the girl we had it in mind. We always wanted a heroine that was flawed. That had these imperfections that was somebody like us.
Inspiration for Sven, the Reindeer?
Reindeer were tough. Because she (Sage the Reindeer who they studied) didn't do much. She'd scratch a lot like a dog. Pant like a dog. Understanding reindeer and the types of coats they have, the way they move and their weight and their size. We do a ton of research on everything we do, from all levels, like the physicality, the physics.
Where did the inspiration for the castle come from?
Our art director and his team went on a beautiful trip to Norway. They brought back all of the architecture and the locations. It's a very warm, very inviting, very intimate. It was a perfect balance of cold and warmth. It's always good to root it in something real and then go off of that.
Rigging Lab
One of the highlights of the FROZEN press day was playing in the ribbing lab – the tools that computer animators use to create the most detailed and believable human expressions. Here is a short video of me playing with the rig of Olaf!
More on my day in the upcoming days, including my time in the voice recording booth and more interviews!
About FROZEN
Walt Disney Animation Studios, the studio behind TANGLED and WRECK-IT RALPH, presents FROZEN, a stunning big-screen comedy adventure. Fearless optimist Anna (voice of Kristen Bell) sets off on an epic journey—teaming up with rugged mountain man Kristoff (voice of Jonathan Groff) and his loyal reindeer Sven—to find her sister Elsa (voice of Idina Menzel), whose icy powers have trapped the kingdom of Arendelle in eternal winter. Encountering Everest-like conditions, mystical trolls and a hilarious snowman named Olaf, Anna and Kristoff battle the elements in a race to save the kingdom. FROZEN opens in theatres everywhere on November 27th!
Disclosure: Disney sponsored my travel, accommodations and activities during my stay in Los Angeles. Thoughts are my own.