e.l.f. Makeup Party
I hosted my very own e.l.f. makeup party last Friday night, and boy, did we have a blast!  e.l.f. sent us several makeup products, from foundation to lip liner, to try out.  No pressure to purchase anything.  No sales pitch.  The only requirement was to have fun.
My assistant, Haley Quarles, drove up from Texas (6 1/2 hours no less) to help me prepare for the party.  Before she arrived, I had already cleaned the house, organized all the makeup by product line (Minerals, Studio, and the original e.l.f. line), and set up makeup stations for each guest.
When Haley arrived, we did a quick run to the grocery store, come back, and started preparing the food.  I had already baked some cookies earlier that morning, so I plated those. Then, we did the unthinkable – we made CHOCOLATE DIPPED STRAWBERRIES!  I was a little frightened to do this, but you know what?  It was so simple.  Just microwaved some Baker's semi-sweet chocolate, dipped and placed on wax paper.  We even melted some white chocolate and squirted that on top, too.  So easy.  So tasty.
After the strawberries, I fried up some breakfast sausage, then mixed it with Velveeta cheese and Rotel tomatoes in the crock pot for the perfect tortilla chip dip.  We added some salsa and trail mix to the "buffet" line and we were ready to have guests!  The doorbell started ringing.
When our guests arrived, they each selected a makeup station and wrote their names on their bags.  We chatted a bit, got our Whrrl stories fired up, and then we moved on to the food!  Of course, we bragged A LOT about our strawberries, so thank goodness they tasted delicious.(we wouldn't have lived that one down) Haley and I actually ate so many strawberries that the very thought of a chocolate-dipped strawberry made our stomachs turn the next day!  The cheese dip was a hit, too.  After snacking a bit, we loaded our plates again (yes, a second time, do you have a problem with that?) and sat in the living room to watch an e.l.f. instructional video on how to properly apply makeup.
After watching the video, a revelation was made – Haley was a makeup artist!  I had no idea.  After finding this out, she was then proclaimed our official makeup artist for the night!  The guests then selected e.l.f. makeup products to try on and it wasn't an easy task!  There were so many options that is was hard to decide.  Haley offered some helpful advice to guests who were feeling overwhelmed.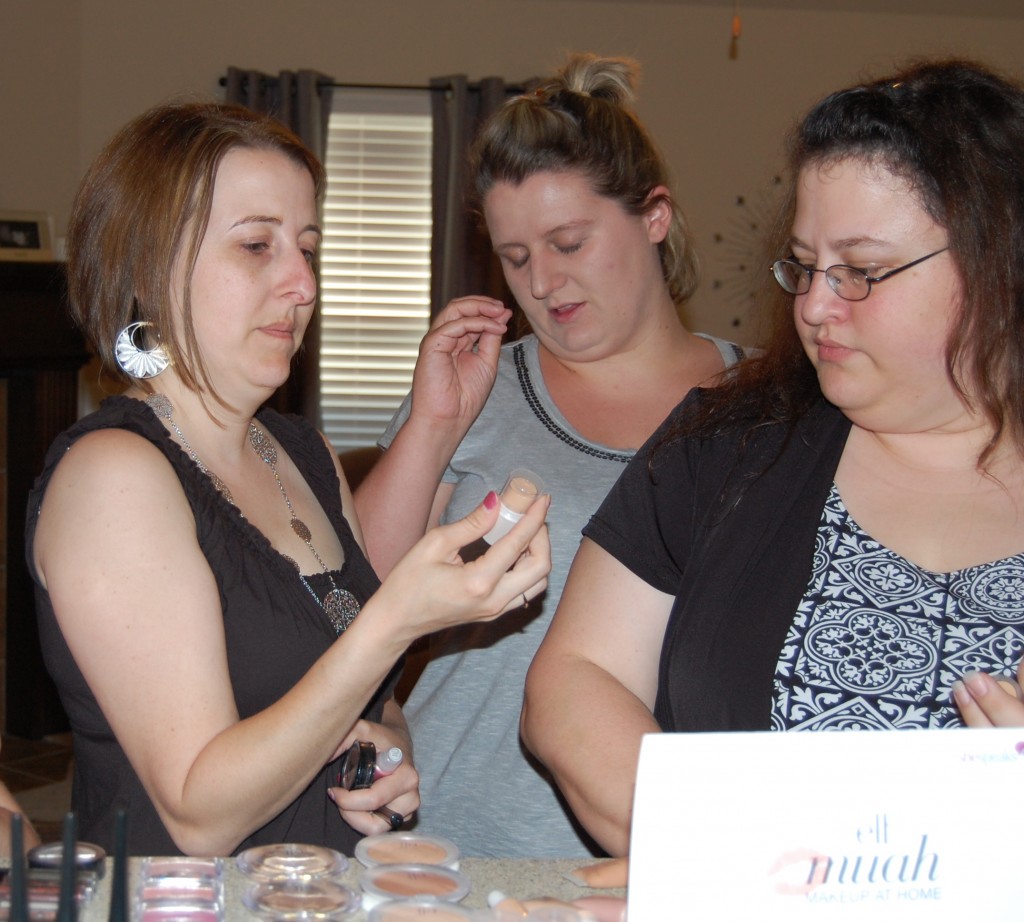 Now it was time for the fun part – putting on makeup!  Some of our guests applied their own, and some used Haley's services. Haley did a great job giving everyone a very clean, fresh look.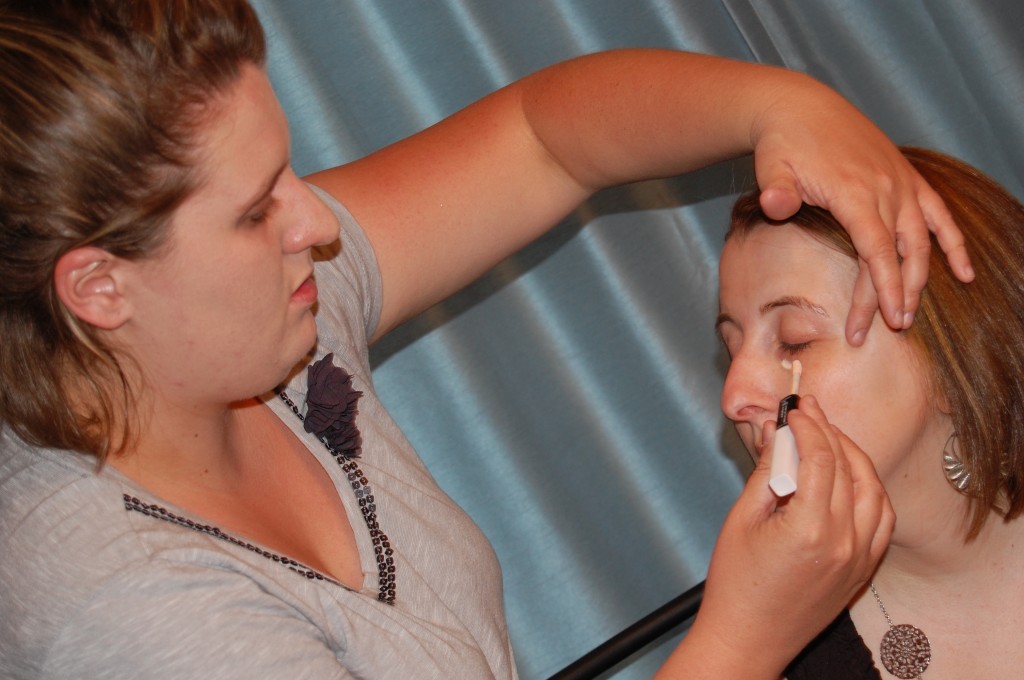 I made sure to snap a "before" and "after" pic of everyone for your enjoyment!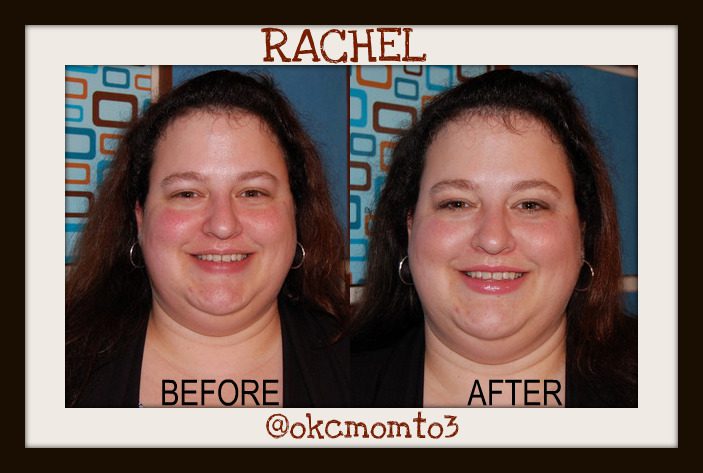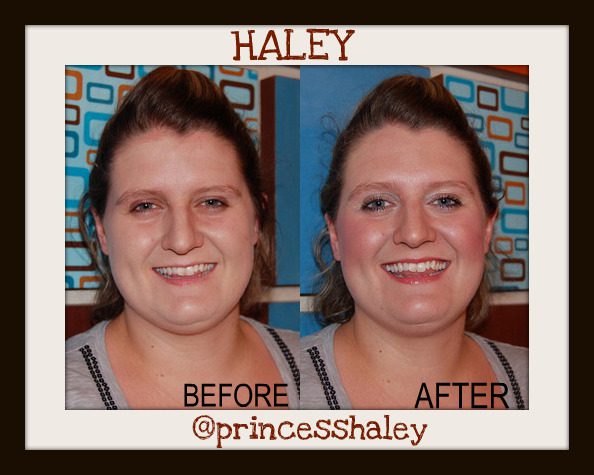 Needless to say, we had a blast.  Not only was the e.l.f. makeup great quality, but it's EXTREMELY affordable and they are always having special sales on their website.  Check it out, or better yet, win some below.
I would like to thank e.l.f. Cosmetics for allowing me to host this makeup party and to my guests for making it extra special!
DISCLOSURE – I was given e.l.f. makeup products for my e.l.f. makeup party.  My reviews and recommendations are always honest and true. Read Mom Spark's full disclosure here.