EA Sports Active Retreat in LA
Yeah, it's been about two weeks since I returned from the EA Sports Active Retreat in Los Angeles and I'm just now writing the recap.  You got a problem with that?  You better watch out, my arms are much stronger than they were 8 weeks ago.
As you know, I was one of 12 challengers that participated in the EA Sports Active More Workouts 6 Week Challenge.  Wow, that is a mouth full.  When it was all said and done, I lost a total of 6 inches and one pound.  Not bad considering the challenge was over Thanksgiving and Christmas.  I'm starting to get muscles.
So, anyway, back to the retreat.  EA was awesome enough to bring us challengers out to Los Angeles for a fun, but busy weekend.
THURSDAY:
Julie Maloney and I arrived at LAX in the early afternoon, and then headed over to the SLS Hotel via a sweet Lincoln Continental.   We ended up hanging out in a conference room for a couple of hours until our rooms were ready.  The SLS was a very modern, unique hotel.  There were monkeys everywhere if that tells you anything.  Monkeys in suits. Oh, and a pig table.
When I finally got into my room, I relaxed on the bed and watched some Dr. Phil. It's what the stars do, afterall.  Shortly after, I heard a knock on my door.  I opened the door to see the beautiful Renee Ross, so I invited her in and we chatted.  I gave her socks.
Later that evening, we met at the hotel restaurant, "The Bazaar", for dinner.  Dinner was, well, bizarre.  It wasn't your typical menu, but a tasting menu, which I had never experienced before.  Basically, the waiters bring out tiny portions of food to "taste" among the group.  The food was very fancy and different.  I favored the potato soup in an eggshell.  I wanted 10 more, but I was too embarrassed to ask.  The highlight of the meal was the Magic Mojito, which was a ball of cotton candy in a glass with mojito juice poured over it.  Yum.  One more, please.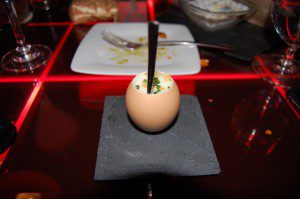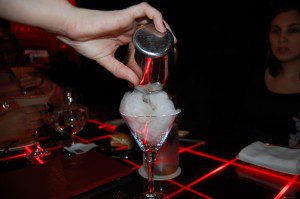 By the time dessert came, I was finally getting full.  I was exhausted.  It was time to crash.
FRIDAY:
Friday started off with a yummy breakfast, then waiting for hair and makeup for our "after" photos.  We were also waiting for a one on one meeting with our EA fitness expert, Gerard Recio.  While I waited, I worked away on my laptop. Work never stops, right?
It was nice meeting with Gerard.  I discussed my issues with flab, especially in the midsection.  He showed me some great exercises I could do to help tighten my abs.  I also told him about my inconsistency with sleep, eating, and exercising.  He best advice was to prioritize and do the best I can.  Things will get easier as the kids get older.
Soon after meeting with Gerard, I had my "after" photo shoot.  I still haven't seen the photos.  I hope I don't look pregnant or frumpy.  Most of us also took photos in the pool, where the awesome Monica was nice enough to snap some shots for us.  It was then time to get ready for the celebrity charity function.  What to wear?  What to wear?  None of us knew.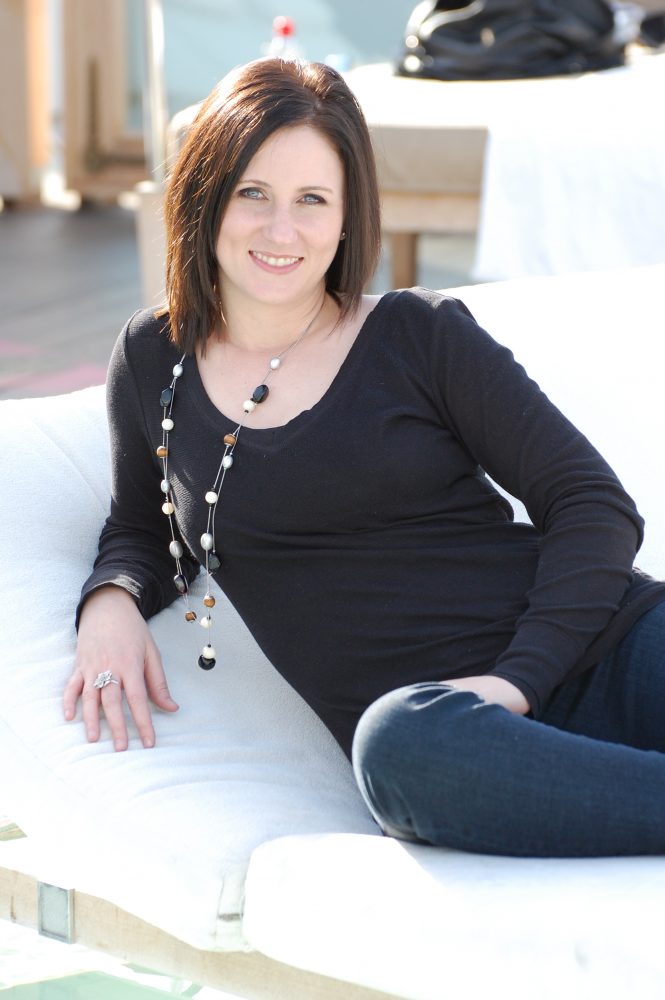 We headed to the charity function in a big bus.  When we arrived, we were greeted by Nancy O'Dell, who was hosting the event.  The idea was to invite celebrities, have them sign Wii consoles, do some EA Sports Active workouts, then  auction the Wiis for the March of Dimes.  Many of the celebrities I didn't know or had never heard of, then again, I'm royally out of the loop when it comes to Hollywood.  I did know who Ace Young was, because I'm an Idol fan.  I also recognized and met the "naked guy" from Sex and the City.  Needless to say, he drew a lot of attention.  Maybe it's because I've met celebrities before, but I just treat them like regular folk.  I don't get  enamored or starstruck very easily.  They are just humans, right?  I spoke to a few random humans and they all seemed cool.
Crash.
SATURDAY:
I woke up early.  The time change was really starting to mess with me.  Monica called me and asked me to go to Target to get a backpack.  Why not?  It ended up being quite an adventure that consisted of a cab driver who we couldn't understand, waiting for Target to open, and then running through Target like it were The Amazing Race.  We did make it back to the SLS with time to spare.  It was fun.
Another wonderful breakfast.  BTW-The SLS makes their own vanilla Greek yogurt and it is amazingly delicious.  I miss it.  Anyway, we were to go hiking through the Hollywood Hills after breakfast.  I figured hiking in the Hollywood Hills would be an easy stroll up a tiny hill.  Uh, no.  This was hardcore hiking.  We don't hike in OK.  Yeah.  It was hard, but I loved it.  The views were beautiful.  The Hollywood sign was visible.  No smog in the cityscape.  A sunny, perfect day in LA.  I was proud of all of us who made it to the top of the hike.
We returned to the SLS, and I went to my room and got cleaned up.  We then had a Ustream show with Gerard at 4:00, and that was a lot of fun.  Gerard is full of fitness info.  To the max.  He's awesome.
For dinner that night, we went to Jones for some Italian.  Ahhh, carbs!  I honestly hadn't eat much over the weekend and looked forward to some heavier food.  I ordered the spaghetti and meatballs and we all munched on some yummy appetizers.  The spaghetti was WONDERFUL and exactly what I needed.  We had a lot of laughs and some of us were acting VERY silly.  Yeah, you know who you are.
The night ended, and we hugged those who wouldn't be with us for breakfast in the morning.
SUNDAY:
One more delicious breakfast before I was back to cold cereal and Nutrigrain bars.  And more Greek yogurt.  So good.  I miss it.  We spent a good hour or so together at breakfast, said a few more goodbyes, then Michele & I headed up to the pool once last time.  Did I mention that the pool was amazing?  Beautiful views and cool decor.  Loved it up there.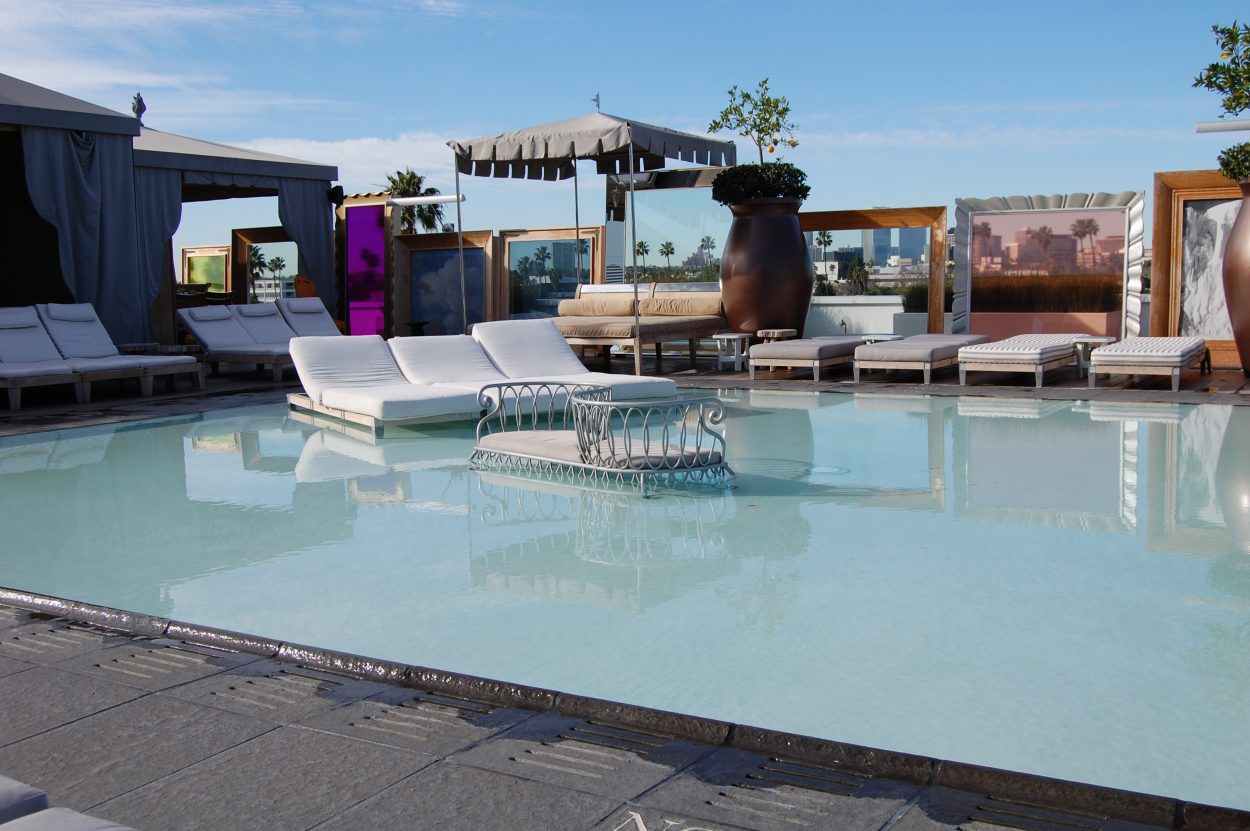 My driver was about to arrive, so I gathered my luggage and sat by the door with a few of the remaining challengers.  I gave my hugs, then left for home.  I had a wonderful time, but I also REALLY missed my family.
Thank you, EA Sports, for making our weekend special.  It rocked!
EA Sports sponsored this retreat.