Easy Cheesy Chicken Tortilla Soup
One of my favorite family activities is snuggling up on the couch together and watching TV. We could watch anything, really, from animated movies to sitcoms, and have an awesome time.
Saying that, one of our favorite television programs is Food Network's Chopped. You may remember that I hosted a Twitter party with Ted Allen (the host of Chopped) a few weeks ago, too! My kids thought that was pretty cool. 🙂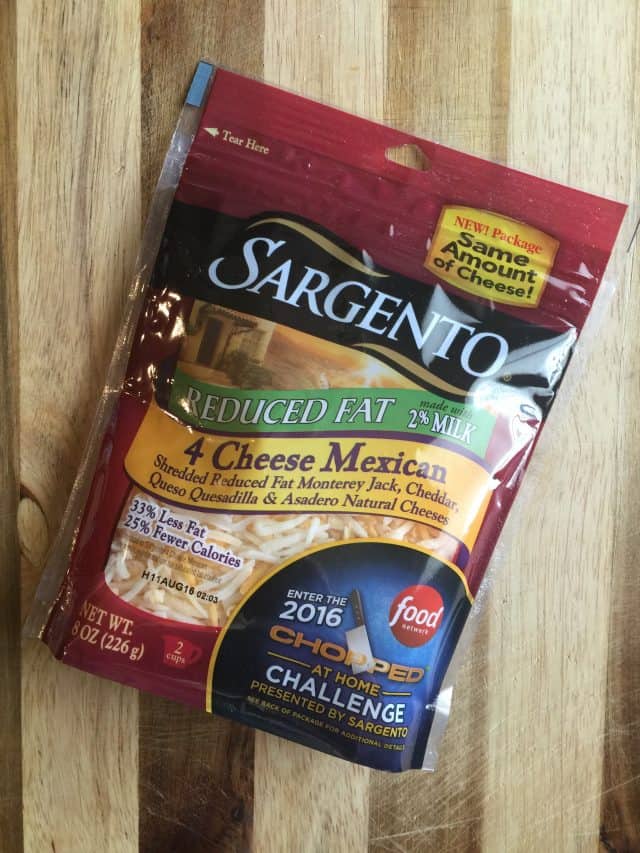 I'm happy to share that I have the opportunity to partner with Chopped again for their "Chopped At Home Challenge" with Sargento where one winner will win $5000 and a trip to New York City to compete in a televised Chopped cooking challenge for a $10,000 grand prize! Here is how the challenge works.
Each round will have a four-week entry period, followed by a three-week voting period. This year, all entries are eligible for public voting.
At the end of each round, judges will review and rate all of the submissions. Finalists will be selected based on a combination of the judges' ratings and the number of votes received.
Photo submissions must include Sargento packaging.
Learn more about the challenge here!
Of course, I couldn't talk about the Chopped At Home Challenge without actually creating my own recipe, could I? Don't be silly.
My assignment was to create a Mexican dish with the following "basket" ingredients:
Sargento 4 Cheese Mexican Blend
Corn tortillas
Poblano peppers
Chicken thighs
The first idea that popped into my mind, and one that I have never personally made before was chicken tortilla soup, so that is exactly what I did. And then the world sang.
Check out the recipe below.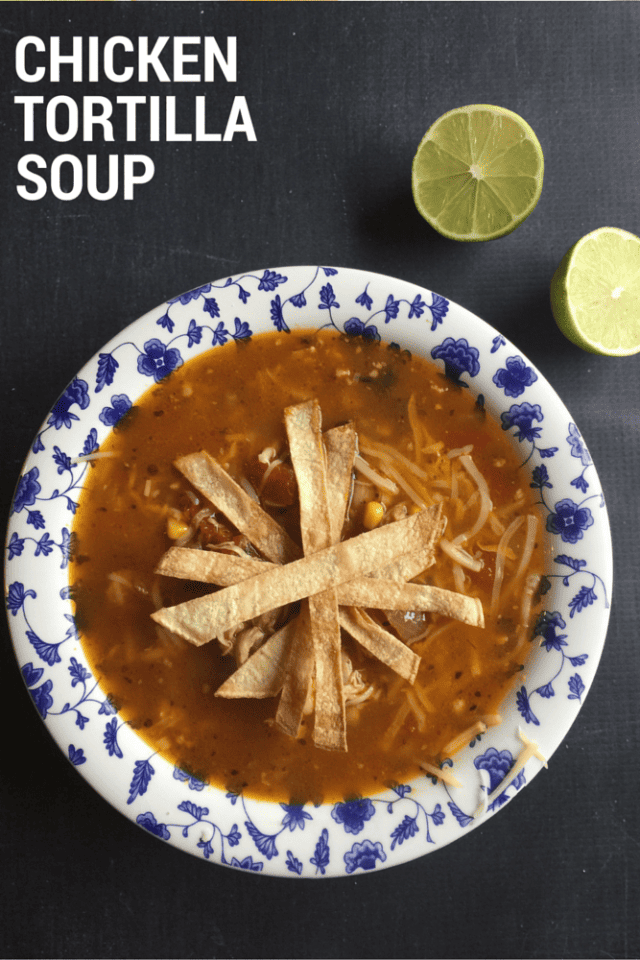 EASY CHEESY CHICKEN TORTILLA SOUP
Ingredients:
1 package of corn tortillas, cut into strips
1 package of Sargento 4 Cheese Mexican
1 poblano pepper, finely chopped
4-5 boneless skinless chicken thighs
2 tbsp vegetable oil
1 onion, chopped
6 garlic cloves, minced
1 handful of cilantro
14.5 oz can of diced tomatoes
15 oz can of corn
32 oz carton of chicken stock
1 tbsp chili powder
1 tbsp ground cumin
4 bay leaves
1 tsp salt
optional: 1 lime (a squeeze for each serving)
optional: cayenne pepper, to taste (for spicy soup)
Directions:
Preheat oven to 425 degrees. Cut tortillas into strips using a pizza cutter. Place on a greased (or use a Silpat) baking sheet and bake for 5-7 minutes or until the strips are golden brown. Set aside.
In a large pot, heat up vegetable oil over medium heat, then add onions and garlic. Cook for a couple of minutes, add cilantro, and cook for another minute or so. Add canned tomatoes, chicken stock, corn, all spices, and bring to a boil.
Add chicken thighs, then lower heat to a simmer. Simmer for 15-20 minutes, or until chicken is cooked through. Remove chicken from pot and shred with forks or in a stand mixer. Add chicken back to pot and stir.
Serve topped with Sargento 4 Cheese Mexican and baked tortilla strips. Add a squeeze of lime to cut spiciness (if necessary).
Oh my goodness, this recipe is delicious and the perfect soup for leftover night or a quick reheat for lunch.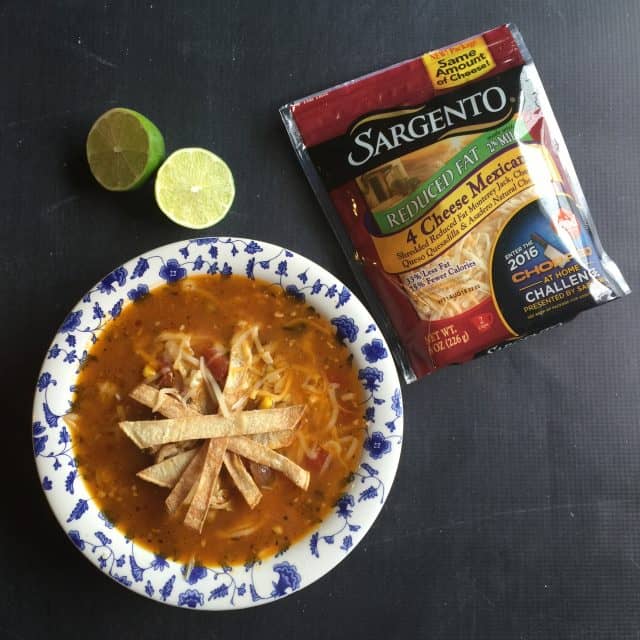 Are you ready to get your Chopped on? Submit your recipe to FoodNetwork.com/ChoppedChallenge for the chance to win $5,000 and a trip to New York City to compete in a televised Chopped cooking challenge for a $10,000 grand prize. Good luck!
This is a sponsored conversation written by me on behalf of Sargento. The opinions and text are all mine.