Easy Glitter Easter Eggs
Right now I have the windows all over my house open. It's a deliciously sunny 71 degrees and the cool, clean breeze is doing wonders for me. The birds are chirping, my daffodils are popping out all over the place and my lawn is in desperate need of a mow. Spring is my season. It's the best time of the year as far as I'm concerned. Do my allergies go haywire and do I go around with watery eyes and a red nose? Yep, I sure do. And I STILL love Spring as the best season of all.
For the last little while it has been dark and dreary and rainy and cold and just plain awful. So when that warmer weather hit, I was the happiest I've been in ages! Since I naturally love the season, I'm going to be pretty down with all of the events and holidays, too. The biggie is always Easter. That's cool because it's super fun to craft for. I mean, the whole commercial side of it is about DIYing up your own eggs to search for later on.
As far as I'm concerned, glitter is always awesome. So for this round of Easter eggs for 2015, I decided to pair gold glitter with coral eggs. Boom. That's pretty awesome is it not? In fact, this color scheme was chosen after DIYing up my own wall art in the very colors and loving it!
You can work these babies in any color scheme you please including favorite colors, school colors or even just a rainbow-esque free-for-all. Grab your supplies and let's get on it.
For this project you will need:
Ready to decorate plastic eggs (12 for less than $2 at Walmart)
Acrylic paint and brush
Mod Podge and brush
Fine glitter (I used Tulip Fashion Glitter)
The lighter the color you choose, the fewer coats you'll need to make your eggs that one solid color. There are so many acrylic paint colors to choose that you can probably find that one exact color you love. Paint and allow to fully dry.
Craft tip o' the day… To keep from ruining your entire jar of Mod Podge by getting glitter or whatnot in it, pour a small amount out and work from that rather than right from the jar. I buy these medicine dispensing plastic cups online and they're the perfect little paint and glue holders.
Thinly paint on your shapes or pattern, working a small area at a time in the Mod Podge.
Shake on your glitter…
Shake off the excess and keep going.
You can use round sponge daubers, brushes of different thicknesses, cotton swabs or you name it to get your glue onto the eggs.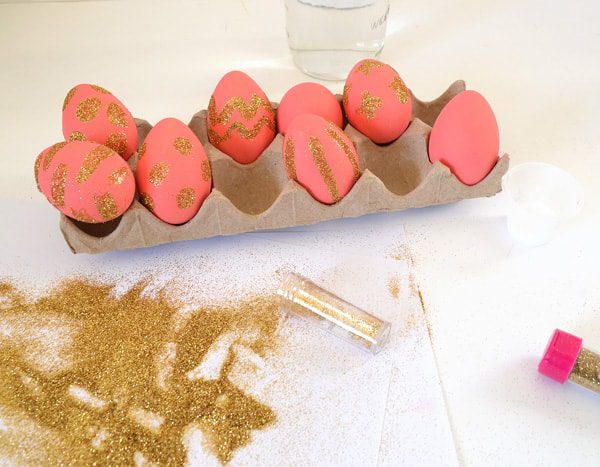 You can use any pattern that you please…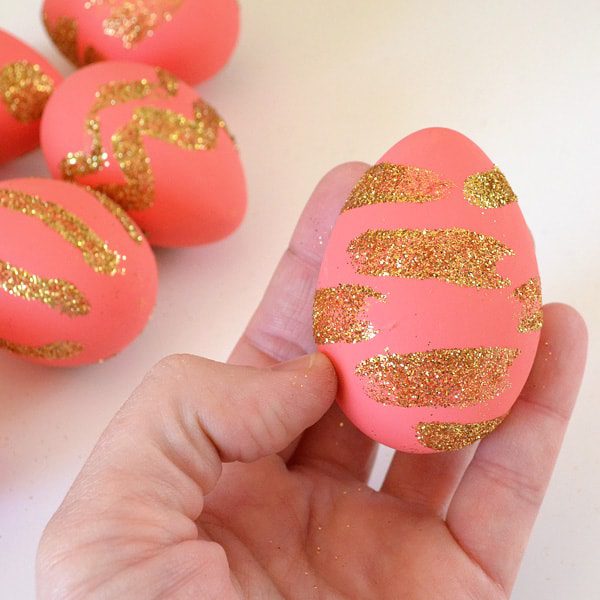 even just random brush strokes wind up being really pretty!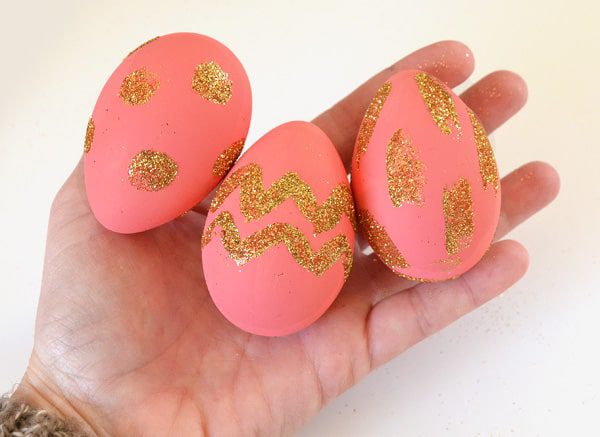 To keep your glitter on the eggs, you can use a sealer that you find right near the Mod Podge at the store. I didn't use it because it can dull down the shininess of the glitter a bit and since photos are never as sparkly I waited until after all of my pics were snapped!
But spray those eggs and you won't have glittery fingers like I do!