Fun Spring Hair Accessories
There are two things that make me very excited for the upcoming return of warmer weather. With the beginning of spring just around the corner I a) will no longer need to wear 18 layers of clothing simply to leave the house and b) I will no longer suffer from miserably staticky hair! I don't know about you, but all winter long I feel like my hair is attacking my face with it's wispy static. It's terrible. This year my daughter learned the terrible truth behind trying to use your mitten-clad hands to brush your staticky hair out of your face — it's a never ending battle!
With the warmer weather slowly returning (it's a little slower up here in Ontario, let me tell you!) I will no longer be shoving my hair away from my face in frustration — and to celebrate, I think it's time to add a few pretty pieces to my collection of hair ties, pins, and more!
Take a peek below to see some of my favourite spring hair accessories!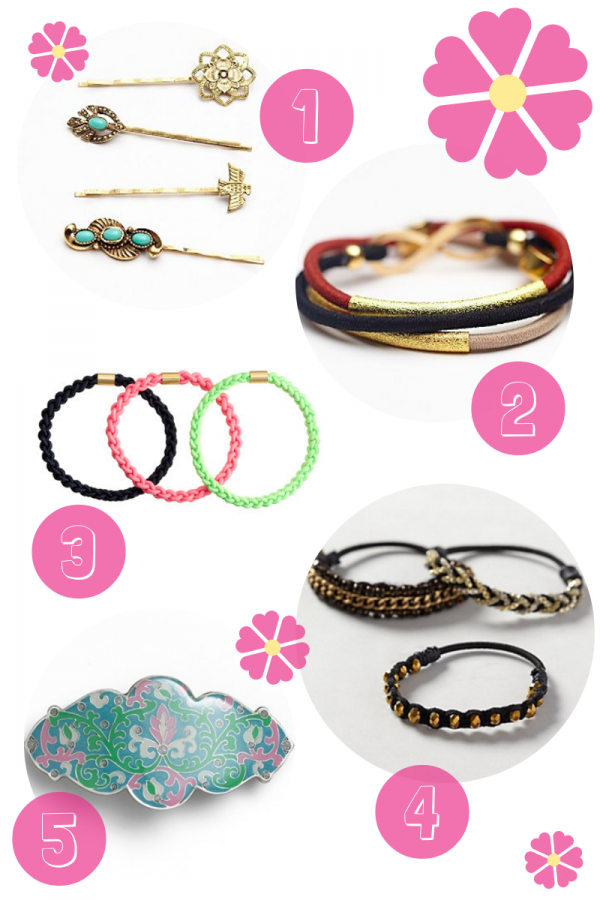 1. Free People Hair Pins | 2. By Lilla Shimmer Bead Elastic Hair Trio | 3. J. Crew Braided Hair Ties | 4. Mendoza Pony Holder Set | 5. L. Erickson 'Grenada' Barrette
Get more fashion ideas by following our Fashion Pin Board, too!