Pumpkin Jack-o-Lantern Pastry Turnovers Recipe for Halloween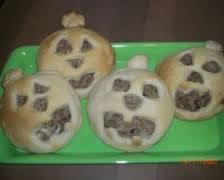 Trick-or-Treat Turnovers
1/2 lb ground meat ( I used turkey..and 1 lb of it)
1 TBSP finely chopped onion
4 oz. mozzarella cheese cubed
1/4 C prepared mustard
2 tubes (16.3 oz each) large refrigerated flaky biscuits
1, egg lightly beaten
In large skillet, cook meat and onion over medium heat until meat is no longer pink;drain. Add cheese and mustard; cook and stir until cheese is melted. Cool slightly. Flatten each biscuit into a 4″ circle; place 4 biscuits on each cookie sheet (you need 2 sheets or do 2 batches). Spoon 2 heaping tablespoons of meat mixture onto each ( I made mine bigger and more meat-that is why I used a whole pound of meat instead of 1/2 pound since I was using at dinner for my kids)
Using a sharp knife or cookie cutters cut out jack o lantern faces from remaining biscuit circles; place over meat mixture and pinch edges tightly to seal.
Use scraps to make stems.
Brush with egg (I didn't do this and they turned out fine). Bake 350 degrees for 10-15 minutes until golden brown!