Highlights from Disneyland and California Adventure
Last week, I had the pleasure of visiting Los Angeles for a series of fun Disney events. (see my original post here) One of our days was spent at Disneyland and California Adventure in Anaheim, California. Although I had visited California Adventure in the past, I had never been to the Disneyland side, so I was thrilled to finally see it! Here are the highlights from my trip, enjoy.
BUENA VISTA STREET
Buena Vista Street is the new "Main Street" of California Adventure, complete with a real working trolley! There are several shops down Buena Vista Street that take you back to Walt Disney's era. My favorite part? The amazing street shows!
CARS LAND
Although a short visit to Cars Land this time around, I did get to see the area in its entirely at my last visit and it was great to stop by again. At my last visit, I rode Radiator Springs Racers, which was a "twisting turning, high-speed adventure through Ornament Valley and the town of Radiator Springs."
The ride was a bit similar to Test Track in Disney World, but with many more ups and downs and not nearly as fast. Up to six passengers can ride in one car, which is perfect for large families or a big pack of friends.
The ride began with a scenic journey through Ornament Valley, including the beautiful Radiator Falls waterfall. Next, the ride continued into the town of  Radiator Springs, where we could see realistic Cars characters like Lightning McQueen, Mater, Sally Luigi, Guido, Mack, Ramone and Doc Hudson. The technology Disney has created for these characters is mind-blowing! They really do seem real.
After the trip through Radiator Springs, we were on the open road, ready to race! The race included many hills, so my stomach dropped a few times! The drive through the mountains was very beautiful and realistic, and provided the perfect ending to the adventure.
MATTERHORN BOBSLEDS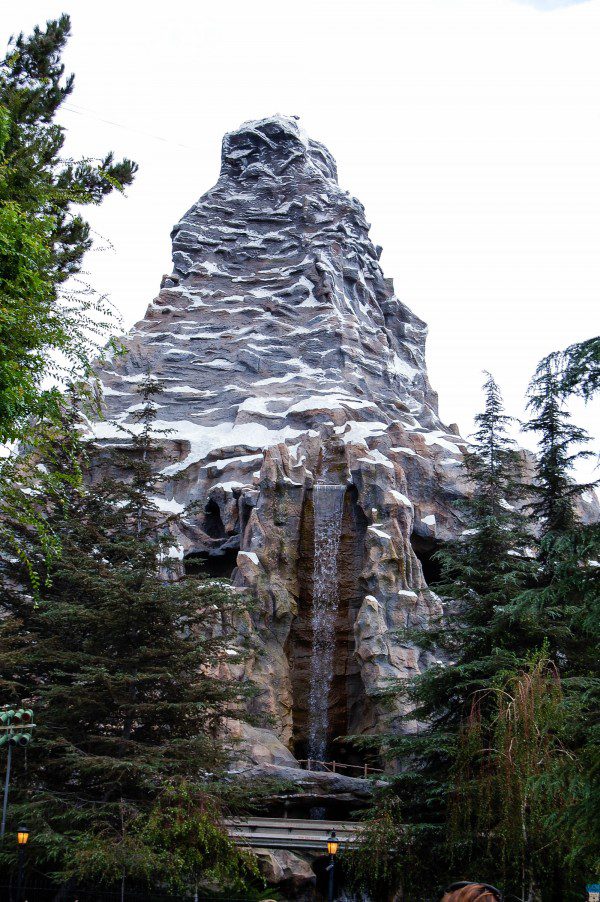 Riding the Matterhorn Bobsleds for the first time in Disneyland was a real treat! Fortunately, I had some amazing riding buddies – Colleen from Classy Mommy and Ashley from Mama of All Trades – to keep me calm as we whizzed quickly down the mountain!
ALSO, I was surprised to see actual people on top of the Matterhorn! These mountaineers actually hike the mountain! Isn't that cool, yet crazy?
FINDING NEMO SUBMARINE VOYAGE
Another highlight of my Disneyland visit was the Finding Nemo Submarine Voyage. I had never been in a submarine before, so this was quite an experience! The voyage included fun Finding Nemo decor and videos as we made our way through the "sea". We even saw Darla – yikes!
PROPOSAL
That's right, we witnessed an actual proposal in front of Sleeping Beauty's castle! Can you think of a more magical place to get engaged?
A big THANK YOU to Disney for making my day at Disneyland and California Adventure very special! Look for more posts from my trip to Los Angeles in the coming weeks!
Disclosure: Disney sponsored travel, accommodations and activities during my stay in Los Angeles. Thoughts are my own. All images are property of Mom Spark Media, LLC except group Cars Land photo, which is property of Disney.