Modern Rustic Home Foyer Makeover!
The moment is finally here – my first room makeover in our new Home Decor Series! Today I will be chatting about my foyer. My sad, puny foyer.
THE BEFORE.
Okay, my foyer wasn't AWFUL, but man, it was dinky. And dark. And honestly, a bit boring. Just lifeless and stark.
Positives:
The mirror/clock combo –¬†my grandma gave me this mirror years ago and I still love it – I just simply attached a clear hook to it to hang the clock.
The space was ample, so I could do a lot with it if I planned smartly.
It was a blank canvas that I could pretty much do anything with.
Negatives:
The table was too small, which made the space feel empty and cold.
The paint color was not my favorite, but I had to stick with it (it was an expensive job when it was built by the previous owners and may be an asset for resale later).
The antique lamps were cool, but didn't allow for much light, especially since one was broken. The color and style also didn't work well for the theme I was after.
Since the overhead light was so small, the space was dark. The space needed better lighting.
As I mentioned in my launch post, the style I was shooting for in my designs was "modern rustic," which is basically a mix of textures, woods and metals. I chose this style because it lends itself nicely to my home, which has a bit of a cottage-y and Tuscan feel.
THE AFTER.
Are you ready for this?
As you can see, the biggest transformation to the foyer design was switching out the small table and replacing with a beautiful, larger console from Birch Lane, which is a more appropriate size for the space.
While I REALLY wanted to change out the ceiling light with a metal/wood combo chandelier, it proved to be quite costly to do so, so I opted for better lamps on the console. The lamps I selected had clear bubbles, a metal base and gold leaf shades. I love the combination of various textures and colors.
I kept the mirror and clock, which I think fits into the theme nicely.
Other touches include photo frames – one ceramic and the other metal – a metal "B" letter, yellow ceramic flower, wooden bowl, metal llama (coolest thing ever!) and fresh flowers.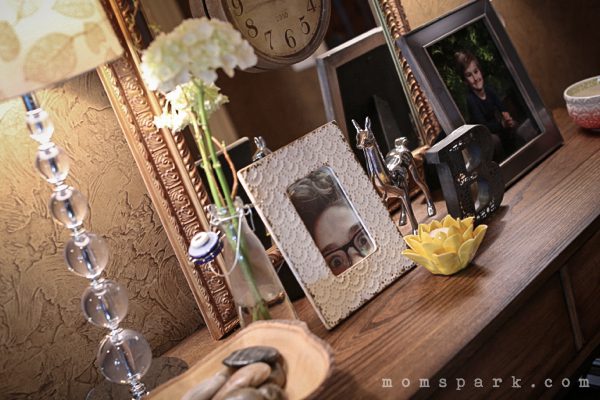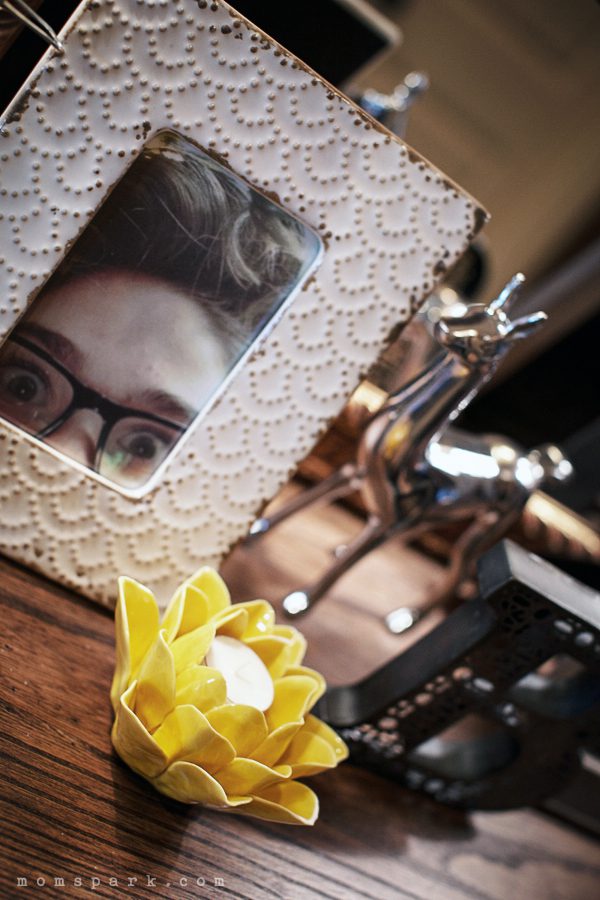 For the bottom shelves, I reused the books I had in the old design, as well as some other knick knacks I had around the house, including a wooden plate, white bird statues, elephant statue and wicker basket.
Oh, and I added very fuzzy white rug! I know it isn't practical to have a white rug in the entry way, but I like to break the rules once in a while.¬†The area just needed something…fuzzy.
The space FINALLY feels full, warm and "grown up." Seeing how this is the first room my guests are greeted in, I wanted it to feel special and I'm very, very proud of it!
So….here is a bit of an overall breakdown: