How to Celebrate Chinese New Year at Home!
As a parent, I'm committed to educating my children about other cultures, religions, and traditions. It's one of the reasons I love to travel; exploring new countries enables you to better appreciate varying cultures and practices.
This year, our family is embracing Chinese New Year, a time to celebrate togetherness while enjoying special feasts and welcoming good fortune! The 15-day celebration, which kicked off on Saturday, January 28, is one of the most celebrated holidays in China and for Chinese Americans. One of my favorite Chinese New Year traditions is the little red envelopes. They contain small amounts of money and are traditionally given by parents or grandparents to children.
Of course, my other favorite Chinese New Year tradition is eating Chinese food! Certain foods are considered "lucky," as they are attached to symbolic meanings: 
Firecracker chicken breast (symbolizes the fireworks believed to ward off bad luck in Chinese culture)

Egg rolls or spring rolls (their shape resembles gold bars so they're a sign of wealth)

Chow Mein (the long uncut noodles represent long life)

Shrimp (represents happiness because the Mandarin words for shrimp and smile sound very similar)

Mixed vegetables (signify family togetherness and symbolize harmony in the family)

Orange Chicken (the golden color symbolizes good fortune, and chicken, which is traditionally served whole, represents togetherness of the family)
In fact, I picked up these great dishes from Panda Express to get the celebration underway!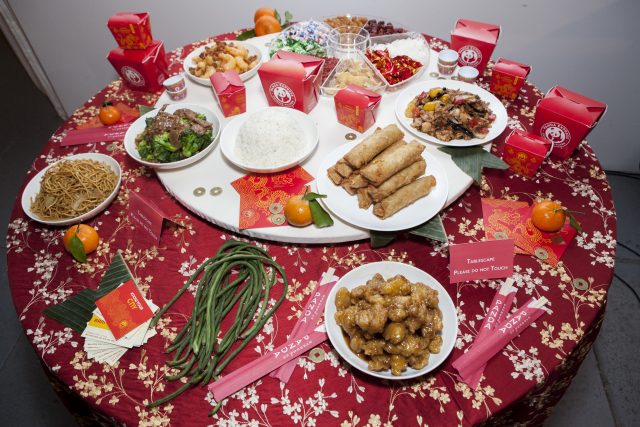 Photo Credit: Megan Swann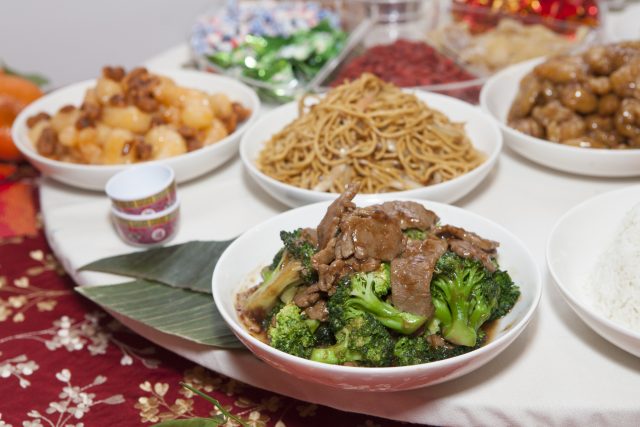 Photo Credit: Megan Swann
As the home of Chinese American food, Panda Express and their longtime beverage partner, PepsiCo, are encouraging everyone to learn more about this festive holiday. They've created this great website, CelebrateCNY.com, to help families learn more about Chinese New Year.
They also partnered to create this super sweet video to remind us what the Chinese New Year is ultimately about – togetherness and family.
I really believe that now, more than ever, it's important that our kids learn about traditions from around the world, and that we do it in a way that shows what we all have in common. Chinese New Year is a great opportunity to do this.
This is a sponsored post in partnership with PepsiCo, but all ideas are my own.