How to Make Pasta PRONTO
As a busy mom, I bet you're just as keen as I am to SAVE TIME… especially when it comes to things like making dinner for a hungry family! Those minutes that you can save during your prep time and cooking time are golden because then you can give them back to your family in the form of hanging out after dinner, watching movies, mini golf, a walk in the park, or a fun art project! No matter what day of the week it is, I bet you'd rather get dinner cooked sooner rather than later! (Plus, kids get really grumpy when they are hungry, right? Let's take care of that pre-dinner struggle!)
If you're dying to get back a little more time with your family and to stop stressing about meal-preparation, you'll definitely want to try the new Barilla® Pronto™. You've probably already seen Barilla products on the shelf at your local grocery store, but you might not have known that their Pronto™ pasta will save you time without giving up even a hint of the flavor or texture you've come to expect from them.
Available in five tasty shapes — Elbows, Rotini, Penne, Spaghetti, and Linguine — Barilla® Pronto™ is prepared in ONE pan! Say hello to al dente perfection in MINUTES. No need to wait for water to boil and you don't even have to drain it at all! You can whip up a meal in no time by customizing your favorite pasta shapes with sauce — homemade or from a jar, it's up to you! — seasoning, veggies, or your choice of protein for an unlimited number of meal options.
In fact, I have a yummy recipe for bacon macaroni and cheese cups!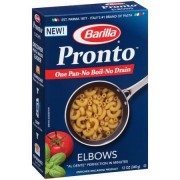 Bacon Macaroni and Cheese Cups
Yield: 12 cups
Prep Time: 20 minutes
Cook Time: 32 minutes
Total Time: 42 minutes
Ingredients:
8 ounces elbow macaroni
2 tablespoons butter
1/2 cup skim milk
2 tablespoons all purpose flour
1/2 teaspoon paprika
2 cups shredded Sharp cheddar cheese
1 cup shredded Colby Jack cheese
5 slices thick-cut bacon, cooked and crumbled
1/4 to 1/2 teaspoon fresh ground pepper
3/4 cup panko breadcrumbs
1 tablespoon melted butter
Directions:
Cook macaroni according to package directions; drain and place in a large mixing well.
Preheat oven to 375F.
While macaroni is cooking, heat 2 tablespoons butter in a nonstick skillet over medium-low heat. Add flour and paprika, whisking 2 minutes. Add milk and continue to whisk 5 minutes or until thick and no lumps appear. Remove from heat and stir in cheese. Stir cheese mixture into macaroni until combined. Add bacon and pepper, mixing gently. Using a cookie scoop, scoop macaroni mixture evenly into lightly greased regular-size muffin cup pan, pressing to pack down into muffin cups. The mixture does not rise so you can fill almost to the top of each cup.
If a crust topping is desired, turn oven to broil and combine panko and 1 tablespoon melted butter on a baking sheet. Broil 3 to 4 minutes or until golden brown. Spoon 2 teaspoons over each muffins cup.
Bake in preheated oven 23 to 25 minutes or until golden and bubbly. Remove from oven and let stand 10 minutes. Carefully run a knife around the edges of each cup to remove from pans. These area also great reheated.
You can find Barilla® Pronto™ at your local Kroger in the pasta aisle! Click here to grab a coupon! Or, if you're on the hunt for meal inspiration, visit barilla.com for recipes ideas!
This is a sponsored conversation written by me on behalf of Barilla®. The opinions and text are all mine.