How To Paint a Wall Mural
For me, painting a large scale painting is all about breaking it down. A 10 foot by 8 foot wall seems HUGE but if you break it down into 80 1 foot by 1 foot squares, your once overwhelming mural becomes doable.
Materials you will need:
paint- I bought a few sample sizes from Home Depot so I could get the exact shades of pinks and chocolate brown. I had the rest of the colors leftover from other painting projects from around the house.
paint brushes-  I buy a multi pack of brushes so I get different sizes. I never buy the cheapest ones because they tend to leave bristles behind. That said, I don't spend a fortune either. I usually just buy the pack that is one step up from the cheapest. They work good enough for me.
yard stick
number 2 pencil
Mr. Clean Magic Eraser
an image to recreate
First: Find a photo, graphic, image, design, pattern etc. that you love.
I chose this original graphic by Web Design Hot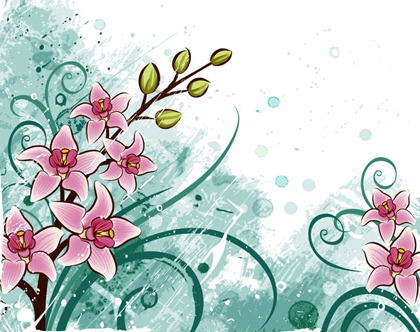 Once you have chosen your image you need to evaluate your capabilities and adjust the image accordingly. If you chose a simple image, you are golden. My image was not only out of my reach talent wise, but also time wise. Plus, I wanted a "cleaner" look for my baby girl's wall. So I put the image in Photoshop and "cleaned" it up a bit.
While I had it in Photoshop, I re-sized the image so it would fit the size of my wall. In my case, 10ft by 8ft translated into an image that was 10in by 8in. Then I added a grid to the image. The grid was done in a one inch scale to keep things simple. If you live anywhere outside of the U.S. I can not help you. I am useless when it comes to the metric system, just keep in mind that the grid on the image needs to equal the scale of the wall. You do not need Photoshop to do this step, a simple pencil and ruler will do the trick.
Start with a clean slate. I chose a buttery cream color for my background.
Next, you need to translate the grid to the wall. I used a number 2 pencil and a yard stick. Forgive the quality of the next photos, it is not easy to photograph a lightly penciled grid on a cream wall.
(see! it is really hard to see it, but the grid is there – I promise.)
Now the fun part, putting your image up on the wall. Look at your image closely. What is the very back layer? By this I mean, if your image was put together one layer at a time, like a lasagna, what would your bottom noodles be. In my case it is the green swirly leaves.
The next step is optional. If you are confident in your paint by square skills, start painting. If you are suffering from severe pregnancy brain and forget what day it is and the thought of remembering what square you are on is overwhelming, then please, for your own sanity- Do this next step!
Lightly pencil in the design.
Remember to follow your grid as closely as possible to keep your mural as close to the image as possible. Some squares will have nothing, some will just have a line or two through them. If you have a really complicated square, break the square into a smaller grid of 4 little squares. This will help keep things simple.
Once you have penciled in your image, start painting! And remember, it is just paint. You can paint over it if you don't like what you see.
Photo of entire "bottom noodle" layer.
After that layer dries, pencil in the next layer and paint.
Just keep painting, layer by layer (making sure to let each layer dry before starting the next).
You may need a second coat of paint on layers of a lighter color over a darker one like the pink flowers over the brown stems and green leaves.
I sketched in the inside of the flower and again, started at the farthest back layer and worked forward from there.
Then, I painted the white yellow, because like I said before, it is just paint. If you don't like what you see, paint over it! After painting the yellow I outlined everything with the same brown I used for the stems.
And my least favorite part of any project, the clean up. I recommend using a Mr. Clean Magic Eraser to wipe away all the penciled grid lines and any other leftover pencil lines.
Then do any spot painting you need to do, for instance I was lazy and didn't take the time to painters tape the corner of the adjacent wall so I needed to touch up a bit of paint there and also where some of the brown outline paint dripped.
For more pics of the process check out my Flickr Set.
If you have any questions, leave a comment. I would be happy to help.
Here is a sneak peak of the progress I have made on the nursery since I have finished the mural. I still have a few little projects to finish up before the nursery is done and I promise to write How Tos on each one. And yes, I realize the crib is still in toddler bed mode… if you could tell my husband to get on that, I would greatly appreciate it! 😉 Until then, Happy Painting!