Interview About MONKEY KINGDOM with Disneynature Ambassador, Dr. M Sanjayan
I had the honor of interviewing Dr. M Sanjayan, a Disneynature Ambassador while here at the #MonkeyKingdomEvent in Orlando!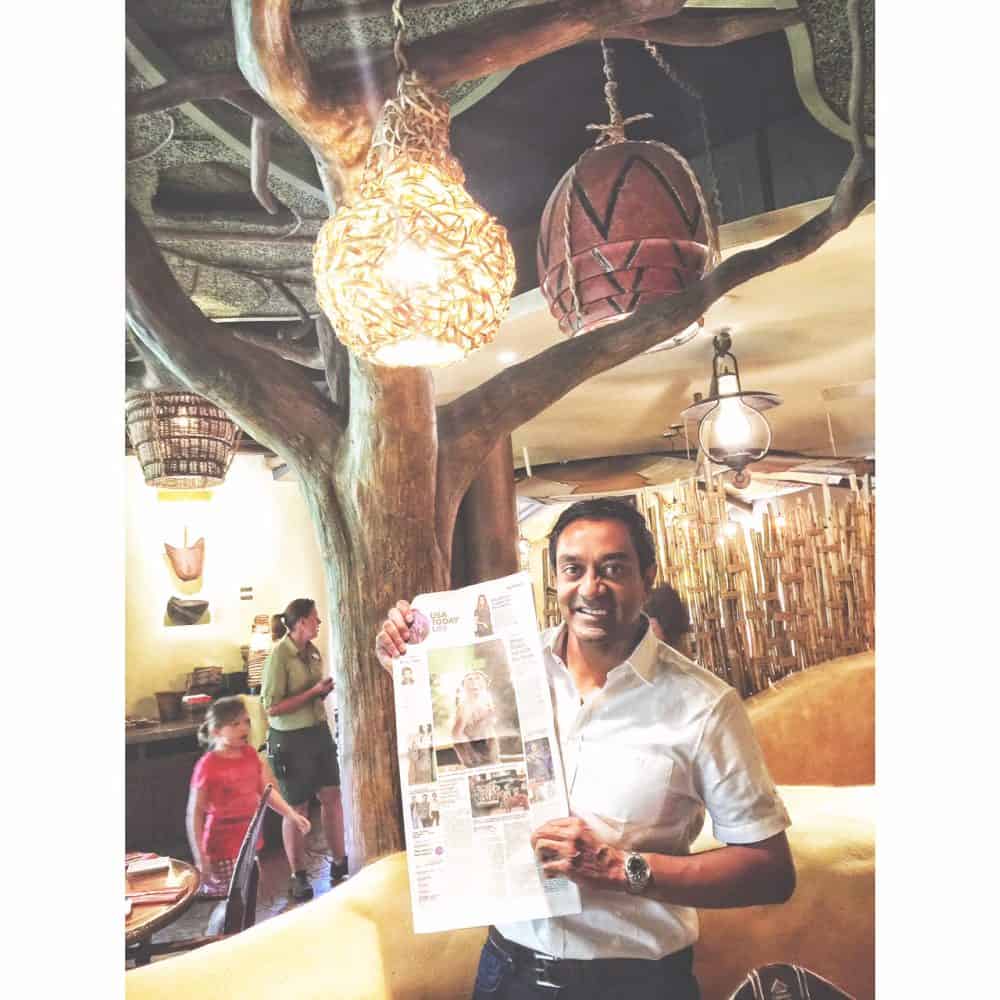 If you are not familiar with Dr. M Sanjayan, you may be a bit impressed with his bio:
Dr. M Sanjayan is executive vice president and senior scientist for Conservation International. The global conservation scientist, writer and Emmy®-nominated news contributor focuses on the connection between nature and human well-being. He serves on Conservation International's senior leadership team as executive vice president and senior scientist.
Sanjayan also serves as a science and environment contributor to CBS News. His 2013 "CBS Evening News" report on elephant poaching in Kenya earned an Emmy® nomination in the investigative journalism category. His guest appearances include NBC's "Today," "The Late Show with David Letterman," "NBC Nightly News," CNN, Fox News and MSNBC, and he is a featured contributor to the BBC's "Power of Nature" series.  
photo credit: msanjayan.com
Below is a recap of our interview with Dr. M Sanjayan.
HOW THE STORY UNFOLDED
Disneynature filmmakers didn't quite know where the story of MONKEY KINGDOM would lead, but they knew pretty early on that Maya (the female monkey lead) would be a part of it. "Maya was pretty, distinctive (with three cute spots on her nose) and of proper class, but we had no idea that she would go on this epic journey." As the underdog in the story, you want to cheer Maya on. She's relatable like that.
DR. M SANJAYAN'S TIME ON SET
Dr. M Sanjayan had the opportunity to spend time in Sri Lanka during the filming of the MONKEY KINGDOM and shared a few of his favorite moments with us. Sadly, I cannot share specifics as not to give away scenes from the movie, but I will say that he witnessed things that he had never seen before in his documentary film experience (8 documentaries) with animals. There were qualities of these monkeys that he didn't know existed. You'll see exactly what I'm talking about when you watch the film this Friday (trust me).
THE MORAL OF THE STORY
When we asked Dr. M Sanjayan about what he felt the moral MONKEY KINGDOM was, his thoughts were very similar to mine after seeing the film. Simply put, primate culture isn't that different from ours. Power and greed exist in both worlds, as well as sacrifice and love. We both protect our families to whatever means possible. We both feel pain and joy. Sadness. These emotions, desires and vulnerability connect us, which is exactly why you feel something when you watch this film. 
MONKEY KINGDOM opens in theaters on April 17, 2015:
Life is an adventure for Maya, the clever and resourceful blonde-bobbed monkey in "Monkey Kingdom," Disneynature's new feature film set among ancient ruins in the storied jungles of South Asia. Maya's world is forever changed when she welcomes her son, Kip, into her complicated extended family. Like all families, Maya's has more than its share of colorful personalities—and she's determined to give her son a leg up in the world. When their longtime home at Castle Rock is taken over by powerful neighboring monkeys, Maya's whole family retreats, and she uses her street smarts and ingenuity to uncover untapped resources amidst strange new creatures and unsettling surroundings. Ultimately, they will all have to work together to reclaim Castle Rock, where Maya can hopefully realize her dreams for her son's future. Featuring a rich variety of characters, including a mischievous mongoose, simple-minded langur monkeys, predatory leopards and monitor lizards, "Monkey Kingdom" is narrated by Tina Fey ("30 Rock"), directed by Mark Linfield ("Chimpanzee," "Earth") and co-directed by Alastair Fothergill ("Chimpanzee," "Bears"). With music from award-winning composer Harry Gregson-Williams ("The Chronicles of Narnia: The Lion, the Witch and the Wardrobe," "Shrek" movies), Disneynature's eighth True Life Adventure—the follow-up to 2014's "Bears"—swings into theaters April 17, 2015.
Disclosure: Disney sponsored travel, accommodations and activities during my stay in Orlando. Thoughts are my own.