Interview With A Blogger: Melanie Dale, Unexpected
If you've ever spent more than fourteen seconds on Melanie Dale's blog, Unexpected, then you already feel like her BFF. Her devotion to orphan care and adoption is humbling, beautiful, and overwhelmingly inspirational. Today's Interview With A Blogger takes a peek into the life of this totally rad blogger who I seriously wish I knew IRL! Happy Sunday, folks — enjoy!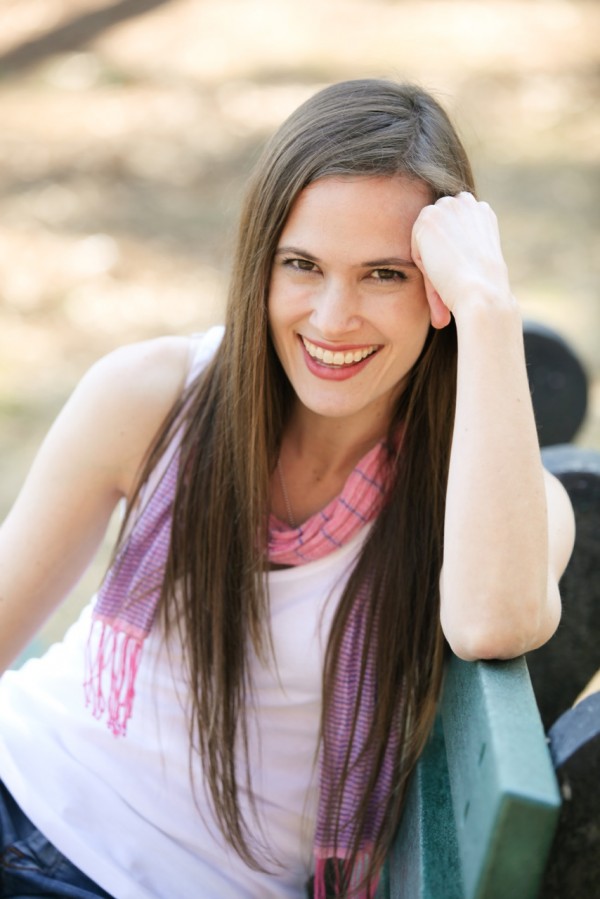 Hi there, Melanie!
So, what prompted you to start blogging?
Back in 2009, I discovered that I was living in a bubble and there were orphans and slavery and extreme poverty in the world. As we started the adoption process for our daughter from Ethiopia, I wanted a way to keep everyone in the loop without repeating myself a bajillion times, and I also needed a place to talk about a community of 300 orphans in northern Uganda that had stolen my heart.
My blog became a place to process all my ideas about how minivan driving mamas can make a difference in the world. In 2012, I moved my blog to Unexpected.org, with the tagline "Steer into the Surprise," because that's exactly what I've done. After battling infertility for years, I have three kids from three completely different parts of the world. My oldest is from Latvia, my middle is through in vitro, and my youngest is from Ethiopia. My family has come together in the most unexpected way, and I still can't believe these three crazy kids call me Mommy.
These days, I still blog about orphan care and adoption, but I also blog a lot about motherhood, poo, and finding mom friends (It's like dating.).
Tell us about your day job/educational pursuits?
I'm a writer, and my first book is being published by Zondervan next spring. The working title is Women Are Scary: The Totally Awkward Adventure of Finding Mom Friends. So my day job consists of carving out writing time with a machete, packing lunches and schlepping kids, and also serving as an advocate and sponsorship coordinator for Children's HopeChest, an organization specializing in orphan care through community partnerships. I vaguely remember pursuing education, before mommy brain took over, and I have a degree in theatre, which is actually extremely practical for someone who likes getting up in front of people. My dream is to participate in spontaneous musical theatre at the park.
Where's the farthest from home you've ever travelled? Tell us about your experience.
Down a little red dirt road in northern Uganda, hours away from electricity, lies a little village filled with orphans and widows. They are my friends and have taught me so much. Each time I travel to them, my western comforts are stripped away, and by the time I arrive, I realize that I never needed any of the stuff I took for granted. These friends have taught me the true meaning of joy. The African breezes gently blow the smells of grass and cattle and posho and beans cooking over fires to fill empty bellies. I take teams of sponsors who get to meet the kids they're sponsoring, and I can't fully describe seeing a child and a sponsor embrace for the first time. It's precious, this need that they both have, both child and sponsor feeling the same thing in that moment, "You're real!" I've visited my sponsored children in their homes, held their chickens, eaten their groundnuts. It's humbling to receive generous hospitality from the children you set out to help.
What skill do you hope to master over the next year?
Kung fu. I would really, really, love to be Buffy the Vampire Slayer. Hmm, since that probably won't happen, I think, seriously, the skill I really hope and NEED to master over the next year is organizing our lives. We just adopted our third child, a nine-year-old, our newest and oldest child, so I've been thrown into the world of elementary school, language barriers, and weird sibling dynamics with displacing our oldest, now middle. And now launching into writing as a career and not just in my spare middle-of-the-night moments, I am trying to figure out how to re-organize and re-prioritize before we a) lose our flipping minds and b) kill each other. So I don't know about mastery, but I am accepting all ninja-like organization tools, you know, the ones that work for disorganized right-brained weirdos.
What's your current favorite song/band? And what are you reading?
I am so completely lame about music! I want to be this hipster person who knows all about All The Songs, but I have no clue. Currently, my favorite song is by Crowder, called "I Am." It's about holding onto God in the middle of the storm, and over the last few months of sending out my book proposal and waiting to hear from publishers, I felt really dangly, so it's what I needed to hear. I think there might be a banjo in it…. Okay, reading! A couple of weeks ago I read the Divergent series, and I pretty much adore dystopic stories. I'm reading Surprised by Motherhood, by Lisa Jo Baker, and recently finished Pastrix, by Nadia Bolz-Weber, and Antelope in the Living Room, by Melanie Shankle.
Share three blogs you adore!
Thank you so very much for chatting today, Melanie! You just keep on being amazing!
Be sure to take a peek at Melanie's blog, Unexpected.org, and catch up with her via Facebook, Twitter, Instagram, and Pinterest.
Are YOU a blogger we should feature on Mom Spark? Do you know someone who would be the perfect fit? Click here for more details!