Interview With A Blogger: Our Holly Days
Good morning! Today we're chatting with Holly of Our Holly Days! She's a mama living in SoCal's High Desert with her adorable family. Keep reading to find out why we love her!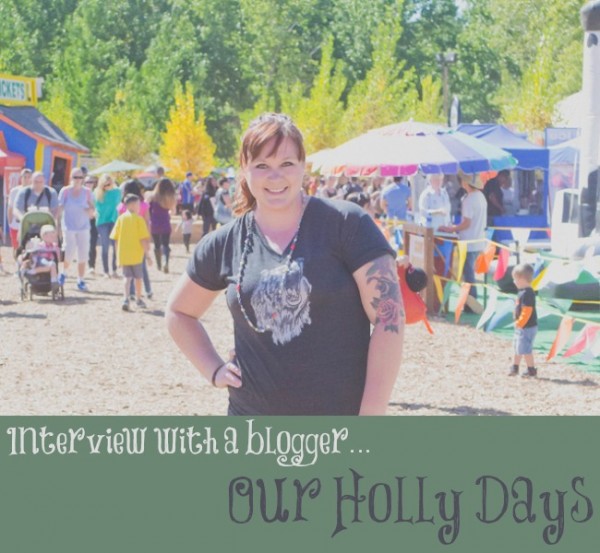 Hi there, Holly!
So, what prompted you to start blogging?
I have kept a LiveJournal since I was a teenager. It was always private & limited to a few close friends. When I lost my son, Liam, in 2008, I decided I needed to share my story. I started publicly blogging & connecting with other families who had lost babies. Since 2008, I have changed my platform & names more times than I can count. In 2010, I finally decided that I needed to work on a brand & sticking with it. Our Holly Days was born. And although I still connect with other loss families, my blog has now taken on a new life. I share my life with two healthy babies, a handsome beardy husband, & three (yes, THREE) step-children.
Tell us about your day job/educational pursuits.
I attended online college courses majoring in English for some time before my scholarships & funding fell through. After that, as a wife, mother, & blogger, school has been placed on pause until my babies are more self-sufficient. For now, my job consists of being a Mama to these kids & writing for my own blog as well as contributing to Cooked With Love, Mom & So Fawned.
Where is the farthest from home you've ever travelled? Tell us about your experience.
As a child, I travelled across the Unites States multiple times. I grew up in Las Vegas, NV, but my family was all in Northern Michigan. My parents & grandparents always made sure that I went back every year for the summer. Often times that entailed loading up in Grandma & Grandpa's RV & hitting the open road. I adored the trips & it enabled me to see so much of my country. However, the farthest I have ever travelled was to Italy. My mother took me on a special trip between my sophomore & junior year of high school. We went to Rome, Milan, Pisa, & Florence. We saw so much history & incredible landmarks. We stayed in cheap hotel rooms with bathrooms that had only a sink, toilet, shower head, & a drain in the floor. We ate chicken that hadn't had all of it's feathers plucked out. And we loved every moment of it. Everything was breathtaking. It was one of the best experiences of my life.
What skill do you hope to master by the end of 2013?
Considering 2013 is nearly over, I'm not sure if I'll be able to master much of anything. However, I'd like to get a better grip on my sewing skills. I recently was given a sewing machine by my mother & I'm still teaching myself. I'd love to be able to whip up clothes for my little girl before she gets too old & too cool for Mom clothes.
What is your current favourite song/band? And what are you reading?
I've always been a huge fan of Jason Mraz. His music always speaks to parts of my heart that I can't seem to express. He's also the soundtrack to my husband's & my love story. I'm currently reading Bloom by Kelle Hampton. I cried during the first chapter. It's an amazing book & motherhood story.
Share three blogs you adore!
I recently discovered Inspired by Charm & I'm in love.
Mandy is a good internet friend of mine & I love her blog, Mama Mandolin.
Tia Colleen is a blogger I have followed for some time. She took a hiatus, but is back & I'm loving her new blog.
Thanks again to Holly for being a part of our Interview With A Blogger series! You can follower her via her blog, Twitter, Facebook, and Instagram.