Interview With A Blogger: Thoughts And Biro Sketches
Good morning, friends! Today's Interview With A Blogger comes to us from Emily of Thoughts And Biro Sketches.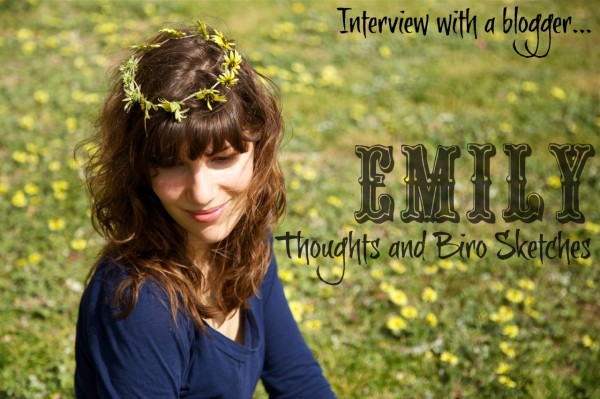 Hello, Emily!
So, what prompted you to start blogging?
I started my blog, Thoughts And Biro Sketches, over six years ago — I was in my first year of university and beginning to sketch and write little stories in my spare time — my blog was literally to share those thoughts and sketches. It has since grown into more of a personal diary and meditation for me – trying to capture and celebrate the beauty of everyday life and document parts of my journey in photography, art making, cooking, crafting, gardening, motherhood…
Tell us about your day job/educational pursuits?
Aside from being a full-time mama and having sporadic bouts of creative writing and illustrating, my main occupation would be as a novice farmer! My husband, toddler and I have recently moved to Taranaki Farm that raises cattle, pigs, chickens and vegetables in sustainable and regenerative ways. This is a bold change for Alex and I whose previous jobs have been in media, creative arts and social services. Our daily life revolves around farm chores like feeding the animals, raising seedlings, cooking, collecting and cleaning eggs, planning natural bee hives, keeping our son happy and occupied, caring for our dairy cows and as soon as their calves drop we'll be milking twice a day.
Where's the farthest from home you've ever travelled? Tell us about your experience.
The farthest from home? Probably the wild and windswept Scottish highlands! I am Australian you see with Scottish roots so it was a deeply moving and soulful experience for me as a 18-year-old to adventure around the landscape of my ancestors. We also spent the last two years living and working in the faraway land of France. It was the most difficult and fascinating two years of my life – to have my first baby in a foreign culture and to be so far away from the help and loving support of friends and family. Yet I feel so blessed to have had the opportunity to learn a new language, savour A LOT of beautiful bread and butter, travel to nearby countries, and slowly discover the history, beauty and nuances of France beyond the tourist-lens.
What skill do you hope to master by the end of 2013?
I hope to master the daily milking of the farm's beautiful jersey, freesian and guernsey cows and make damn good butter! Also have recently discovered a working wool spinner on the farm that I'd love to learn to use.
What's your current favourite song/band? And what are you reading?
Favourite band at the moment would be… 16 Horsepower for dark, gritty southern-usa folk or Sigur Rós
for complex Icelandic soundscapes…. Reading (very slowly) a number of books concurrently; Holistic Management by Allan Savory for farming inspiration; Middlemarch
by George Eliot for classic literature nourishment and A Game of Thrones
by George R Martin out loud with Alex for late night fantasy adventure!
Share three blogs you adore!
Three blogs I adore and am continually inspired and soothed by:
Thank you so much to Emily for sharing this beautiful peek into her life with us! Catch up with Emily via Thoughts And Biro Sketches!