Jewel Tone Yarn Hanging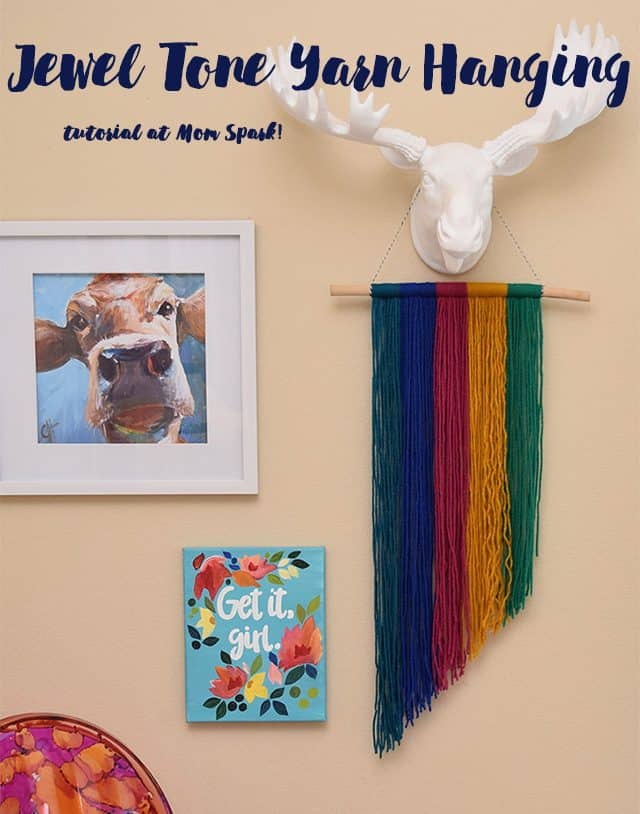 I've given in to the fact that I'm a colorful type of a gal. That's just the way the rainbow sprinkle covered cookie crumbles around here. My kitchen table is surrounded by a lime, purple, red and blue kitchen chair because I'm painted them up like that. I have a piece of "art" that is basically words on a shadowbox full of crazy colorful confetti that I made because confetti rocks. Oh, and the totes in my office are 10 different colors in a rainbow ombre type of thing because, well, color.
It took me a while before I really accepted my more colorful side. I tried to do the "grownup" look of fancy items in neutral colors that all coordinate and match and go really well with anything burlap. I tried the whole, everything is white and kind of shabby chic thing and I hated it. When I finally gave in and started painting everything I could reach with a rainbow theme I found something quite curious… I felt happier.
So these days I embrace color and I get after things with a box of dye or a can of paint with little to no hesitation anymore. My office slash craft room is home of so many DIY art projects that I've got dotting the walls that surround me. It's a great way to be creatively inspired, by seeing other things I've made and love.
So today I decided to use up some driftwood left behind from a project I created for my new craft book coming out this winter. In the end I've added even more color to my walls, I used a bunch of my craft stash and so I'm quite happy!
For this project you will need:
Driftwood
Yarn
Baker's twine
Sharp scissors
Now you can find driftwood pieces that are already a good foot or so long. Mine were about 5 inches apiece so I had to improvise…
A quick it with a hot glue gun and I suddenly have one piece of driftwood. When it's all said and done nobody will be any the wiser.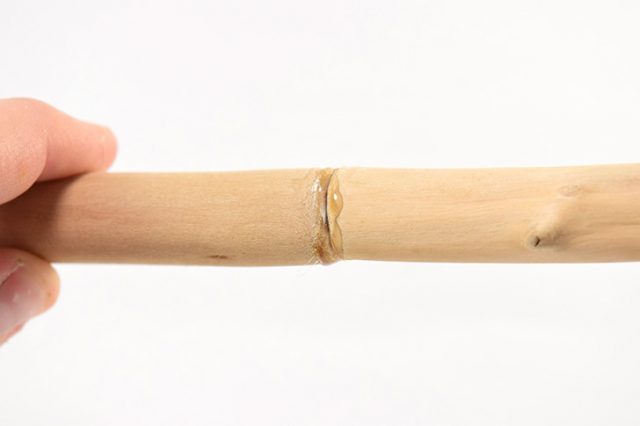 If gluing pieces together really get in there and add a little extra glue around the outside of the connection to help make it even sturdier. Allow to fully set before continuing.
Grab your yarn and let's get going. First off you'll need to choose a color pallet and then a design. I decided to go steeply angled.
Now I decided to err on the side of caution and made each of my sections a good 2 inches longer than what I actually wanted in the end to give me some wiggle room when trimming to my angled shape. I took my first color, the mustard you see above and cut a handful of pieces at 1 yard apiece, give or take.
To connect to your driftwood find the center of the yarn and make a loop.
Place the loop behind your piece of wood.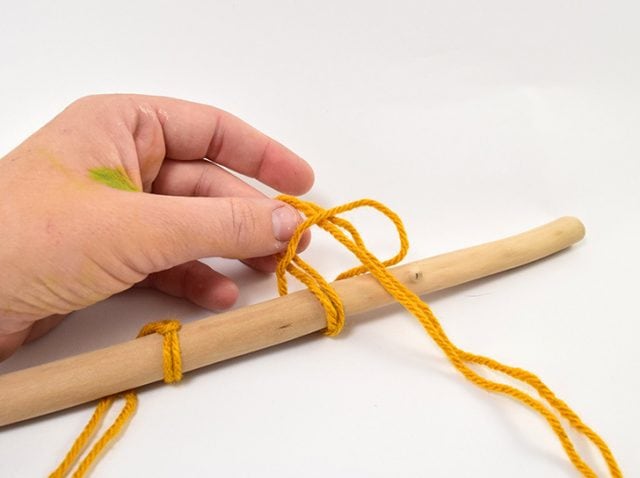 Grab the rest of the string and pull it through the loop.
After pulling all the way through you can tighten the yarn onto the stick.
Scoot the yarn pieces together as you work to make colored sections. Be sure to cover the glued sections, should you need to. Change colors as you wish.
Now I went and grabbed my yarn balls and wrapped up my driftwood with my brand new kitten grabbing at everything. My hands are a bit scratched up but it was a lot of fun 🙂
Once the wood is covered to your satisfaction use baker's twine, or other string to tie a hanger onto.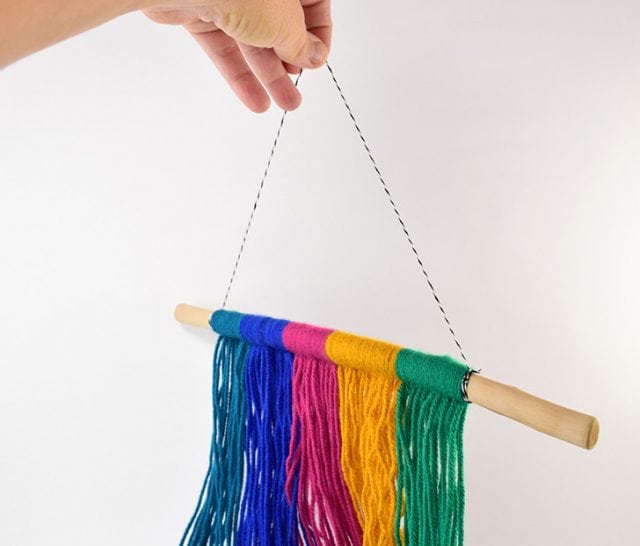 Simply knot off the string on either end and you're set!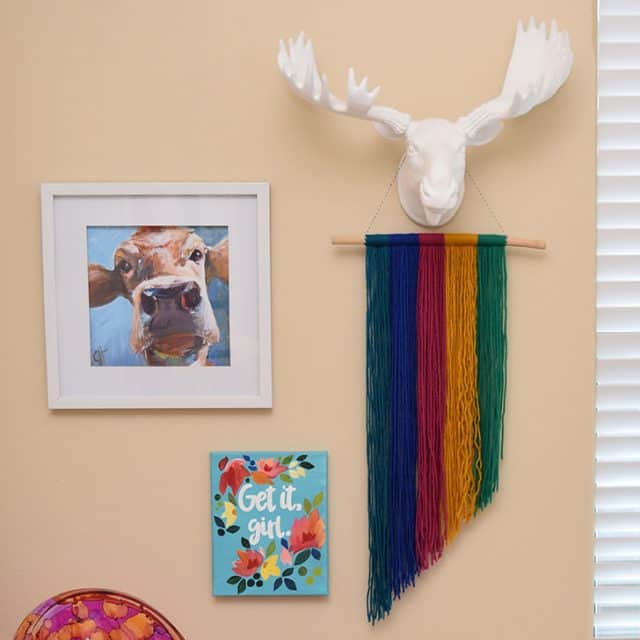 Placed with lots of my other colorful things in my office this guy totally fits in. I used some of my overly large craft stash and killed some yarn and driftwood, too. And I got to use my black and white baker's twine that I'm pretty much obsessed with right now.
Whatever colors or pattern you choose, this is one totally customizable bit of wall decor that won't break the bank.