Kid Craft! Extreme Finger Painting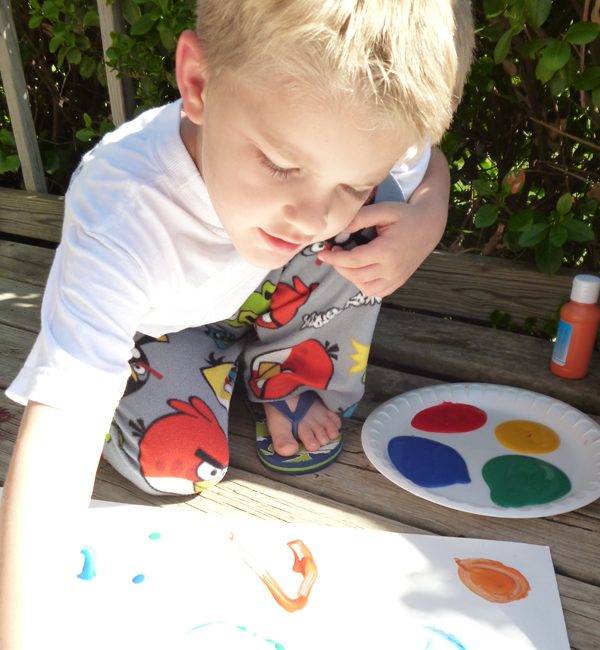 I am a firm believer that children need an art education and highly sensory activities. I guess that I'm lucky because my nephews are naturally crafty/artsy kids (as is their dad – he graduated from art school).
The boys love just about any craft that can I throw in front of them. We've made puppets and then made plays. I bought a little video camera and they casually scripted and acted in their very own movies. We've drawn backgrounds to creatively set up toys in front of them and photograph. I bought a waterproof digital camera and we went and took pictures at the lake in and around the water. The list goes on and on.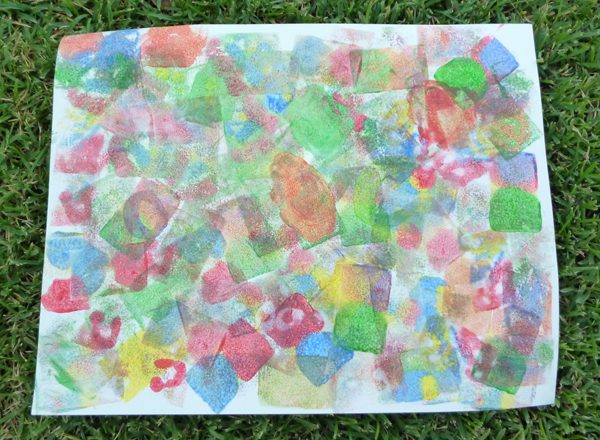 Probably their very favorite of activities with me is any kind of art, painting in particular. We've used finger-paints on construction paper. There have been countless acrylic paint by brush on canvas paintings. You name it, they've probably done it. In fact, I have been informed by one that he is an "arteest" – pronounced R-tee-stuh. They both know who Picasso is and one remembers in very clear detail a recent visit to a 'big city' art museum.
I wanted to bring them a new way to paint and at first considered watercolors. After all, they were my favorite when I was around their age but then I started thinking how they are boys and boys like things that are messy. So, instead of all of that more refined artsy stuff, we threw together our own version of "extreme finger painting" (which must be said in the Sunday, Sunday, Sunday monster truck announcer voice) and in the end, it was awesome.
For this fun kid's craft you will need:
Washable Tempera Paints (available at big box and hobby stores)
Poster Board, Canvas or Construction Paper
Brushes, Sponges, Leaves, Hands etc.
Protection for the Work Space (tarp, etc)
Play Clothes
Step 1: I first made two different sets of paints for two very different personalities. One I thickly slathered paint onto sponges. I actually took one jumbo sponge from the car-wash section and cut it into four pieces. The other paint was simply poured onto a plate for use with a brush.
Step 2: Be sure to protect the area, kid's clothes etc. This stuff is washable but not 100% washable. Don't have your kids using this stuff in their Sunday best and expect their clothes to ever be as good as they once were! We worked outside to eliminate a lot of fuss and worry with this step. Besides, my sister and I are the type of people who bombard the kids with silly string when they are asleep and play dodge-ball in the living room, so a little paint on the deck is no problem.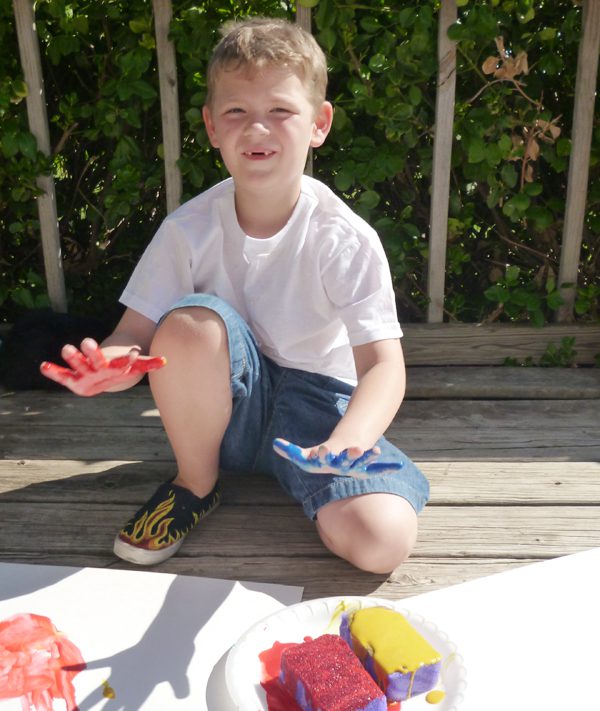 Step 3: Give them their paints/implements/canvases and let them go nuts. One boy would rub his hands all over the sponges to get color on and then would smear and smear the paint onto his poster boards. He wanted paint squirted right into his hands and I was close by to oblige.
The other made "bricks" using cut pieces of sponge and brushes. He even used leaves to make leaf shapes, kind of like using a stamp. After out of poster board, he took to painting faces on leaves!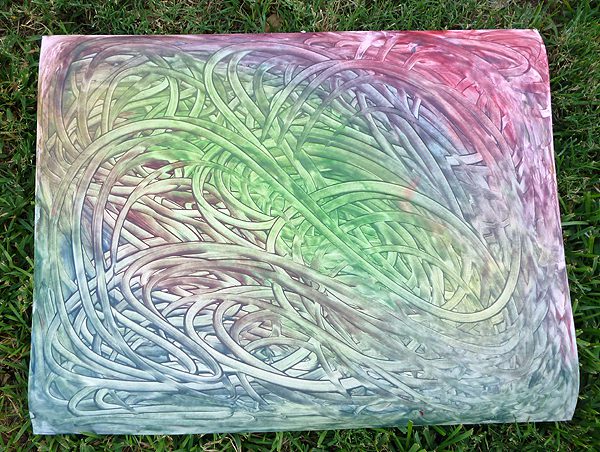 Step 4: Put the paintings up somewhere safe to dry. Tempera paint is kind of runny and will take longer to dry on poster board and it will dry more quickly on construction paper and more porous surfaces.
Step 5: Clean up! I just hosed the boys off, but have a plan on how to get them to the tub if that kind of thing won't work for you. They will be messy. One boy had paint in his hair and on his face and the other managed to sit in it.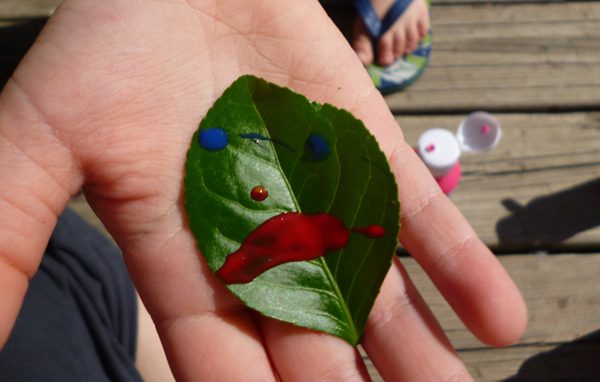 This is a really fun project for boys and girls of all ages. If for nothing else, it's great to see what in their personality comes out when they are allowed to make such a big mess!