Stylish Serving Bowls
I have been collecting neat servings bowls for a while now, and have an assortment of gorgeous old Pyrex bowls that I use for popcorn (which my partner is eating right now!), chips, rice or veggies for dinner, mixing bowls when I'm baking, and more. I LOVE using these bowls because they are not only beautiful, but in the case of chips or snack foods, I'm not reaching into a crackling bag every few minutes to retrieve my snack.
Besides, when you have company over, it's nice to displays snacks, dinner, or tasty desserts in a class way, right?
Today I wanted to share a cool collection of stylish servings bowls that ought make you look like Hostess of the Year! Take a look!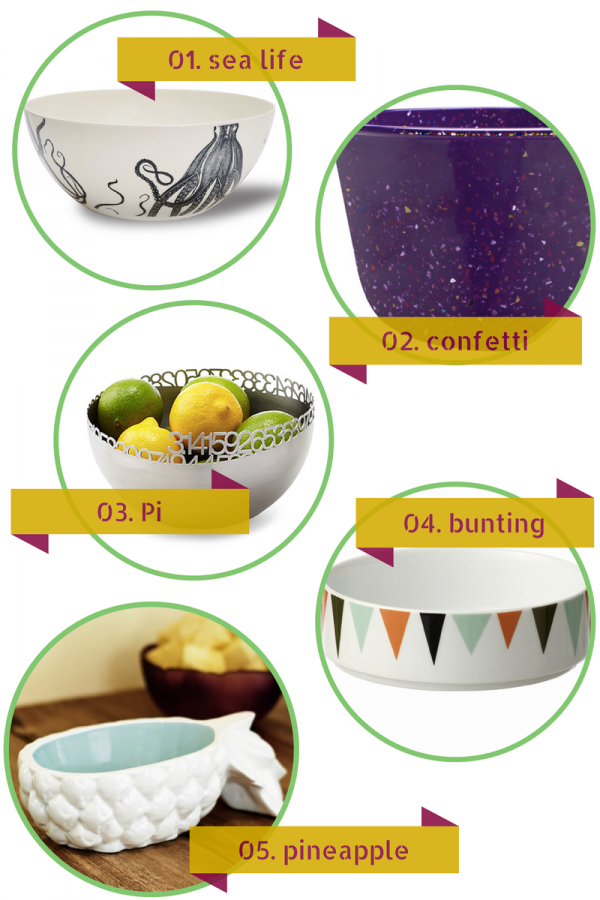 1. Thomas Paul Maritime Octopus Bowl | 2. Zak! Confetti Pub Bowl | 2. Stainless Steel Pi Bowl | 4. Ferm Living Bowl | 5. Sweet Treat Yourself Bowl
Do you have any special dishes and bowls that you like to bring out for company? Or maybe even just for a movie night in with your family?