Fast & Easy Corn on the Cob Recipe Using Microwave
Don't judge this corn by its cover.
It is M's favorite time of year. Hot enough to splash in the pool all morning, late summer rain storms to watch in the afternoon and fresh sweet corn on the cob.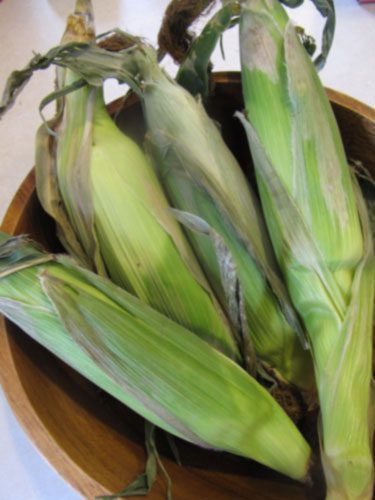 This is the fastest way I know of to get my son M's favorite food on the the table. I prefer this method over boiling the corn because it comes out steamed and crisp, it never tastes soggy.
I promise you in total of 7 minutes you can have fresh corn on the cob steamed and on your kids plate ready for a dollop of butter.
First: cut all excess husk off cob
Second: Run water on the husk until it is all of it is wet.
Third: Wrap cob in paper towel. The towel should become damp. If not, gently squeeze the cob until water soaks through. If that doesn't make the towel moist, drizzle water over it. It doesn't need to be soaking wet, just damp.
*about this damp
Fourth: Stick in microwave for 5 minutes. You can do 2 cobs at a time in five minutes.
Fifth: Remove from microwave carefully, it will be very hot.
*I use the paper towel to peel back husk
And then Husk, butter (because in the mid-west we butter everything!) and enjoy!