Easy Chocolate Cheesecake Squares Recipe
I find something utterly delicious about the combination of chocolate and sour cream in desserts. Of course, I also adored chocolate truffles made with goat cheese, as crazy as that sounds, but this dessert is much more main stream. Enjoy a square chilled from the fridge, with a glass of milk to wash it down.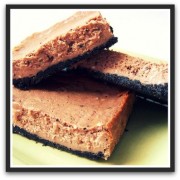 Chocolate Cheesecake Squares
Ingredients:
Nonstick cooking spray
1 cup cookie crumbs
3 Tbsp. melted butter
1 bar (8 ounces) cream cheese (softened)
1 cup light sour cream
1/3 cup unsweetened cocoa powder
2 tablespoons cornstarch
3/4 cup sugar
1 large whole egg plus 1 large egg white
Directions:
1. Preheat oven to 325°. Coat an 8-inch square baking pan with cooking spray. Line with two crisscrossed pieces of parchment or wax paper, spraying between sheets. Spray lined pan; set aside.
2. Combine cookie crumbs and melted butter. Press crumbs into bottom of prepared pan.
3. Blend cream cheese and sour cream in food processor until smooth, scraping down sides of bowl as needed. Add cocoa, cornstarch, sugar, egg, and egg white; process until smooth. Pour into pan.
4. Bake until just set, 35 to 40 minutes; cool completely in pan. Refrigerate at least 1 hour. Invert onto a tray; peel off paper, and reinvert crust side down. Cut into 9 squares.