No Sew Easter Table Runner Tutorial
I'm not big on Easter decorations. And when you craft blog you need to cater to holidays you're not always so into, I decided to dissect why it was that I wasn't so keen on the holiday decorations?
And I came to the conclusion it's simply that I don't like having pastels in my home. I'll wear the heck out of my pastel tops (they look good with my skin tone) but I will NOT have a pastel pillow on my bed. It's just not my bag.
So this year I decided to go at Easter with a more "me" angle and bring in bright colors and gold. Yes, GOLD! Because my most fond memories of Easter were trying to make the brightest eggs I could "can you give me the pink, yet!?!" No – mine's not done yet.
My first Easter project of the season were my bright and gold flecked eggs that I'm currently displaying in a hurricane. They're so pretty and I love them! And when I was trying to work out what kind of table runner to make for the holiday I decided to use my eggs as inspiration. I brought in a little bit of tie dye and a little bit of gold paint and I'm pretty happy with the results. Plus if you're not the type that is into sewing, you can totally rock this out no problemo!
For this project you will need:
White or light cloth
Pinking shears (scissors that cut the fabric with a zigzag edge)
Tie dye (one color)
Patterned Stencil ( I went with a Handmade Charlotte stencil)
Gold fabric paint
Paint pouncer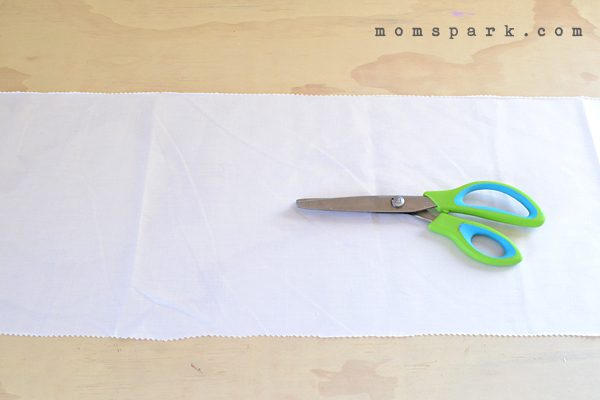 As far as your fabric goes you need something that is COTTON. I used some left over broadcloth I had that was about 2 yards long. You can also use new sheets, thrifted sheets or any new fabric from the fabric store at long as it is cotton. If you choose a blend, only the cotton fibers will take the color. If you're cool with a more pastel effect, go for it!
Cut your fabric to the length and width you would like. It doesn't have to be perfect because you honestly won't notice in the end if it is a little off. If it's A LOT off, I'd try to even things out as much as possible.
Fold your fabric in half and then in half again. Wet the fabric and wring out the excess moisture. Place on a protected surface (I used a trash bag) and draw around the cut edges with the dye. Don't go over the folded areas of fabric to maintain some nice white for our pattern to pop off of.
Allow to sit for a few hours and then rinse out until the water runs clear. I like to rinse mine in the tub because the water stream is the strongest making my work the fastest there. Dry on the line or in the dryer.
When the cloth is completely dry, you can begin stenciling your pattern in the center. Keep a bit of the edges the original tie dye and focus your pattern solely on the inside of the cloth.
If using a paper stencil like I did, you'll need to give the stencil time to dry every few turns. I didn't and toward the other edge my dots started to get wonky from where the paper was saturated with paint. Be sure to let the paint dry completely before using.
And here she is all ready to go, but see how on the right side my dots are getting wonky in spots?
And while the end result is still kind of pastel, I'm loving it so much that I don't really care. PLUS I love that it isn't just an Easter table runner. Since I have a small house I have only so much storage for seasonal decorations and linens. Since I can use this anytime (especially thinking for birthdays!) it's not a total "waste" of my valuable space resources.