White Chocolate Peanut Butter Recipe
Brace yourself. This is some seriously good eating. White Chocolate Peanut Butter and homemade Strawberry Freezer Jam. Easily the best PB&J I've ever had, and I'm willing to bed the best you've ever had too.
Just look at the deliciousness. Are you ready to make some? Good, because with only four ingredients, it is super simple.

Have you ever tried making homemade peanut butter? What are some creative flavors you would like to add?
Note: I am paranoid about storing this at room temperature, so I stick it in the fridge. It will keep for several weeks in the fridge, otherwise if you keep it at room temperature, I would say it will last one week, but you better keep an eye out for anything funky growing. Yuck, see that is why I store mine in the fridge!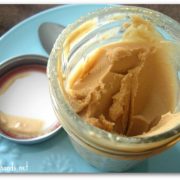 White Chocolate Peanut Butter
Ingredients:
1 1/2 cups dry, roasted peanuts (I used salted)
1 teaspoon vanilla extract
1 1/2 tablespoons canola oil
1/3 cup white chocolate chips/chunks/bars, melted
Directions:
1. Add peanuts to a food processor and blend until a thick nut butter forms. Stream in oil and vanilla with the processor on, continuing to run it until the mixture is smooth. You can add more oil if needed, just do it in small increments.
2. Turn off processor, add melted chocolate, and turn processor back on. Blend until smooth.