Pot O' Gold for the Wee Ones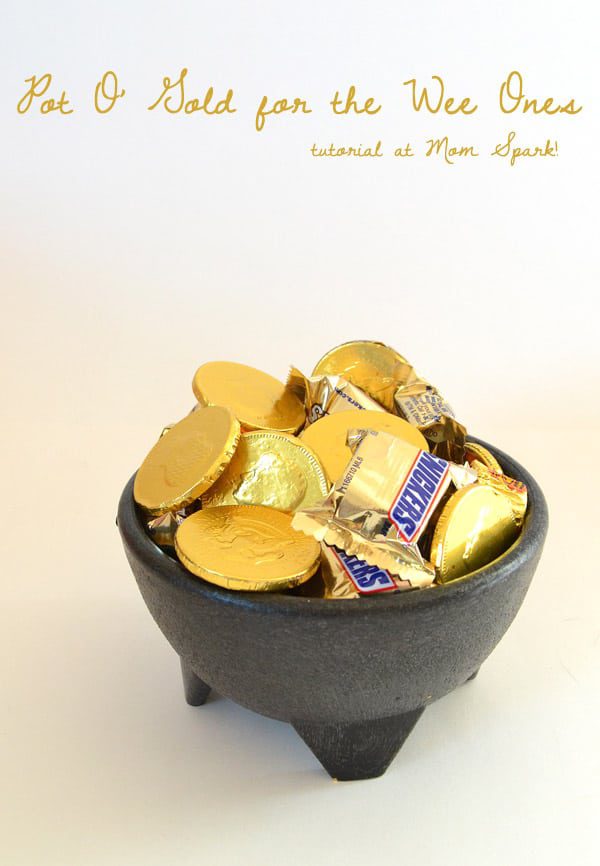 Of all of the holidays, Saint Patrick's Day is probably my least favorite. I've never been interested in pinching people or green beer. And to be honest I'm so forgetful that I'd often be the one getting pinched. And I bruise easily!
But my nephews like it and so do kids because they like any opportunity to hurt people without getting in trouble. Oh, you've got those sneaky ones who seemingly have no green on only to pinch them and have them give you that look that says, "got you loser" when they make their underwear peek over the edge of their pants. How in the world is anybody supposed to know that someone else's undies are green if they've got 'em covered up? It shouldn't count I tell you.
The big thing that my nephews always seemed interested in was that pot of gold. And who wouldn't? I would see a rainbow and wonder what all I could by with my crazy new gold stash I found courtesy of some leprechaun who just leaves valuables laying around with a big arrow pointing to them.
Now this project was supposed to be all BAM. Done in like 3 steps. But things didn't pan out just as I had anticipated and I'm totally going to share my fail with you because we've got to keep it real. Is this a difficult craft even once it was finished? No. It's not. But let's get started shall we?
For this project you will need:
Salsa bowl in black
Gold candies (see below)
Gold card stock (optional)
So I totally stole this idea from one of those little boys I talked about above because he had mentioned at a Mexican restaurant that our salsa looked like it was in a witch's cauldron or a leprechaun's pot. It just so happens they had these guys for sale at Walmart and it was a happy coincidence!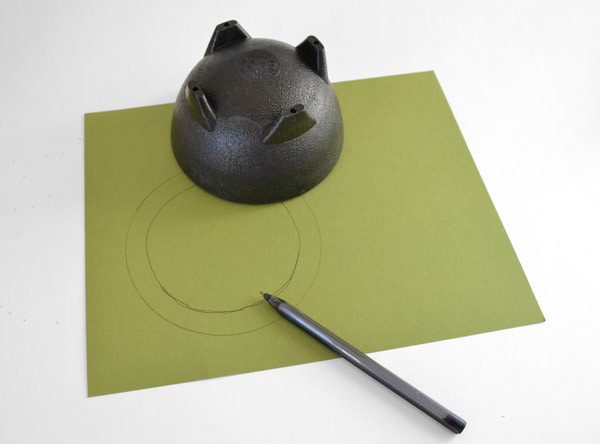 I don't know about you but that is a decent sized little pot of gold. Wanting to not give them quite so much candy I made a little circle to fit inside of the bowl and make a false bottom. That way I could keep some of the candy I bought, too.
After figuring out the right size with my junk paper I cut a circle out of my gold card stock. Now that hardly looks gold does it? But when I got to the store I refused to buy new because I need to use what I have.
And so I wound up glittering it. Now I wouldn't necessarily recommend this so much as buying the card stock already the right color you want. This gold I glued on falls off pretty easily and you may not want that in the equation with food.
I've never met a man that gets excited about the buck bins at Target. And I mean NEVER. These little bags of coins are adorable and available at the dollar area in Target. Snag  you up a couple of bags from there, or you can probably find these at candy stores and maybe even grocery stores.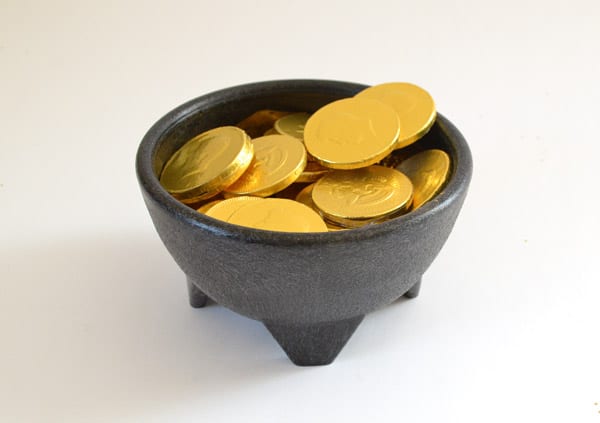 And then I put the candy into the pot. And it didn't exactly wow me. Meh.
I bet I i was just taking the pic from the wrong angle. How about now? Meh.
So I went to the store in search of gold candy just knowing it was going to be an IMPOSSIBLE task. Right off the bat there are Snickers in gold wrappers and Reese's Peanut Butter cups in gold foil. Easy peasy!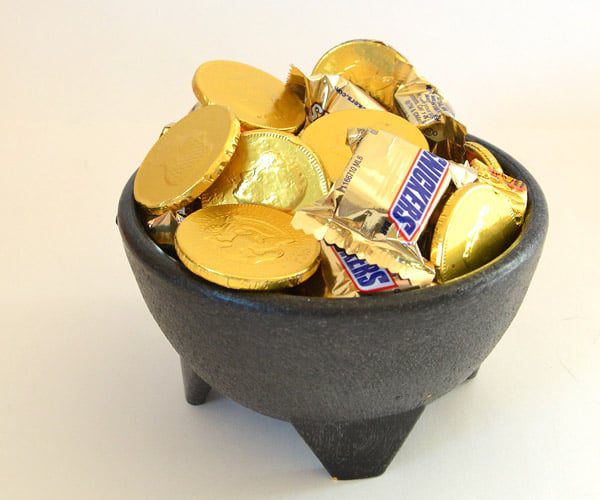 Toss some of your gold candy into the pot and dot with the coins as you like them and watch the sun glint off of your pot 'o gold. It's simple, it's cute and the bowl can be used for salsa or other dips later. And I have a feeling the wee ones are going to love it!