Pumpkin Noodle Bowl Recipe
What is the first thing that comes to mind when you think of pumpkin?
Pumpkin pie? Pumpkin spice coffee? Carving pumpkins at Halloween?
For many of us, pumpkin flavors remind us of the fall and holiday seasons, but that isn't the only time of the year that we can enjoy it! As a good source of fiber and Vitamin A, as well as a lower calorie option to recipes, pumpkin can be a magic ingredient that makes a dish truly special.
My final decision was inspired by a delicious pumpkin ravioli I had from an Italian restaurant a few months ago. The pumpkin filling in the ravioli was both sweet and savory, and filled with spices that made my mouth sing! I didn't want to make ravioli, though, but some type of pasta – yes, spaghetti noodles!
I believe that the end result is not only delicious, but unique and interesting. The best part? IT'S SO EASY TO MAKE.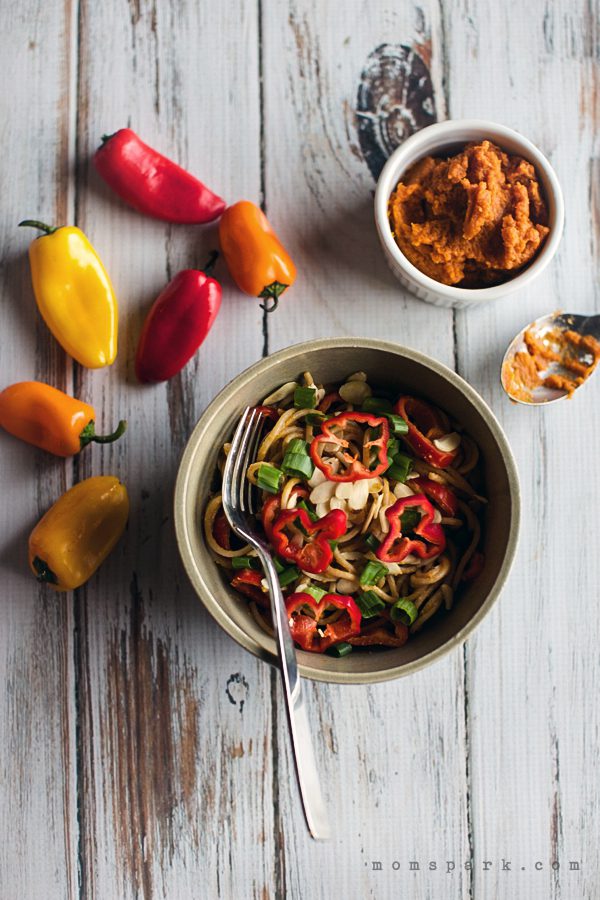 Pumpkin Noodle Bowl
Ingredients:
1 package whole wheat spaghetti
2 cups Libby's Pumpkin Puree
1 cup coconut milk
3 cloves minced garlic (if you are sensitive to garlic, add less)
1/2 tsp cayenne pepper (if you are sensitive to spice, add less)
1/2 tsp cinnamon
salt & pepper to taste
sliced sweet peppers as desired
sliced almonds as desired
chopped green onions as desired
Instructions:
Prepare spaghetti noodles according to package instructions.
While spaghetti is cooking, prepare the pumpkin sauce by adding the Libby's Pumpkin Puree, coconut milk, garlic, cayenne pepper, cinnamon and salt/pepper in a blender. Blend together until smooth.
Once spaghetti is cooked thoroughly, drain, add back to the pot, then pour prepared pumpkin sauce over warm noodles. Stir until evenly distributed. Serve in a deep bowl and add sweet peppers, almonds and green onions as garnish.