Red Velvet "Fringe" Bars
I remember the first time I watched DIVERGENT, which was a recommendation from my teenage son who had read the book series. I was on a plane to Armenia for a business trip and the movie was available to watch while I was 30,000 feet in the air. Of course, I feel in love with the story and film, which had me captivated from the start.
Fast forward to today and the third installment of the Divergent series, THE DIVERGENT SERIES: ALLEGIANT, is almost here!
About ALLEGIANT:
The third installment of the blockbuster Divergent series franchise, ALLEGIANT takes Tris [Shailene Woodley] and Four [Theo James] into a new world, far more dangerous than ever before.
After the earth-shattering revelations of INSURGENT, Tris must escape with Four and go beyond the wall enclosing Chicago. For the first time ever, they will leave the only city and family they have ever known. Once outside, old discoveries are quickly rendered meaningless with the revelation of shocking new truths. Tris and Four must quickly decide who they can trust as a ruthless battle ignites beyond the walls of Chicago which threatens all of humanity. In order to survive, Tris will be forced to make impossible choices about courage, allegiance, sacrifice and love.
To celebrate the release of ALLEGIANT, I wanted to put together a recipe that would reflect the new world beyond the wall – The Fringe.
The Fringe is full of red dirt, so it only made sense to go with a red velvet recipe!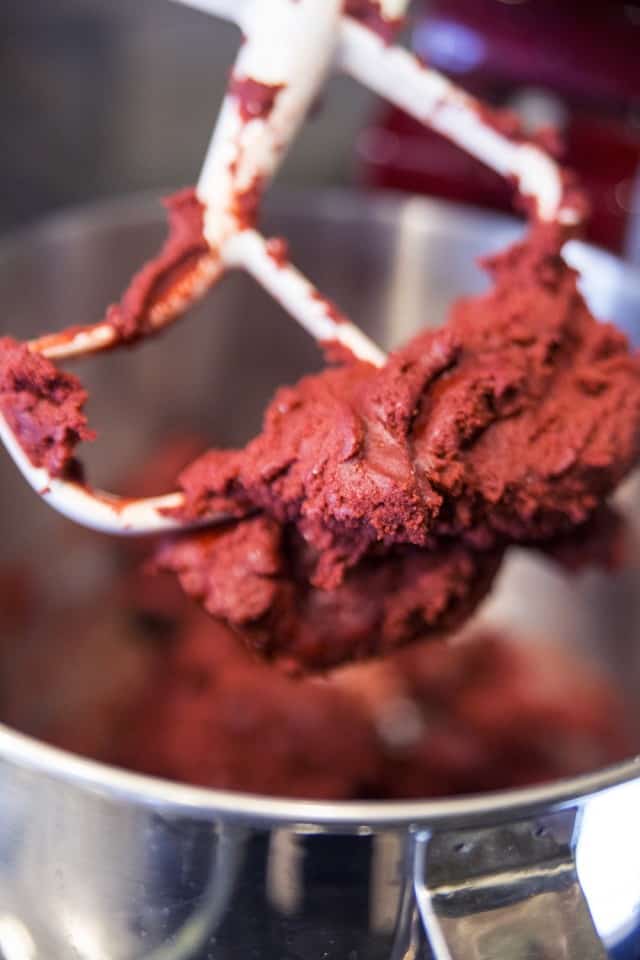 Plus, red velvet is always a good idea. 😉
What did I end up with? Red Velvet "Fringe" Bars. They are heavenly and so easy to put together.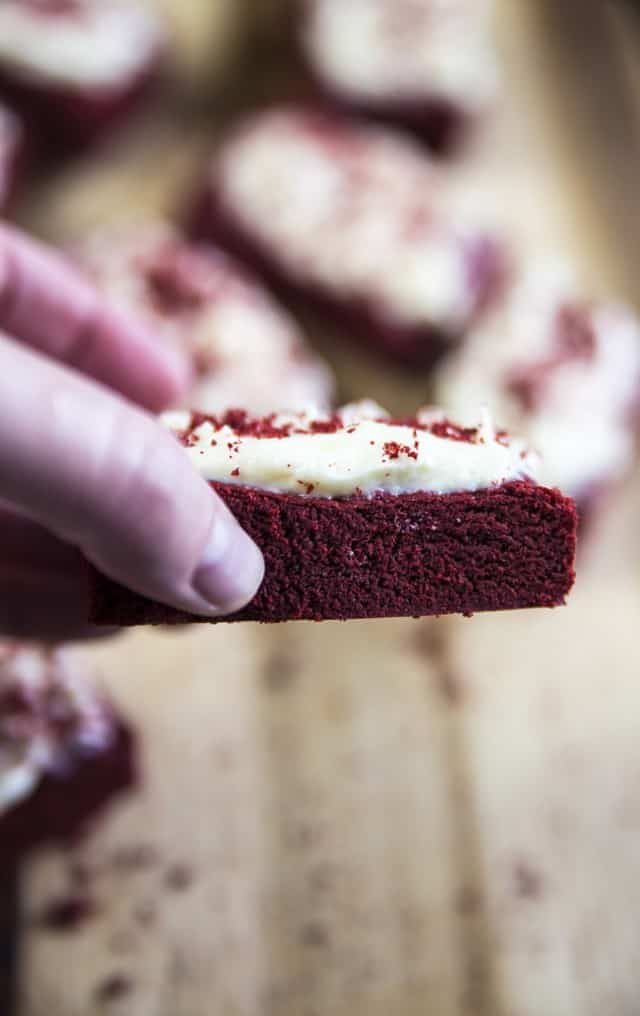 Here is the recipe!
Red Velvet "Fringe" Bars
Ingredients:
bars:
1 box red velvet cake mix
1 egg
1/2 cup unsalted butter
1 tsp vanilla extract
frosting:
4 oz cream cheese, softened
4 oz unsalted butter
1 1/2 cup powdered sugar
1 tsp vanilla extract
Directions:
bars:
Preheat over to 350 degrees.
Mix cake mix, egg, butter, and vanilla extract until well blended.
Bake 35-40 minutes or until toothpick is clean. Let cool.
When cooled, cut around the hard edges using a butter knife and then place edges in a large bowl (these edges will be crumbled up and used for topping).
Cut bars, frost, and top with edge crumbs!
frosting:
Combine cream cheese and butter using a stand or hand mixer. Mix on low, then increase speed to medium for 3-5 minutes.
Add powdered sugar, a little at a time until all sugar is blended.
Mix in vanilla extract.
These bars are so decadent and sweet that you will surely want more than one. Since the recipe uses red velvet cake mix, it's simple to put together and if you didn't want to go through the steps of making your own cream cheese frosting, you would always use a canned version, too.
ALLEGIANT is in theaters on March 18, 2016, so make sure you check it out next week! Right after you make these red velvet bars, of course. 🙂
This post is sponsored by Lionsgate.