Rustic, Rectangular Flag Wreath Tutorial
I live alone. I work from home. I sing to myself often. This time of the year I tend to get excited because Independence Day is coming up. Without a doubt, the Fourth is my favorite holiday. The best holiday over all holidays in my humble opinion.
I like the colors, I am proud of my country and I am in love with Chinese fireworks. Isn't that funny? We celebrate with tons and tons of very dangerous things from China to say "America rules" basically 🙂
Right now my song of choice has been Grand Old Flag. Let me set this straight, actually… I didn't choose the song, it's like the song chose me. One day it popped into my head and decided to take residence. And since I live alone, work from home and sing to myself I've been belting this tune out in, what I imagine to be, the best Transatlantic accent since the time the black and white pictures! Singing this song inspired my Independence Day wreath projects which is why it's rectangular, like the flag, rather than circle like a doughnut.
For this project you will need:
Cardboard
Red and white striped fabric
Navy fabric with white stars
Hot glue gun
Scissors
This is my cardboard piece. In reality its a bit thicker than normal cardboard but it works. Something not so sturdy would be okay as well. Just don't use anything flimsy because we are going to be putting a significant amount of weight on with all of our fabric.
Cut a rectangle in the size you want your wreath to be. You're extra especially lucky if you just happen to find a piece that works perfectly! Measure the same distance in from all sides to draw a smaller rectangle.
Using a craft or utility knife trim the inner rectangle out to make your wreath form.
Cut your fabric into strips. Some of mine are 3 inches and some are 2 for a little variation. Throw about a third of the strips in with a load of laundry to fray and super distress out. Before putting in the dryer, see if the fabric is already good enough. If so air dry. Otherwise pop it in the dryer to finish up.
I used my rotary cutter and then hand frayed the edges out mostly because I wasn't thinking. If you snip a tiny strip in the fabric, you can tear down the length for ragged edge with so much less work.
Using your hot glue gun glue your new looking strips onto the back form.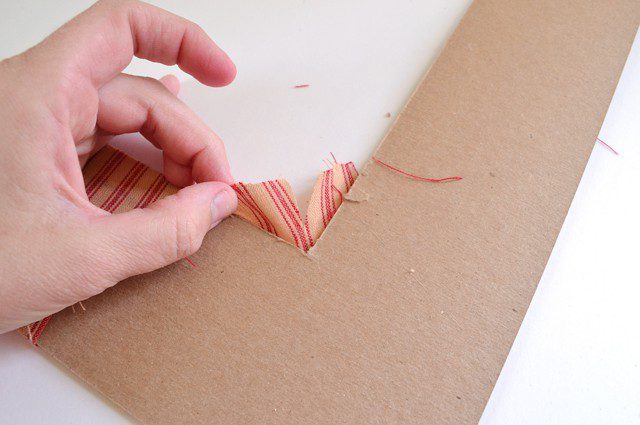 You'll need to work in the corners to make the fabric fit smoothly. Cutting like you see above works really well.
Tack these suckers on all willy nilly. You can even adhere small pieces directly on the front.
Be sure to leave a good amount of space in the upper left hand corner for your stars. Now I actually didn't save enough room, but luckily overlapping the navy over the red and white is not a problem if you do the same.
If you don't want a crazy rustic look you can totally stop now.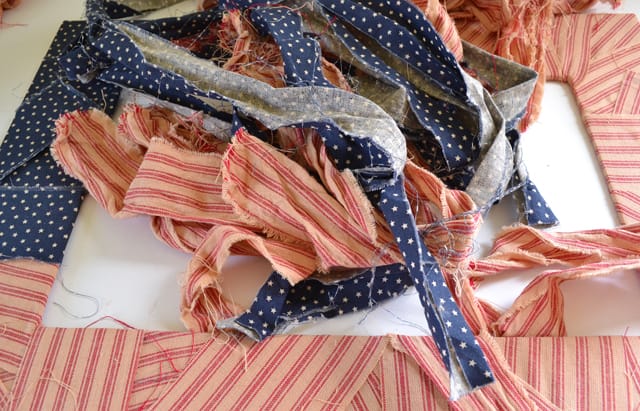 BUT if you're wanting something a bit more undone it's time to grab those frayed strips out of the clean laundry.
Keeping the fabric wadded and curled up, being randomly placing on top of the wreath. You can glue onto the backside like before or directly on the front too.
Go nuts until you're happy with the coverage. Wrap a strip of the navy around the middle to hang and this super Patriotic flag is done.