Smart Shortcuts To Organize For The School Year
My kids have been back in school for a few weeks now and I think I'm finally getting back into the groove. It's always tricky when they first go back. I get so used to the routine — or lack thereof — over the summer months, and it's a HUGE shift switching into school-mode with early wakeups, lunches to think about, and schedules that get busier and busier as the the months play out.
This year, in the hopes of getting off to the smoothest start possible, we've partnered up with Merry Maids to try out some of their simple yet effective Hack-to-School tips! We all love clean AND organized home — and an organized family! — so I'm thrilled to be working with Merry Maids on this one. They are the experts after all!
Let's dive right into some awesome Hack-to-School tips!
Plan outfits with ease!
Merry Maids suggested dividing one drawer in your child's dresser into five compartments using pieces of cut up cardboard. Each week, you can lay out an outfit in each section for each day, Monday through Friday! We like to take it one step further by using cool coloured boxes (you can use plastic boxes, or woven baskets!) to separate my son's clothes! He loves seeing what's coming up at a glance.
BONUS TIP: This is also really handy when kids have sports or other activities where they need certain clothing. Toss the soccer socks in for Friday so you won't forget them!
Keep your laundry under control!
I love this idea from Merry Maids for making sure your laundry pile doesn't get out of control. Just get your kids to toss their dirty clothing into individually labeled mesh bags so you can sort them with ease! This is also perfect for sorting socks so that they don't all get swapped out and lost in the mix. (Does your dryer eat as many socks as mine does??) You can line their bedroom hampers with these mesh bags too so that they don't get lost from one laundry day to the next.
Chart everything and stay organized!
My kids LOVE to see lists and calendars that let them know what's coming up next. Merry Maids suggests creating a cool chart to keep track of everyday activities and homework assignments. You can also make lists for getting ready in the morning or preparing for bed each night. Help kids get involved by having them decorate the charts themselves with markers and stickers! If you want to get REALLY creative, you could paint with chalkboard paint on your kitchen or hallway wall and write out your charts in chalk!
Make lunches fun!
If making lunches makes you CRINGE, you're going to love this hack from Merry Maids! Organize your fridge by using small bins filled with all of the goodies you like to pop in their lunches each day. Get the kids involved in the process by coming up with healthy and FUN lunches that you can list out on a kitchen chalkboard or chart (like the tip above!). Your kids can then pack their OWN lunches by grabbing what they need from each bin! My Charlie loves to choose his own lunch snacks, so this gives him the freedom to choose from items I've already deemed a-ok for his lunch bag!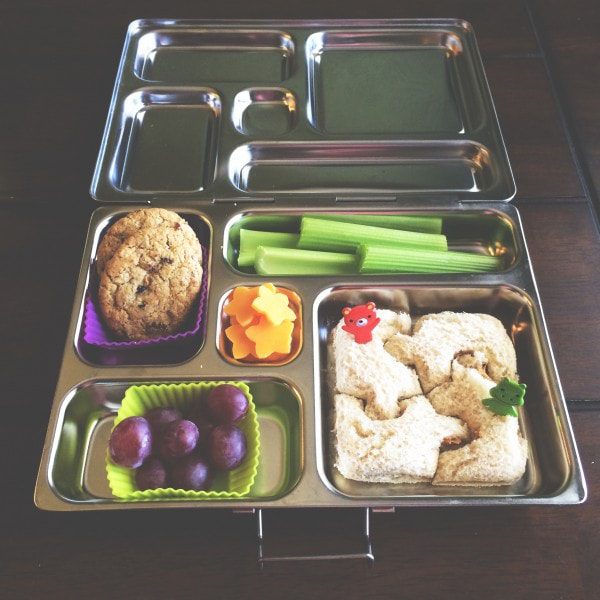 Labels will save your sanity!
I like to label just about EVERYTHING. After this many years of parenting and 100s of lost items to school lost-and-found bins, I know the value of labelling and keeping track of lunch containers, clothing, backpacks, and beyond. Merry Maids has another cool labelling tip that we're trying out this year too! Grab some labels and add them to folders that your kids can use to keep all of their school forms, announcements, and permission forms. Get them into the habit of putting ALL of these papers into the folders so you don't have to hunt through bags and hope you didn't miss anything. Then, after dinner, you can flip through the folders to see if you need to take action. You could also take it a step further and label individual hangers or bins in your entryway so that each of your kids has a place that's just for THEIR stuff each day. We have a big command centre with a spot for notes and for my kids to keep their items and outerwear. This has been amazing for back to school because now there's NO excuse for missing shoes and coats and backpacks — they AWLAYS go in the same place!
Armed with these Hack-to-School tips, I hope you can transition into your new schedule with as few hiccups as possible! Wishing you all an awesome school year!
Get more hack-to-school tips by visiting www.merrymaids.com.
This post is sponsored by Merry Maids.