SnapTotes for Mother's Day
Are you like me and out of ideas for Mother's Day this year? It's especially tough when you have your own mother and husband's mother to buy for, and you want to give something meaningful. I have a great idea to share with you that I think you will love!
SnapTotes are "picture-perfect" handbags, which are super easy to create on SnapTotes! I just ordered my first SnapTotes backpack, using a photo of my son on the beach. I am going to use the backpack to carry around his things, since he is growing out of a diaper bag. Here is a photo of what the backpack will look like:
It was so easy and fun to create! All I did was go to the website at Snaptotes, clicked "Start Now" and followed the easy-to-understand instructions. You can even add effects to the photos you upload! I used the black and white effect to photo, but it also looked great in color.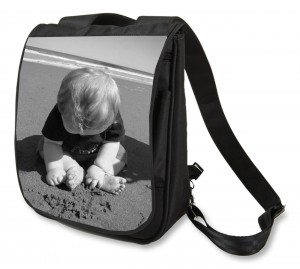 Snaptotes is offering Mom Spark readers a 10% off promotional code! Use SPARK10 to receive your discount. Snaptotes would make an excellent gift for your mother or mother-in-law for Mother's Day, or for yourself! (you can always give hubby a nudge to do so) The last day to order a bag to be received in time for Mother's Day is April 30, 2009.
I will be receiving my backpack in a few days, and when I do, I will be sharing some photos with you, along with a review of its quality. I'm so excited to show it off and to hear about your creations on Snaptotes!