So Close, Yet So Far From The Pioneer Woman
UPDATE! Check out this video and article on the Pioneer Woman book signing event in OKC. I'm in the video towards the end taking a photo with my iPhone. (stalker) Coupon Princess is also mentioned in the article!
Last Thursday evening, Coupon Princess and I headed out to the Full Circle Bookstore in Oklahoma City to met the one and only Pioneer Woman, who was promoting and signing her first cookbook, The Pioneer Woman Cooks: Recipes from an Accidental Country Girl.
The ideal scenario went like this: show up at the bookstore, get into a somewhat long line, wait, get our cookbooks signed, get a pic with Ree, then hang out with Ree at the Pioneer Woman tweet-up that followed.  Doesn't seem like too much to ask, right? Except, I forgot one thing.  Ree is, like, a rock star in Oklahoma.  Okay, she's a rock star, period.  So, yeah, she has a LOT of fans.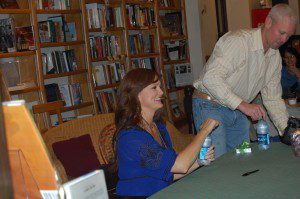 Our dreams were quickly crushed upon entering the bookstore and seeing THE LINE OF DOOM.  Yes, my friends, there stood an infinite line of adoring P. Dub fans that were smart enough to arrive a couple hours before go time.  Feeling confused, and a little distraught, we slowly walked to the end of the line and started weighing our options.  We had a decision to make – wait 5-6 hours in line to get our cookbooks signed, or just forget about signatures and go stare at Ree signing other fan's books.  We choose the latter.  It may seem weird to you, but it made sense at the time.  My feet thanked me.
It actually wasn't that bad sitting and stalking watching Ree interact with fans.  No, we didn't get to meet her, but we sat near her and met her sister and kiddos, which was cool.  I was able to photograph my friends (who did stand in line) getting their books signed, and also met the lovely Vivian Boroff, who had coordinated the Pioneer Woman tweet-up that was to follow the book signing. Vivian told us that Ree really wanted to make the tweet-up afterward, but we could tell by the speed (or should I say, lack of speed) of the LONG LINE that there was no way that was happening.  Vivian also told us that if we left our books at the counter, Ree would sign them later, so we decided to go that route.  I stuck a post-it note for Ree on my copy of the book that appropriately read "Mom Spark".  I also, sorta, got my photo with Ree, unbeknownst to her.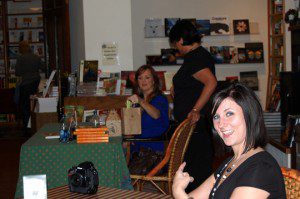 After a couple hours, 8:30 pm came around, so it was time for the Pioneer Woman tweet-up at Rococos.  We headed that way, leaving Ree behind as she signed books away like a mad woman.  The menu at the tweet-up was made up of Ree's recipes, which included her Spinach Salad with Warm Bacon Dressing, Grilled Ribeye Steak with Onion-Blue Cheese Cream Sauce, and Pastor Ryan's Monkey Bread.  Each dish was delicious, as expected, and we had a great time just chatting and being girls.  That doesn't happen very often, you know.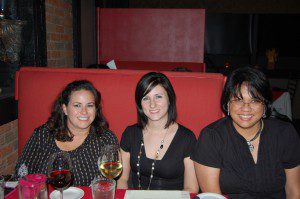 The night was wrapping up, so we said our goodbyes to our tweet-up gal pals, and decided to drop by the bookstore one last time. To our amazement, Ree was still signing books.  It was 10:30.  Poor thing.  The next day I found out that she had stayed until 12:30 a.m., signing every book.  What a sweetheart.  Oklahoma truly loves her.
Coupon Princess picked up our books on Friday night, and sweetly dropped off my copy to me Saturday morning.  My grandmother and I flipped through the book together, stopping at recipes that we had both had before, in one form or another.
The cookbook is beautiful, just like Ree's blog, and the recipes are all doable, which is why we love The Pioneer Woman.  I can't wait to soak up every page, and head into the kitchen to do something a little tastier than hot dogs and mac-n-cheese. (although, some nights are just hot dog & mac-n-cheese nights)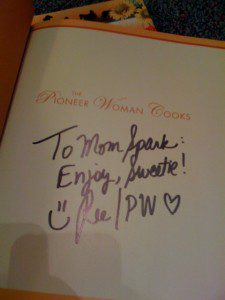 You can purchase The Pioneer Woman Cooks: Recipes from an Accidental Country Girl on Amazon, or from you local bookstore. Ree is also touring the country while promoting her book, so check out her road trip schedule for a city near you.
I love you Ree Drummond, and one day I WILL meet you.  Oh, and OKIES rule.  Just sayin'.